Top 10 Sustainable Restaurants in NYC
The world's most well-known and thriving metropolis, New York City is a leader in sustainable living. Here, there's simply no shortage of ways for residents and visitors to reduce their carbon footprint. The options range from sustainable buildings to community gardens and so many more. As a result, living in NYC provides plenty of opportunities for a more environmentally conscious lifestyle. Fortunately, places to eat out aren't an exception. So, if you are an NYC resident-to-be or just a visitor with a green thumb, you're at the right spot. This article shares the list of the top 10 sustainable restaurants in NYC to try and find your favorite place to eat and keep warm during the cold winter days while staying environmentally responsible.
The definite guide to the ten sustainable restaurants in NYC
Finding sustainable food and lifestyle options can be particularly challenging, especially when moving to a new place. That is both an exciting and overwhelming experience. For that reason, the professional moving company behind Movers Not Shakers NYC advises you to plan everything. By this, they mean having a plan for moving preparations, the day of the move, and especially for at least the first two weeks after the move.
That's why they suggest taking the time to research the sustainable options available in your new city, including the many eco-friendly food options. This way, you can start your sustainable living when you arrive and fully immerse yourself in the city's unique culture and green initiatives.
To help you in your aim, we researched and made a list of the best places to visit when it comes to sustainable eating out in NYC.
Dirt Candy
The first restaurant on our list is a Michelin-starred vegetable restaurant that sources its ingredients from local, organic, and sustainable farms. Their menu changes with the seasons, offering visitors a unique dining experience that is both environmentally sustainable and healthy.
The owner of Dirt Candy, Amanda Cohen, is a James Beard-nominated chef who's created a menu that celebrates vegetables and herbs in a creative and flavorful way. Therefore, Dirt Candy is a fantastic option for the forever vegetarians and those simply searching for a nutritious and environmentally friendly dinner.
The Butcher's Daughter
The Butcher's Daughter also emphasizes locally sourced and organic ingredients in their cuisine. This spot is ideal for those who want a quick, delicious, sustainable snack, as their menu ranges from sandwiches and smoothie bowls to juice combos.
Furthermore, this place has a modern, minimalistic decor making it a pleasant spot to spend your brunch/lunchtime, so if you want a delicious and responsible meal that matches your fitness goals.
Kingsley
A well-known, modern American bistro Kingsley also uses organic ingredients in their dishes. In addition, this restaurant strongly emphasizes sustainability and is dedicated to lowering its carbon impact.
It also provides a wide range of vegetarian and vegan dishes. In addition, their menu offers traditional American dishes with a modern twist, which is an excellent option for those looking for an enjoyable, healthy, and delicious meal. Also, due to its spacious and elegant dining room, this restaurant is famous for a special occasions or a night out with friends.
Cafe Mogador
Cafe Mogador is a Mediterranean restaurant that uses fresh, seasonal, and local ingredients in its dishes. Falafel, hummus, and kebabs are just a few of the traditional Mediterranean meals on the menu, making it a fantastic option for anybody seeking a flavorful and healthy dinner.
Moreover, this restaurant is committed to reducing waste and using eco-friendly materials. Thus, dining at the cafe Mogador makes it a pleasure to eat a good and ethical lunch.
Beyond Sushi is one of the most popular sustainable restaurants in NYC
Yet one more of the popular sustainable restaurants in NYC we're sure you've heard of is Beyond Sushi. You'll enjoy sushi rolls, rice bowls, and salads made from organic, locally sourced ingredients here.
Apart from that, the restaurant has a modern and stylish decor, making it welcoming to anyone looking for a quick bite or casual lunch that is environmentally responsible.
Oxalis
Oxalis is well known for its farm-to-table concept, which means they source their ingredients from local, sustainable farms. This restaurant offers a diverse menu that changes with the seasons and has various vegan and vegetarian options. Furthermore, the warm and inviting atmosphere provides a relaxed dining experience you could try at dinner or for special occasions.
Tè Company
Tè Company is primarily a tea house with a strong focus on sustainability. However, this place is also a restaurant that, apart from a variety of tea blends, has plenty of food options. For instance, their menu features a variety of tea blends perfect for warming you up during winter and sandwiches and pastries, which are excellent choices for quick but sustainable snacks.
Candle 79 is yet another of the most popular sustainable restaurants in NYC
Candle 79 is a vegan restaurant that emphasizes organic and locally sourced ingredients in its dishes. The menu includes soups, salads, and entrees, which are attractive options when looking for a place to eat healthily and responsibly. Finally, this place is an excellent option for a night out due to its elegant and sophisticated style.
The Green Table
The Green Table is another restaurant with a farm-to-table concept. As its name suggests, this restaurant is dedicated to transforming locally-grown organic food from sustainable farms into healthy and delicious meals.
The service and atmosphere are warm and professional in a pretty and peaceful place. Therefore, if you are walking around the Chelsea Market and wish to avoid the quick bites all around you, the Green Table is the perfect spot to enjoy a delicious meal a bit more leisurely.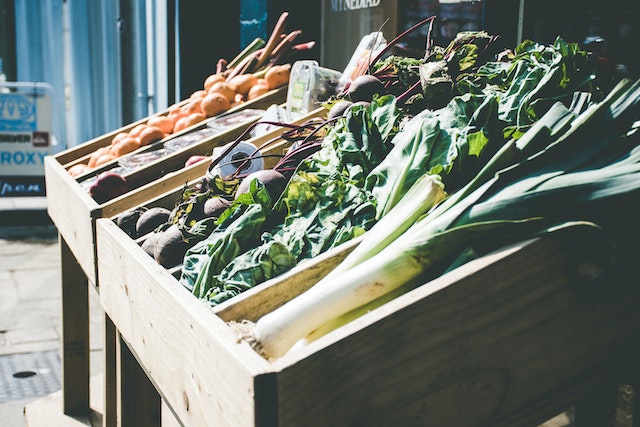 Ladybird
Finally, Ladybird is a plant-based restaurant and wine bar. Apart from sustainability, the team and the whole idea of this restaurant are based on community, compassion, charity, and excellence in meals and beverages.
Their dinner menu consists of bites, larger plates, and desserts. For instance, some of the most popular options are Buffalo Maitake Bun, Tofu Bun, Truffle Mac & Cheese, Potato au Gratin, and Brûlée for dessert. So, if you want brunch or have dinner in a sophisticated and relaxed atmosphere, this place is worth visiting.
Closing words on the top sustainable restaurants in NYC
In conclusion, we can only say that these were the top 10 (among many other options) sustainable restaurants in NYC. So, this is a must-visit list for anyone who wants to live responsibly or try something new. Ultimately, knowing you're eating organic ingredients from multiple places dedicated to sustainability is a step closer to making this world more environmentally responsible.