The Ultimate Foodie's Guide to Boulder, CO
Welcome to Boulder, Colorado, a foodie's paradise! The city of Boulder is at the base of the Rocky Mountains and is, therefore, known for its stunning scenery. However, most importantly, it is also quite famous for its incredible culinary offerings. So, if you're a seasoned foodie, a follower of healthy food trends, or just looking to explore the local food scene, be sure you'll find what you're looking for in Boulder. In our ultimate foodie's guide to Boulder, CO, we'll take you through some of the city's top culinary hotspots, hidden gems, and must-try dishes.
Boulder's food scene
If you're visiting Boulder for the first time or perhaps investigating its food scene since you plan on moving here, you're still in for a treat. With an abundance of farm-to-table restaurants and farmer's markets, Bouler will satisfy the taste of each foodie.
But, with so many options, it can feel like a lot once you're new to the city and want to start exploring. For that reason, hiring Boulder movers can help you. You can let local experts help you settle into your new home and ask for advice on where to start and what to do. This way, you'll discover the best of what this vibrant city offers regarding food and drinks.
Breakfast & Brunch options in our foodie's guide to Boulder, CO
If you wish to start your day on the right foot in Boulder, visiting some delicious breakfast and brunch spots here would be wise. If you are a classic American breakfast lover, head to Lucile's Creole Cafe. This local favorite serves Southern-style dishes, like shrimp and grits, biscuits and gravy, and beignets.
If, on the other hand, you want a more health-conscious option, you can check out the Walnut Cafe. Here they serve nutritious breakfast dishes from locally sourced ingredients. So, if this sounds like something you'd like, try the savory egg dishes and the famous "Mighty Aphrodite" smoothie.
Lunch options in Boulder, CO
For the main meal of the day, there are plenty of options. You can head to the Farmer's Market on Wednesdays and Saturdays for a quick and easy chance. Once you get there, you'll be able to find a variety of food trucks and vendors serving up literally everything, from tacos and sandwiches to falafel and sushi.
Or, if you wish to have a sit-down lunch, try visiting Zeal. That is a health-focused restaurant where you can eat nourishing bowls, salads, and sandwiches made from organic and locally sourced ingredients.
Dinner
As the sun begins to set, it's time to explore Bouler's dinner scene. If you wish to taste the local cuisine, head to Blackbelly Market. This farm-to-table restaurant specializes in locally sourced meats, charcuterie, and seasonal vegetables. Their meals are prepared with impeccable attention to detail, so visiting this place will satisfy your taste buds and your eyes.
Another must-visit restaurant in Boulder is Frasca Food and Wine. This Italian-inspired restaurant offers a sophisticated dining experience focusing on regional ingredients and exceptional wines.
Dessert choices
As no meal is complete without a sweet treat to finish things off, you'll be glad to hear that Boulder has plenty of options. If your kitchen isn't ready for sweet culinary experiments, head to Spruce Confections and enjoy a classic dessert. That is a bakery that serves freshly baked pastries, cakes, and bread that are all made from local ingredients.
For a more unique experience, you can check out Sweet Cow Ice Cream. This ultimate local favorite serves small-batch ice cream made with local ingredients. Additionally, they have creative flavors like strawberry balsamic and Ozo coffee as a real treat for your taste buds.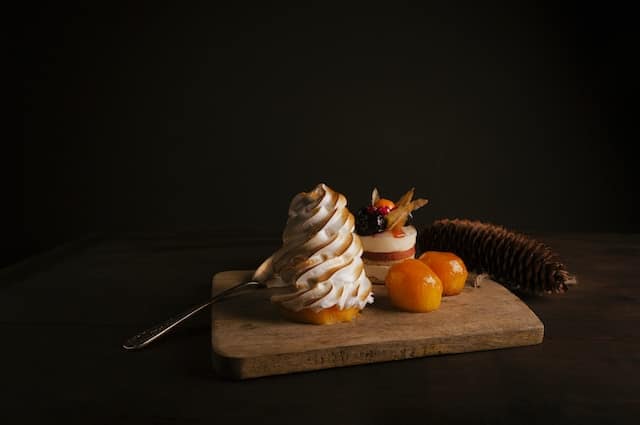 Drinks
If you're up for a sophisticated drinking experience, visit The Bitter Bar. This craft cocktail bar offers a wide selection of innovative and unique cocktails carefully made with high-quality ingredients.
Or, for a taste of local craft beer, you can head to Avery Brewing Company. That is a pretty famous brewery that serves a variety of handcrafted beers, including their favorite White Rascal Belgian-style witbier.
Hiking fuel options in our foodie's guide to Boulder, CO
As one of Boulder's highlights is the opportunity to explore the incredible natural scenery that surrounds the city, we needed to include some options for your hikes in our foodie's guide to Boulder, CO. And what better way to fuel up for a hike than with some delicious and nutritious snacks?
Check out Piece, Love & Chocolate for a quick and easy option. Their energy bars are made with all-natural ingredients and are the perfect way to keep your energy levels up during a long hike.
Or, if you're looking for something healthier, you can visit Bouler Soup Works. This local restaurant serves plenty of nourishing soups in eco-friendly packaging, apart from being made with locally sourced ingredients.
Farmers markets
For foodies looking to experience the best of Boulder's local cuisine, a trip to one of the city's farmers' markets is a must. The Boulder Farmers Market is held on Saturdays and Wednesdays and is a perfect place to discover fresh, seasonal produce, artisanal cheese, and locally-made jams and preserves. Also, make sure to stop by the Black Cat Farm booth, which offers a wide variety of organic produce grown on their farm just outside Bouler.
Ultimately, another great farmers market is the Boulder County Farmers Market, held on Saturdays in nearby Longmont. On this market, you'll find a variety of local vendors that sell everything literally, from freshly baked bread and pastries to grass-fed beef and eggs straight from the farm.
Moving to a new city can be exciting and stressful, so making your move to Boulder as smooth and stress-free as possible is vital. As the professionals behind Homegrown Moving and Storage suggest, planning and working with a reliable moving team is critical. With professionals by your side, you'll have peace of mind regarding the safety of your belongings. Furthermore, they can take the stress out of your move and let you focus on enjoying everything that Boulder offers.
Final thoughts on the ultimate foodie's guide to Boulder, CO
Boulder, Colorado, is a famous foodie destination that offers various culinary treats to suit every taste and budget. So, whether you're looking for a healthy breakfast or a sophisticated dining experience, know you'll find it here. So, after reading our ultimate foodie's guide to Boulder, CO, pack your appetite and get ready to discover the best of Boulder's incredible food scene!