5 Effective Content Ideas For Restaurant Digital Signage
All sectors and industries have welcomed the change in technology with open arms. Like them, the restaurant industry has begun to leverage the power of technology for various aspects and marketing strategies.
Out of all the technological tools that have exploded in popularity, digital signage has made its place into becoming one of the most highly leveraged tools due to its tremendous potential to reach out to a maximum audience at one go. A restaurant digital signage is a fantastic tool that has completely changed the way restaurants function and comes with many advantages.
If you own a restaurant and are struggling to find means to offer a seamless experience to your visitors, then digital signage can be your best bet. However, you must understand what content should be included to maximize its reach and ensure maximum engagement.
In this post, we shall be telling you about the 5 best content ideas that work in extreme favor of a restaurant's digital signage. Make your way to the end of this blog, and we promise that you will be compelled to include digital signage in your restaurant.
Without any further ado, let's get started!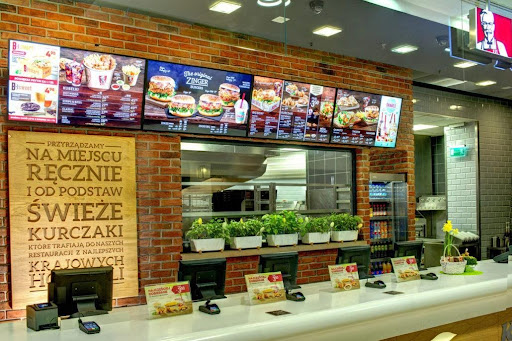 Best Content Ideas To Include In Your Digital Signage
Display Discounts & Deals
Like mentioned at the beginning of this post, digital signage is instrumental in spreading information. Using digital signage, you can let your customers know about the ongoing offers and deals on meals.
Quite often, customers look for food combos that are pocket-friendly and sufficient to curb their hunger pangs. Strategically placing digital signage in a restaurant displaying your ongoing special deals and discounts is a great way to increase your sales and conversions.
Include A Social Wall On Digital Signage
It is common for customers to wait in the waiting area for a table to get vacant. However, you can reduce the perceived waiting time of the customers by keeping them engaged.
Else, they may be compelled to leave and look for other options instead. Including another interactive tool like a social media wall on digital signage and placing it on digital signage is a brilliant idea to keep the users engaged.
If you are unaware of the concept of a social wall, it is a collection of live or aggregated feeds from various social media platforms.
There is a chance that your customers are posting pictures, videos, and other content around your restaurant through their social media handles. Collecting such content using a social media aggregation platform and displaying it in the form of a social media wall works well to keep your customers waiting for longer.
When customers read the thoughts of other customers, they will feel compelled to try out the restaurant as well. This happens since they trust the words of other customers and feel the need to wait.
Implement Upselling
Another fantastic way to use digital signage is for promoting and upselling meals. Have you started a new beverage or dessert and wish to promote it?
You can display enticing and drool-worthy pictures of it and showcase it on digital signage. For more impact, you can add a few catchy lines to grasp more attention from the customers. Additionally, you can add pictures of your best sellers and add lines like Upgrade to peri-peri fries at 2$ or Don't miss out on this Yummilicious deal, etc. Doing so would motivate your customers to take action.
Display Restaurant Menu
Why print a menu when you can go digital instead? Restaurants have taken the digital route to display their restaurant menu for maximum customers to see at once.
The best part about digital menus is that you can update the pricing or anything whenever you want without getting it mended. Unlike the paper menus that require proper updates every time, digital signage is less expensive and more environmentally friendly.
Karaoke Lyrics
Does your restaurant have a karaoke night on weekends, and you spot your customers struggling to get the lyrics right? Digital signage works here as well.
Displaying the lyrics of the ongoing song on digital signage would encourage more people to come forward to sing along. This works great to instill confidence in the customers and transforms the restaurant's overall environment, making it more lively.
Closing Note
We are calling it a wrap. As promised initially, you must be convinced that including digital signage in your restaurant can offer a fantastic experience to your customers and take your marketing efforts to a whole new level!