Perfect Little Pumpkin Cookies with Spiced Buttercream
September 20, 2020
us (Cook & Hook)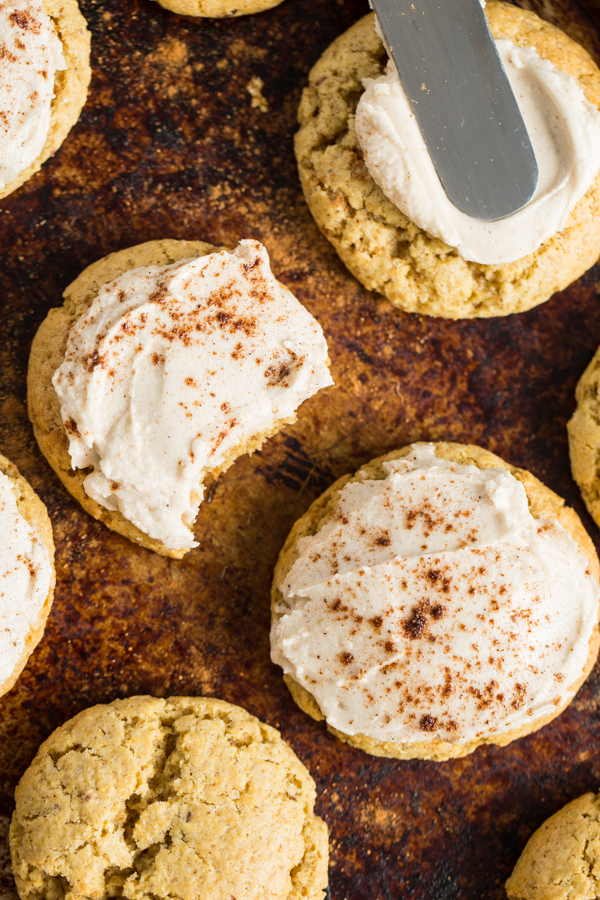 Okay, now it's time to ring in the fall season with a brand-new, lightly spiced, and completely addictive frosted pumpkin cookie. 
Sending you all my love and good vibes for the new season ahead!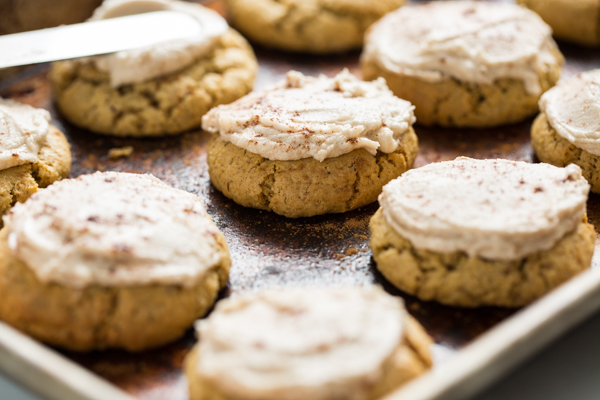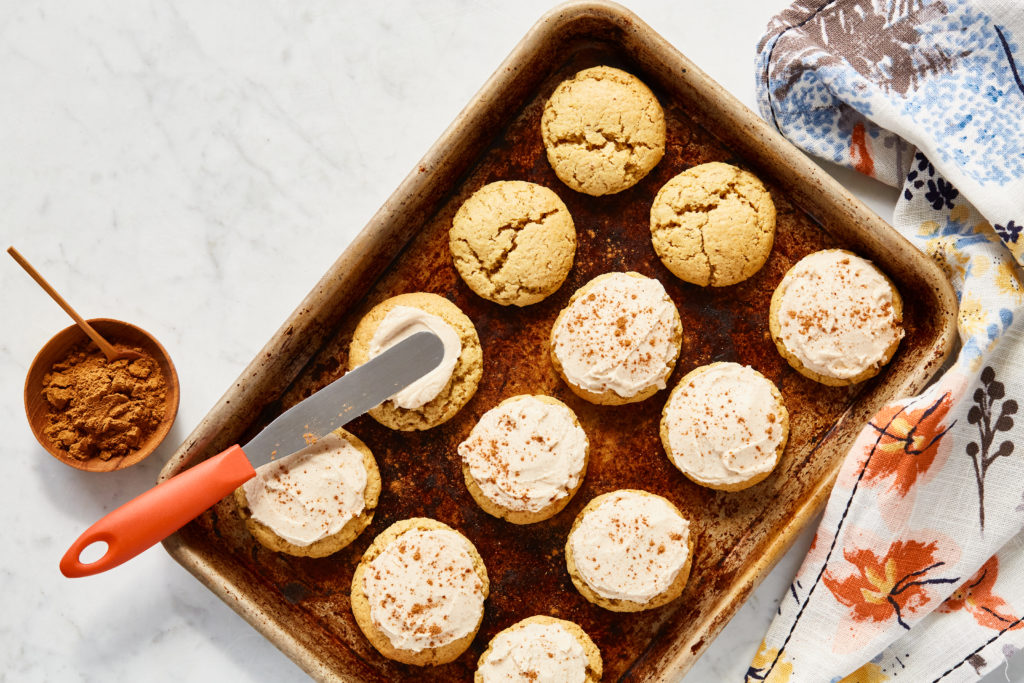 Yield

20 cookies
Prep time

Cook time

Total time

Ingredients:
For the wet ingredients:
3 tablespoons (45 mL) grapeseed oil

3 tablespoons (45 mL) pure maple syrup

1/4 cup (60 mL) unsweetened pumpkin purée

2 tablespoons (30 mL) brown rice syrup

1 1/2 teaspoons ground flaxseed

1/2 teaspoon pure vanilla extract
For the dry ingredients:
3/4 cup plus 1 tablespoon (83 g) almond flour*

1 cup plus 1 tablespoon (127 g) white/light all-purpose spelt flour**

3 tablespoons (27 g) arrowroot starch

1/4 cup (60 g) natural cane sugar

1 teaspoon pumpkin pie spice

1/4 teaspoon fine sea salt

1/2 teaspoon baking soda
For the Fluffy Pumpkin Pie Spice Buttercream:
1/4 cup plus 2 tablespoons (75 g) soy-free vegan butter

1 1/2 cups (190 g) powdered icing sugar, sifted if necessary

1/2 teaspoon pumpkin pie spice

Pinch fine sea salt

Cinnamon or pumpkin pie spice, for garnish (optional)
Directions:
Preheat the oven to 350°F (180°C) and line one extra-large baking sheet (or two medium-sized sheets) with parchment paper.
To a small bowl, add the wet ingredients: grapeseed oil, maple syrup, pumpkin purée, brown rice syrup, ground flax, and vanilla. Whisk until combined.
To a large bowl, add the dry ingredients: almond flour, spelt flour, arrowroot starch, cane sugar, pumpkin pie spice, salt, and baking soda. Whisk until combined.
Pour the wet mixture over the dry mixture (being sure to scoop all of the wet ingredients stuck to the sides of the bowl), and stir until it comes together into a dense, very thick dough.
The dough will be very sticky, but this is normal! Scoop a slightly heaping 1 tablespoon of dough into your hand, and roll it into a ball. Continue with the remaining dough, placing each ball onto the baking sheet about 2 to 3 inches apart. If needed, you can lightly wet your fingers during this process. Do not flatten the balls before baking as they will spread out on their own.
Bake the cookies for 12 to 14 minutes until lightly golden (I like baking them until lightly golden as the edges get a bit crispy during cooling). Cool the cookies completely on the baking sheet. To speed up the cooling process, cool the cookies for 10 minutes on the pan then transfer the cookies to the fridge until completely cooled.
Meanwhile, prepare the Fluffy Pumpkin Pie Spice Frosting: To a large bowl, add the vegan butter. Using electric beaters, beat the butter until smooth (about 30 seconds). Add the powdered sugar, pumpkin pie spice, and salt. Starting on low speed, beat until smooth and fluffy, gradually increasing the speed as the ingredients combine. It will look very crumbly at first, but it will eventually come together and become fluffy. If the frosting is still too dry, you can thin it with a tiny bit of almond milk (1/2 teaspoon at a time), and continue beating until smooth. If it's too thin, you can add a little more powdered sugar and beat again until smooth.
Spread the frosting onto the completely cooled cookies, and top with a sprinkle of cinnamon or pumpkin pie spice, if desired. Serve and enjoy! Leftover cookies can be stored in an airtight container in the fridge for 1 to 2 days. The cookies will soften when sealed in a container.
Nutrition Information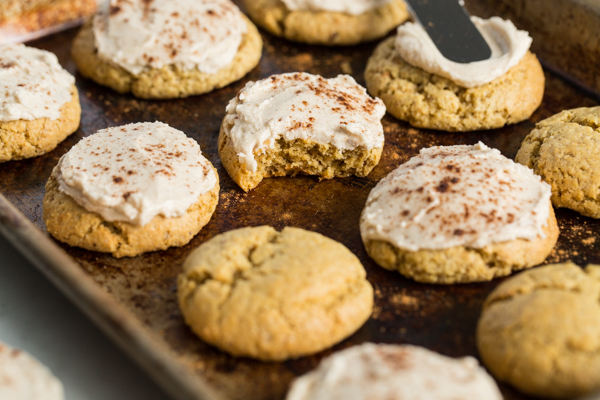 [ad_2]