These delicious and refreshing orange popsicles taste just like the ones you ate as a kid! Only two ingredients are needed to make this easy dessert recipe.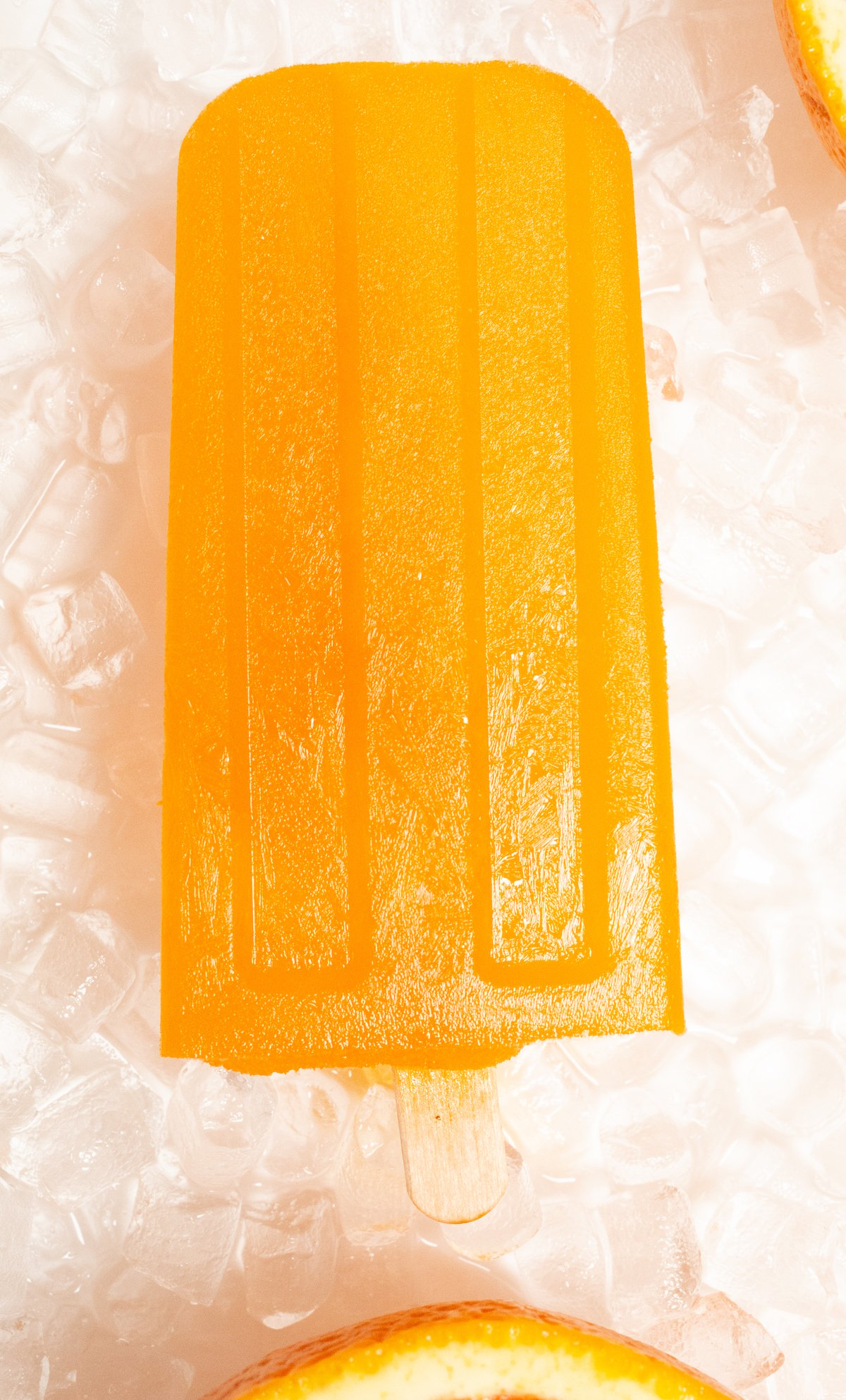 The weather is heating up here and during this most recent heat wave I found myself craving one of those generic freezer popsicles I ate as a kid. More specifically, the orange flavor.
If you're familiar, you know these orange popsicles don't taste like orange juice so you won't find any of that in this recipe. Instead, to achieve the right flavor, we'll be using an orange syrup.
If you haven't tried making your own popsicles before, you're going to be hooked! They're so easy and have a richer flavor than the ones you buy at the store.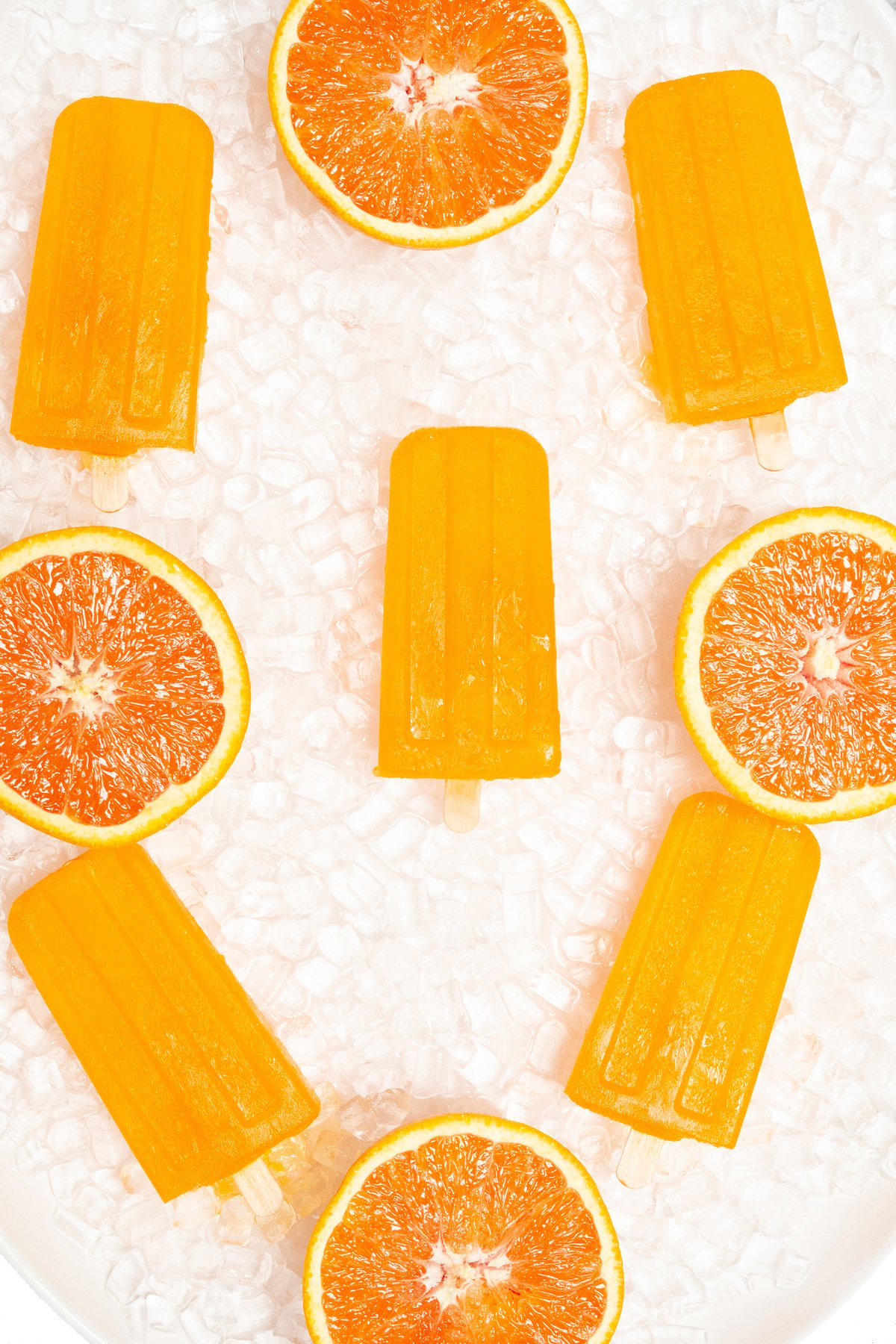 This post contains affiliate links (when you buy we make a little money at no cost to you). See our disclosure for more information.
Ingredients
Orange Syrup – This syrup is made with Valencia oranges and it is packed with flavored. It's the key ingredient in our orange popsicles.
Water – The only other ingredient you need is water. Straight from the tap, filtered, or bottled – anything works.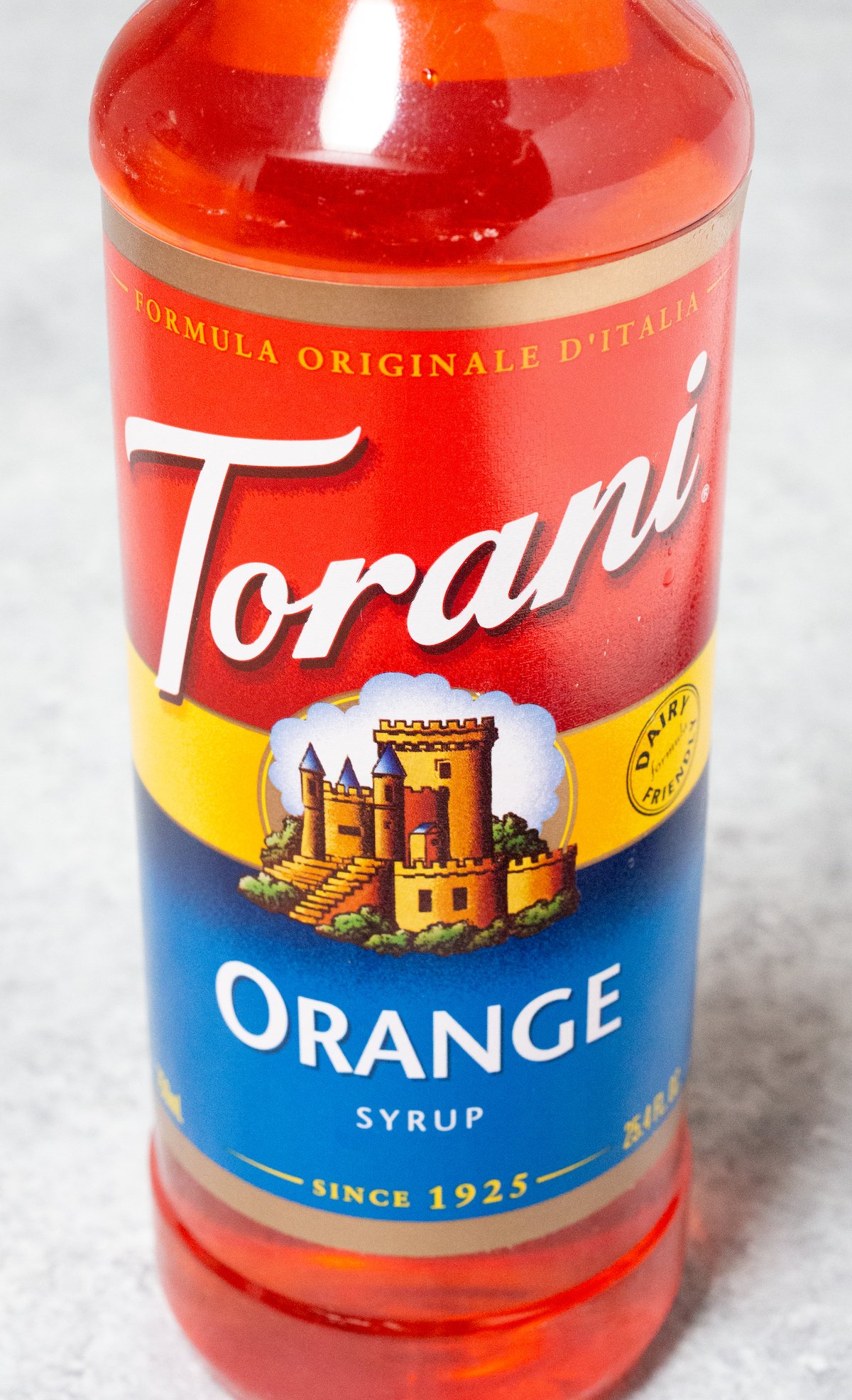 Other Things You'll Need
Popsicle Mold – You can use any popsicle mold. Keep in mind that this recipe was developed using a 10 serving mold that makes 3 oz popsicles, so if you use one that is a different size you might end up with more or less popsicles. If you don't have a popsicle mold and don't want to buy one, you can use paper cups. After freezing, simply peel the cup off, then enjoy!
Popsicle Sticks – Obviously, you'll need popsicle sticks. I used standard the standard 4.5″ length.
How To Make
The first thing we need to do is measure out the orange syrup. I like to use this pyrex measuring cup because it is large enough to also add the water.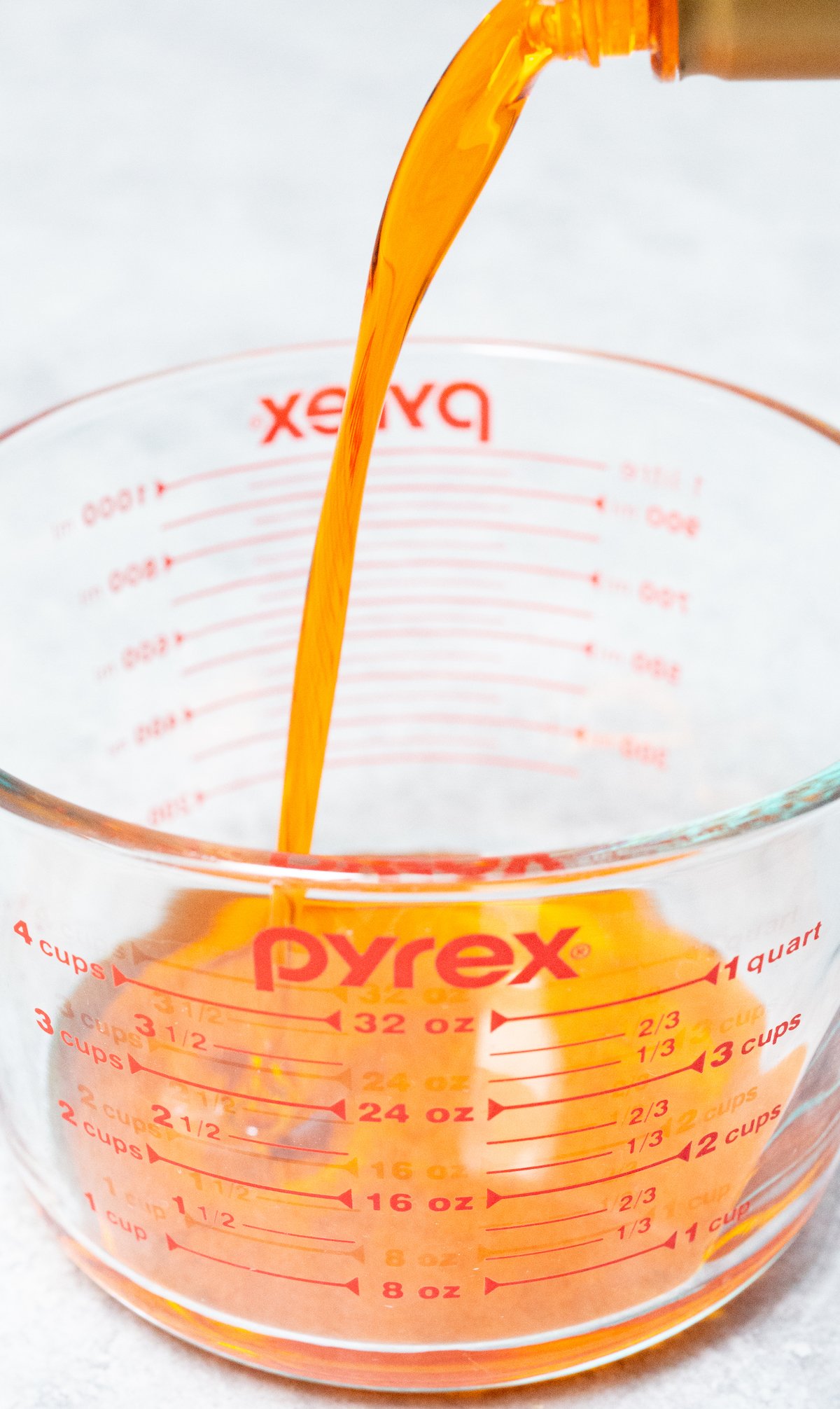 Next, pour in the water.
Give the mixture a stir to ensure the water and syrup are well mixed. Then, distribute the mixture equally among your popsicle mold.
Add the lid to your mold, then place the popsicle sticks.
Freeze your popsicles for at least 8 hours. Then, remove from the mold and enjoy!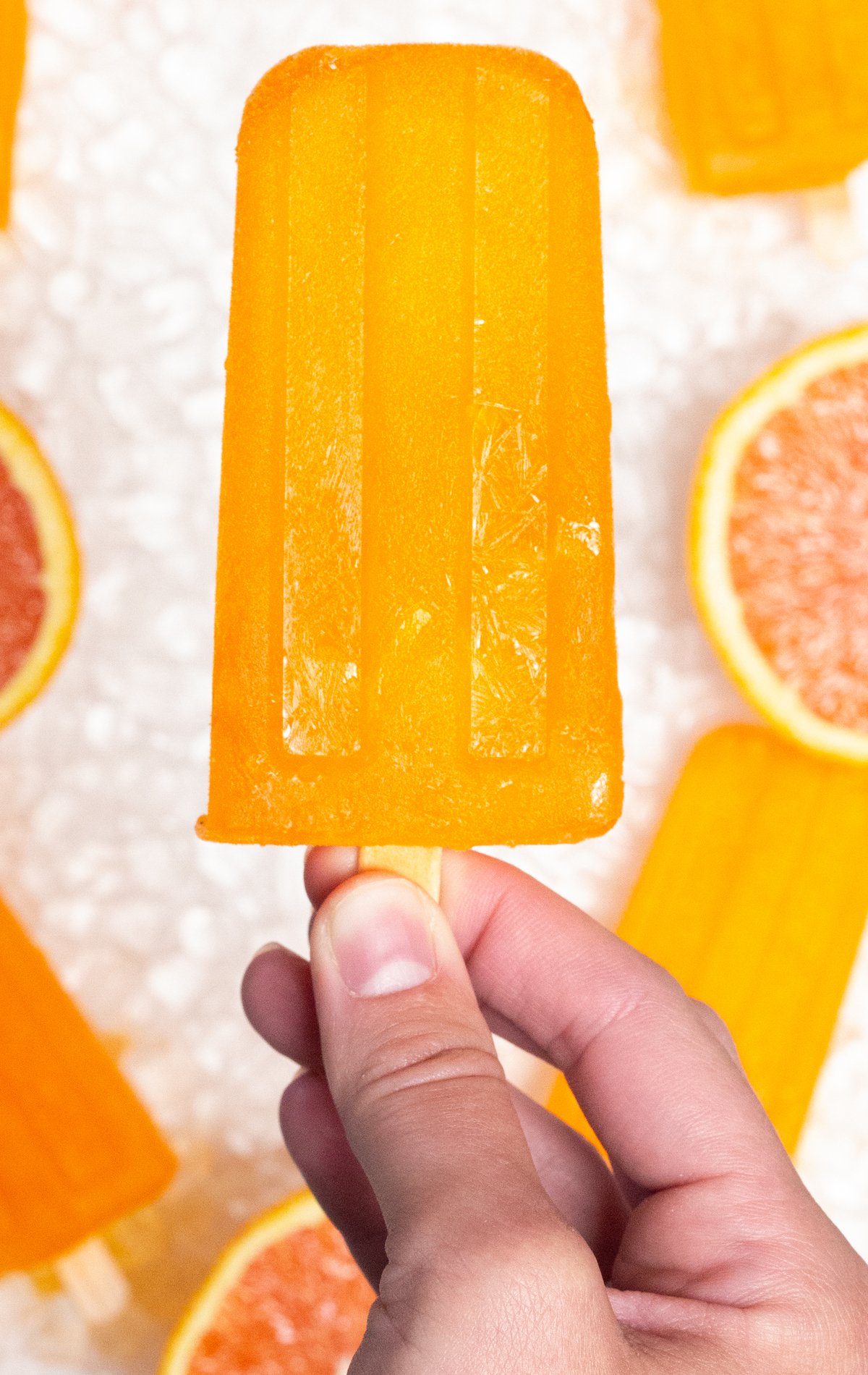 Tips
Soak popsicle sticks in warm water for 30 minutes to help prevent them from "floating" when you insert them into the popsicle mold.
When ready to remove the popsicles, run warm water over every side of the mold for 10-15 seconds. This will help them release with ease.
How To Store
You'll want to remove the popsicles from the mold to store them. The molds are not made for storage and your pops will get freezer burn if you leave them in long term.
I recommend removing them from the mold, wrapping them individually with wax paper, then storing in an airtight container (like a Ziploc bag) kept in the freezer for up to 6 months.
Orange Popsicles
Two ingredient homemade orange popsicles.
Total Time:

6 hours 5 minutes
Ingredients
3/4 Cup Orange Syrup
3 1/4 Cups Water
Instructions
Add the orange syrup and water to a bowl or large measuring cup. Stir to incorporate.
Fill your popsicle mold with the liquid.
Add the lid to the mold, then insert popsicle sticks.
Freeze for at least 8 hours.
After the popsicles are frozen, run warm water over each side of the mold for 10-15 seconds, then pull on the popsicle stick to remove.
Enjoy!