Homemade English Muffin Breakfast Sandwiches
Homemade English Muffin Breakfast Sandwiches are the best thing to happen to your mornings! These are super easy, freezer friendly, and absolutely delicious!
Mornings can be hectic, and whenever I can make breakfast go smoother, I know I have already won the day! Add this Casserole, Oats, and Cinnamon Rolls for other delicious breakfast ideas.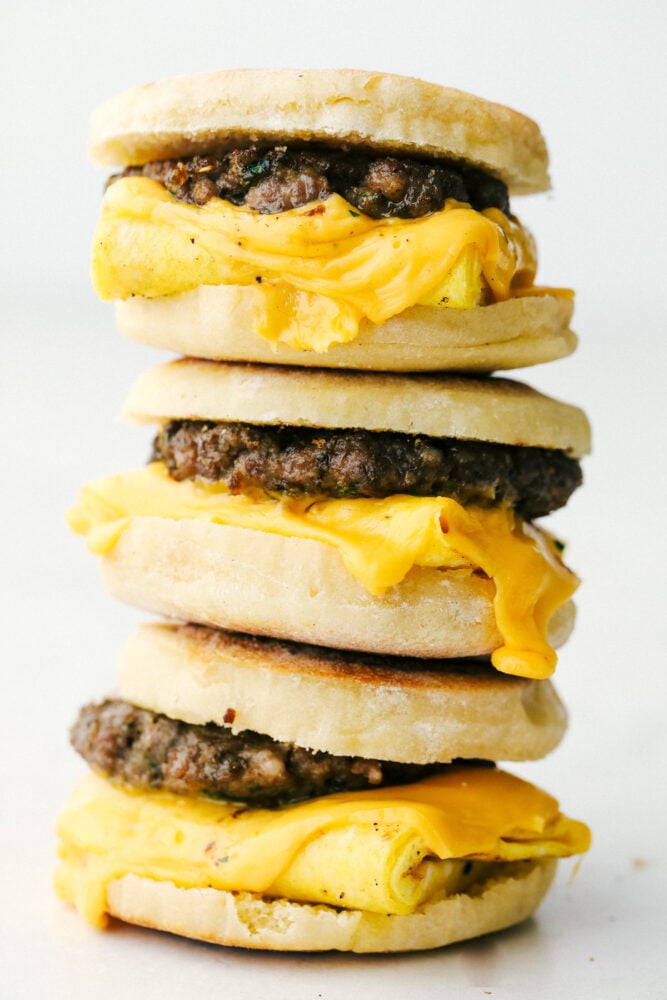 Homemade English Muffin Breakfast Sandwiches
These English muffin breakfast sandwiches are worth getting up for in the morning. In fact, you are going to want to wake up because of these tasty, quick sandwiches. English muffins provide the base and hold it all together. Perfect with their little crooks and crannies to hold in all the delicious toppings. Add perfectly cooked eggs and easy flavorful sausage and a slice of cheese for the perfect stacked English muffin breakfast sandwich.
The best part about being homemade is you can make breakfast sandwiches, and customize them any way you want. You know exactly what is in the food you're are serving your family. Make a large batch and freeze the extras for breakfasts and even dinners, that are quick and delicious. So let's make these popular fast food sandwiches in the comfort of your own home. These English muffin breakfast sandwiches taste way better than anything you could ever get in the freezer section or the restaurant!
What You Need For Easy English Breakfast Muffin Sandwiches
These are so yummy and if you use homemade english muffins and homemade sausage, they taste superior!
English Muffins: Make your own English muffins for incredible results. If you are in a hurry you can definitely use store-bought.
Sausage: You really need to try making your breakfast sausage here. It is going to change your life, and it is so easy. It elevates these sandwiches!
Eggs Use 4 Large eggs at room temperature.
Heavy Whipping Cream: This creates eggs that are creamy, moist, and richer. perfect for breakfast sandwiches.
 American Cheese: The ultimate melting cheese.
How to Make English Muffin Breakfast Sandwiches
Truly this is why English muffins were created. This has to be hands down one of the best way to eat them. Ok, Eggs Benedict is close second!
Prep: Make the English muffins and sausage according to the recipe.
To make the eggs: Whisk together eggs and heavy cream. Add to a medium non-stick skillet over medium heat. Flip when the egg starts to set and flip again.
To assemble: Slice the egg into fourths and fold on the bottom of the English muffin. Top with cheese, and sausage patty and English muffin top
Quick Tips and Variations For The Best English Muffin Sandwiches
Super customizable you can make these any way you want. Just make them!
Egg: Flipping the egg gives it an extra layer, if you want a thinner sandwich, do not flip it. But you do want eggs similar to the omelet consistency. This way they will stay on the English muffin better. You can also make a large amount of egg at once in the oven. Use 12 eggs, 2 Tablespoons of cream, and salt and pepper. Whisk till it's super good and mixed. Place in a well-greased 9×13 pan and bake at 325 for 18-22 minutes. then cut into squares.
Meat Options: Sausage isn't the only thing you can use. Bacon, Ham, or no meat at all are all good options.
Cheese: Not a fan of American, no problem you can use any kind of good melty cheese you'd like. Havarti, cheddar, swiss, pepper jack, and Colby jack are all good options.
Toasting: This is a must in my book. Toast the English muffins and lightly butter them before assembling. This will keep them from getting soggy when you freeze them. Also, place the cheese on last, place them on a cookie sheet and broil for 1-2 minutes or till cheese is good and melty. Remove from oven and top with the other half of the English Muffin.
How to Freeze English Muffin Breakfast Sandwiches
This is so worth the extra effort. If you are going to make one of the breakfast sandwiches, you might as well make a dozen or more for those times you really need a meal idea. These are so easy to freeze and reheat, it's a real-time saver!
To Freeze: Wrap each sandwich in plastic, parchment, or tin foil and place in a gallon sealable freezer-safe bag. Freeze for up to 2 months.
Thaw: If you can thaw in the fridge overnight. Or remove the outer covering and wrap it in a paper towel. Heat the sandwich in the microwave at 50% for 40seconds to 1 min. Flip and repeat. Once warmed, heat it for 15 seconds on full power to heat it all the way through. They can also be heated in the oven at 350 degrees for 10-15 minutes without the paper towel. Or in a toaster oven.
---
---
Serves: 1
Calories913kcal (46%)Carbohydrates31g (10%)Protein51g (102%)Fat64g (98%)Saturated Fat29g (145%)Trans Fat1gCholesterol879mg (293%)Sodium2228mg (93%)Potassium578mg (17%)Fiber2g (8%)Sugar3g (3%)Vitamin A2126IU (43%)Vitamin C1mg (1%)Calcium1033mg (103%)Iron5mg (28%)
All nutritional information is based on third party calculations and is only an estimate. Each recipe and nutritional value will vary depending on the brands you use, measuring methods and portion sizes per household.