Instant Pot Corned Beef and Cabbage
Corned Beef and Cabbage will make your St. Patrick's Day a breeze. The beef is tender and the cabbage and potatoes is full of flavor, you will love this!
Corned Beef and Cabbage is a classic then add Soda Bread to complete the meal. For dessert enjoy a little green with Mint Brownies or a Shamrock Shake.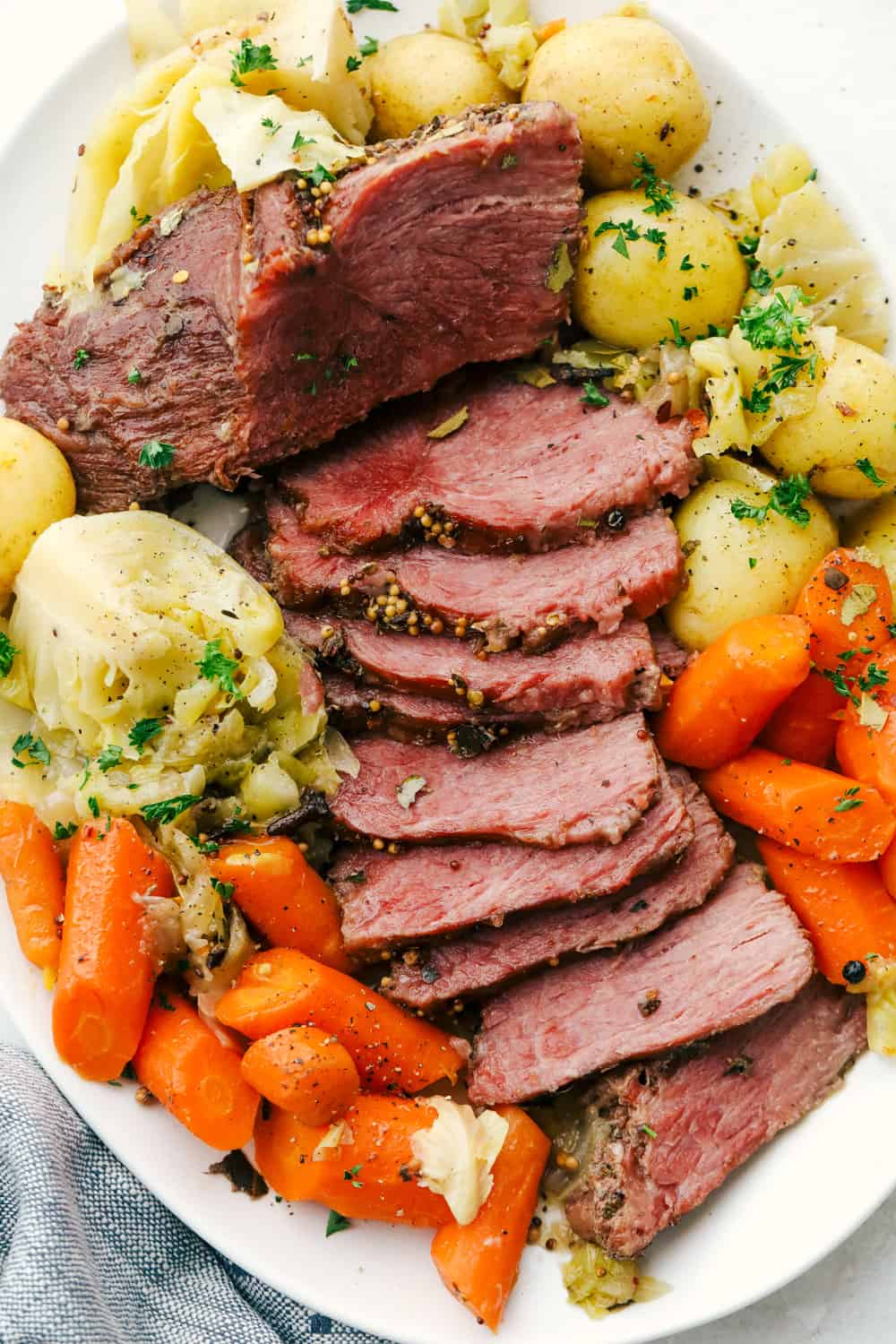 Corned Beef and Cabbage
This Irish holiday is a favorite at our house. Along with everything being turned green ( think green milk, pancakes etc), we get to eat this delectable dish! Corned Beef and cabbage is a must for St. Patrick's Day festivities. Cooking it in the instant pot guarantees tender moist beef and perfectly cooked cabbage and potatoes.Adding the carrots gives it texture, color and flavor. It is the easiest and most delicious way to eat this Irish traditional meal.
Cooking the corned beef and cabbage in the instant pot is a hands off approach that will save you time and stress. If this is your first time cooking it, then the instant pot is the way to go. It will come out perfect and tender! Cook the vegetables separate from the beef so that they don't get over cooked. This will be a meal that will wow your family! It is so good you may want to make it more than just once a year, which you probably should anyway!
What is Corned Beef?
Traditional Irish made this meal originally with boiled bacon, but when they immigrated to America, they could not afford it pork or bacon. Corned Beef Brisket is what they used instead. They paired it with the cheapest vegetables around, cabbage and potatoes. It has been tradition here in America ever since.
Corned beef is beef brisket that has been soaked in brine and then cured with salt and seasonings. The pink color comes from the sodium nitrate that is used in the  curing process. Corned beef comes in multiple cuts, and is best cooked for a long period of time so that it comes out tender. It can be boiled, slow cooked, or roasted.
What You Need To Make Corned Beef
Now is the time to buy corned beef! I like to buy more than one and stick one in my freezer for later in the year when I get the craving. Corned beef is a favorite.
Onion: Roughly chopped
Corned Beef Brisket:
Water: Needed to create the pressure.
Pickling Spice: Many corned beef come with the spices in a packet included.
Carrots: Use regular carrots and not baby carrots for best flavor.
Baby Potatoes: Red or yellow potatoes work well.
Cabbage: Roughly  chopped.
How to Make Corned Beef and Cabbage in the Instant Pot
The instant pot takes the work and fret out of making fork tender corned beef. The vegetables need to be cooked separately so they don't turn to mush.
Place: Add the onion to the bottom of your instant pot. Place the corned beef on top and sprinkle with pickling spice.
Cook: Add the water the instant pot and make sure the valve is turned to seal. Set the instant pot to high and cook for 80 minutes.
Rest: Once the time is up, carefully turn the valve to release and let the remaining pressure out. Remove the beef and onions from the instant pot and set it aside to rest.
Cook Vegetables: Take out two cups of the water and add the carrots, potatoes, and cabbage. Make sure the valve is turned to seal. Turn the pressure cooker to high for 5 minutes. Once the time is up then release the pressure. Once the pressure is released slice up the meat going against the grain and serve with vegetables.
How to Buy Corned Beef
March is the perfect time to buy corned beef, although you can usually find it year round. It is mostly found in two different cuts. The flat cut brisket and the point cut. You can also sometimes find a corned beef roast, but they are not as popular since they have the least amount of fat and dry out easily.
Flat cut brisket and point cut brisket are the cuts you want to look for and buy. Flat is a favorite because it comes in a uniform shape and size. This makes the corned beef easy to cut and you can trim the fat off easy from the top. Point cuts usually have the most fat, but can be the most tender.  Either one will work beautifully for this Instant pot recipe.
Tips for the Best Instant Pot Corned Beef
Leftover corned beef is divine! Make a Breakfast Corned Beef Hash or these Incredible Corned Beef Sandwiches!
Potatoes: To get the best results you want to use waxy potatoes that won't break down as easily when cooked. Yukon golds or yellow potatoes, red potatoes and fingerlings are all ideal choices. Avoid russets, they can break down into mush when cooked.
Carrots:  Yes baby carrots can be used and are convenient, but if you have the time use large carrots peeled and chunked. They will give you better flavor and hold up nicely to the instant pot.
Pickling Spices: Almost all corned beef will come with a package of spices with it. This is the same as pickling spices and you can just use them for ease. If you do not have a packet use a combination of allspice berries, coriander seeds, mustard seeds, whole pepper seeds, bay leaves and whole cloves. Salt and pepper to taste.
Cut against the Grain: This is one of the most important steps for insuring tender, melt in your mouth meat. As you look at your corned beef you'll notice how the strands of meat lay in one direction, usually lengthwise. You are going to want to cut against that or at a perpendicular angle. This automatically will help the meat be tender and not fibrous when you eat it.
Leftovers: Store leftovers tightly wrapped or in an airtight container for up to 5 days. You can freeze it for up to 3 months. Thaw and reheat as desired.
Instant Pot Corned Beef and Cabbage
Prep Time 5 minutes
Cook Time 1 hour 25 minutes
Total Time 1 hour 30 minutes
Author Alyssa Rivers
Servings 6 People
---
Instant Pot Corned Beef and Cabbage will make your St. Patrick's Day a breeze. The beef is tender and the cabbage and potatoes is full of flavor, you will love this!
---
---
1




large




onion




quartered

3-4




pound




corned beef brisket

4




cups




water

2




Tablespoons




pickling spice

4




large




Carrots

1




pound




baby potatoes

1




head




cabbage




quartered
---
---
Serves: 6
Calories580kcal (29%)Carbohydrates31g (10%)Protein38g (76%)Fat34g (52%)Saturated Fat11g (55%)Cholesterol122mg (41%)Sodium2835mg (118%)Potassium1460mg (42%)Fiber8g (32%)Sugar9g (10%)Vitamin A8180IU (164%)Vitamin C137mg (166%)Calcium125mg (13%)Iron5mg (28%)
All nutritional information is based on third party calculations and is only an estimate. Each recipe and nutritional value will vary depending on the brands you use, measuring methods and portion sizes per household.