Fluffy Whole Wheat Pancakes
Fluffy Whole Wheat Pancakes are pillowy soft morsels of goodness! You are going to love this simple, easy, light but hearty pancake!
Breakfast is one my favorite meals! I love having something so delicious in the morning, it's the perfect way to start the day. Add this whole wheat pancake recipe to my other favorites like this Quick 45 minute Cinnamon Rolls, The Best Breakfast Casserole and The Best Ever German Oven Pancakes for a winning rotation.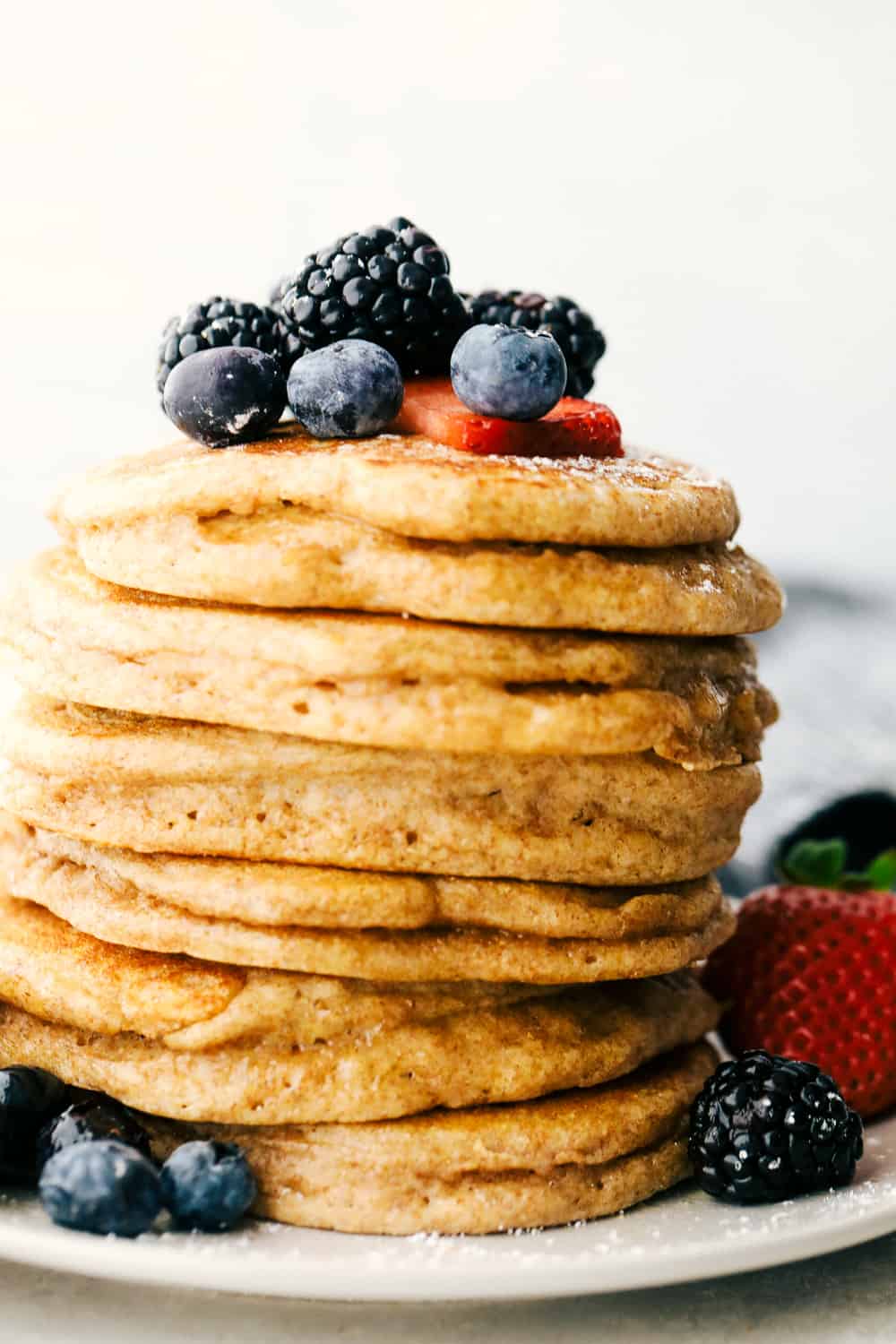 Whole Wheat Buttermilk Pancakes
Pancakes are a favorite of our family! There is just something magical about warm fluffy tender pancakes first thing in the morning. It's like by eating them you just know it is going to be a great day!  Served with perfectly scrambled eggs, the best bacon and this absolutely heavenly syrup and your day is set! Are you hungry yet?! With crispy golden outside and a delicate enticing inside these whole wheat pancakes cook up perfectly. These whole wheat pancakes are fat and simple to make. Make some today!
Anytime I would hear "whole wheat" as an ingredient growing up, I would know it was going to be dense and bland, but it would be good for me! Am I right? Whole wheat has come a long way since then. And baking with it has gotten so much easier. These whole wheat pancakes are so marvelous, you may never make any other kind. They still have that all important ingredient, buttermilk, that makes every pancake better. The chemical reaction it has with the baking soda creates those tempting bubbles that create fluffy clouds of goodness! These whole wheat pancakes are a MUST make for breakfast today!
Ingredients for Healthy Whole Wheat Pancakes
Simple ingredients you can find in your pantry or at your local grocery store. You can find whole wheat flour next to the regular flour. Store the flour in a cool dark place or better yet the fridge or freezer to maintain freshness!
Whole Wheat Flour: Nutty and delicious flavor.
Sugar: A little bit of sweetness.
Baking Soda and Baking Powder: These are the rising agents that help make it light and fluffy.
Salt: For balance and flavor.
Buttermilk: Creates the lightness with a wonderful tangy flavor. Don't have any? No worries, you can make your own in minutes!
Eggs: The binder for the pancakes.
Canola oil:  Can be substituted with coconut oil. Make sure the oil is in liquid form.
How to Make Whole Wheat Pancakes from Scratch
These whole wheat pancakes are just as simple as making The Best Fluffy Buttermilk Pancakes, it comes together quickly for busy mornings. The key is to mix until just combined. Over mixing the batter can decrease the fluffiness in each of the pancakes.
Whisk: In a medium bowl mix together the whole wheat flour, sugar, baking powder, baking soda and salt.
Add: Add in the eggs, buttermilk and oil and stir till just combined.
Cook:

Preheat a skillet over medium heat. Spray with cooking spray and drop about ¼ cup of the batter onto the warm skillet. Once it forms bubbles then flip to the other side and cook until golden brown.
Whole Wheat vs White or All Purpose Flour
Whole wheat and all purpose flour start from the same plant and kernel of wheat but are processed very differently giving them each a distinct color, flavor and texture. Whole wheat flour is made up of the whole wheat kernel, meaning when it is ground, wheat flour uses the entire kernel. This creates the brown color, heavier texture and richer flavor. White flour or all purpose flour removes the most nutrient rich parts, the bran and germ before grinding.  This makes the flour white, and lighter with a milder flavor.
Nutrition: Because of the way whole wheat flour uses the whole kernel it is considered healthier. It is an excellent source of protein, fiber and a variety of vitamins and minerals. For half a cup of whole wheat flour you get 8 grams of protein, and 8 grams of fiber.
Buying: When shopping for whole wheat flour watch your labels and make sure they say 100% whole wheat. There are lots of labels that seem like they should be whole wheat but aren't completely.
Substitutions: Whole wheat flour can be used in equal amounts as white or all purpose flour in any recipe. Remember that it will have a different texture and color than if you used white flour. If I am substituting in whole wheat flour for white flour, I usually do half and half to start with. Then I can tell how the recipe will respond to the different flour. Sometimes you just need to use white flour. But not in these pancakes!
Tips to Make Light and Fluffy Pancakes
I love using buttermilk and I firmly believe it should always be involved when pancakes are concerned. It creates such light, fluffy and flavorful pancakes. It's pure heaven! There are a few things to remember when using buttermilk however, for perfection every time.
Don't over mix! There is a chemical reaction between the buttermilk (the acid) and the baking soda (base) that creates those gorgeous bubbles. If you over mix the batter you'll squash all the bubbles.
Use immediately! Like all chemical reactions, after time it just fades. Do not make this batter ahead of time and let it sit. All the bubbles will fizzle out. You can mix the dry and wet separately ahead of time and then combine them right before you're ready to cook.
Fresh whole wheat flour: Make sure your whole wheat flour is fresh. Many times whole wheat flour gets a bad rap for tasting bitter, but that's only because the flour has gone bad. Because it has the whole kernel it also has its natural oils which will cause it to go rancid faster. Store whole wheat flour in the fridge or freezer for longer shelf life.
Mix wet ingredients separately: If you find it hard to mix everything up without over beating it, mix all the wet ingredients separately before adding it to the dry.
White whole wheat flour: White whole wheat flour is made from a white wheat kernel, whereas whole wheat flour is made from a red wheat kernel. Whole White Wheat has the same nutritional value as whole wheat, but is lighter in both color and texture. Many prefer to use whole white wheat because it more closely resembles white flour. Again the key is to use WHOLE White wheat!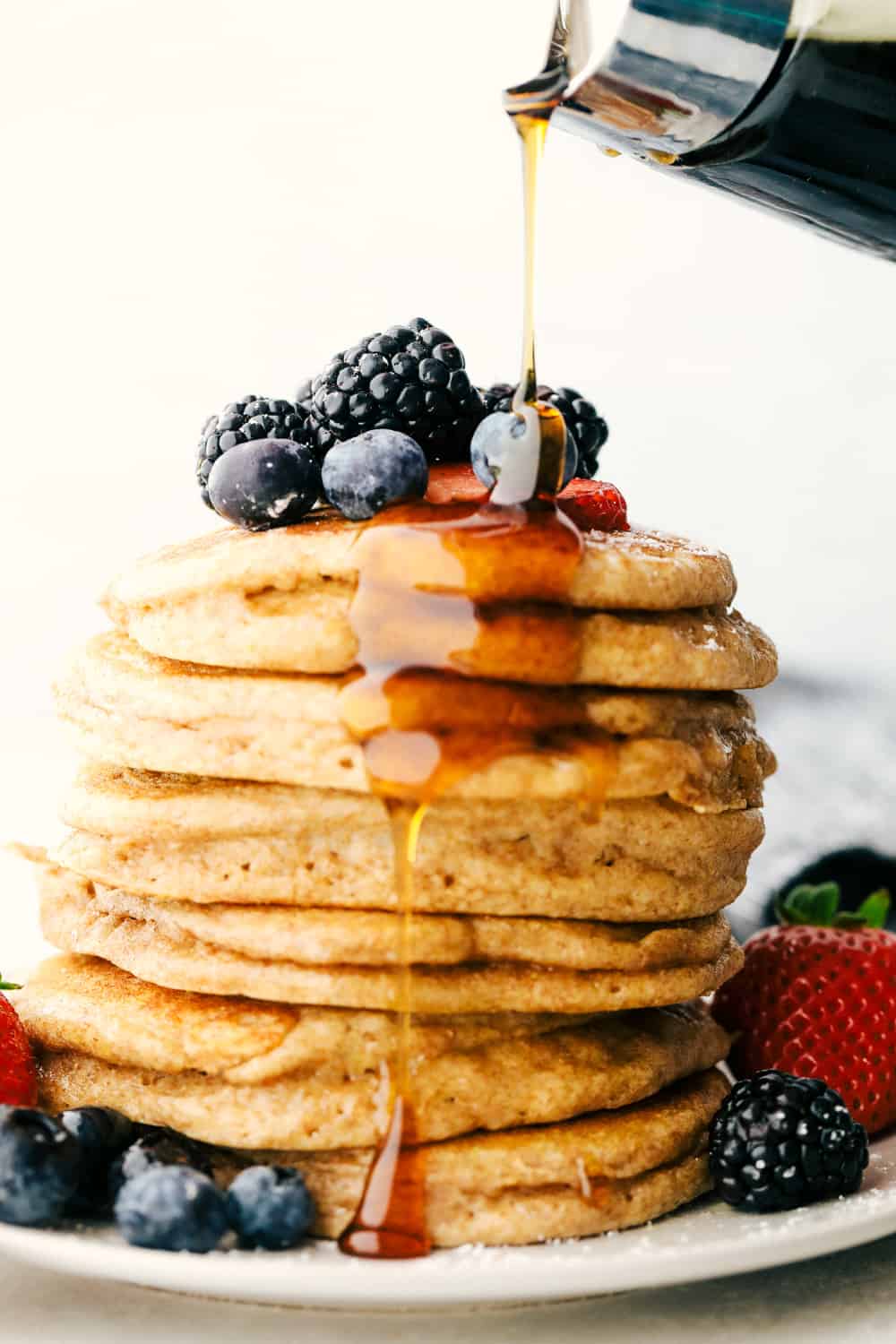 Variations when Creating the Best Whole Wheat Pancakes
The beauty of all pancakes is how easy they are to customize and make delicious! With such a wonderful tasting base, that's even healthy, the sky's the limit here!
Add Ins: Add in berries, nuts, chocolate chips, bananas or even crumbled bacon for diversity and fun.
Flavorings: Add in ½ to 1 teaspoon of any of your favorite flavorings. Think classic vanilla, butter flavoring, almond, or coconut extracts.
Toppings: Top these extraordinary vittles with berries, nuts, syrup, buttermilk syrup (yum!), peanut butter, jam, chocolate chips and of course maple syrup. Oh wait! Don't forget the whip cream!
How to Store Whole Wheat Flour Pancakes Properly
Freeze: I love to make a double batch and cook lots of extras to freeze for quick breakfasts in the morning. To freeze leftover pancakes, let them cool completely on a cooling rack. Individually wrap pancakes in plastic wrap and place in a Gallon freezer bag. You can also just place them in a gallon freezer bag separated with wax or parchment paper. They will keep for up to 3 months.
Reheat: To reheat place frozen pancakes on a paper towel lined plate and microwave for 30 sec, flip and cook for another 30 sec or until heated through. You can also toast the pancakes in your toaster for a crispier outside.
Whole Wheat Pancakes
Prep Time 5 minutes
Cook Time 15 minutes
Total Time 20 minutes
Author Alyssa Rivers
Servings 4 People
---
Fluffy Whole Wheat Pancakes are pillowy soft morsels of goodness! You are going to love this simple, easy, light but hearty pancake!
---
---
2




cups




whole wheat flour

3




Tablespoons




sugar

1/2




teaspoon




baking soda

1 1/2




teaspoon




baking powder

1/2




teaspoon




salt

2 1/4




cups




buttermilk

2




large




eggs

1/4




cup




canola oil or vegetable oil
---
---
Serves: 4
Calories360kcal (18%)Carbohydrates60g (20%)Protein15g (30%)Fat8g (12%)Saturated Fat4g (20%)Cholesterol108mg (36%)Sodium607mg (25%)Potassium586mg (17%)Fiber6g (24%)Sugar16g (18%)Vitamin A358IU (7%)Calcium255mg (26%)Iron3mg (17%)
All nutritional information is based on third party calculations and is only an estimate. Each recipe and nutritional value will vary depending on the brands you use, measuring methods and portion sizes per household.