Cozy At Home Spicy Any-Veggie Soup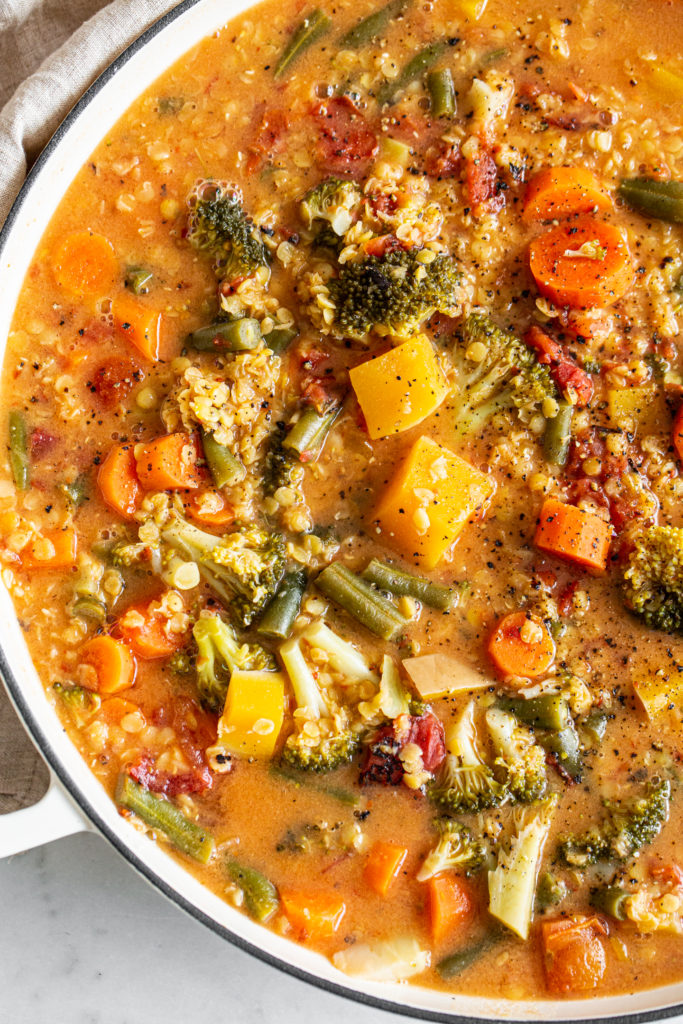 A little about this soup
Today, I'm sharing a versatile, nutrient-packed, and pantry-friendly soup that I've been making for the past several weeks. I can't tell you how much of a go-to recipe this has been while trying to juggle work deadlines and refereeing (oops, I mean parenting) and homeschooling. You can use virtually any veggies you have on hand as long as it totals about 8 cups (be sure to see the Tips in the recipe below for ideas). I've created both Instant Pot and stovetop versions for you as well. I love that I can throw everything into my Instant Pot, turn it on, and walk away! And the stovetop version is almost as simple…the only difference is that you'll need to stir it a few times during cooking. I'm whipping this up twice weekly until the warm weather sets in. I hope it brings you some comfort during these trying days. I'd love to hear which veggie combos you use…my favourite combo so far is: broccoli, carrots, butternut squash, frozen green beans, and sliced cremini mushrooms. A nutrient powerhouse! I'm not joking when I say that I'm eating this daily for lunch…it helps balance out all the baked goods that I've been stuffing in my face…lol. 
PS – I'll be sure to share a lot more details about the new book (as well as the big cover reveal!) soon. If you haven't already, be sure to sign up for our newsletter, as we'll be relaunching it this spring and revealing the cover and details there first.
Sending you all love, good health wishes, and big virtual hugs,
us xoxo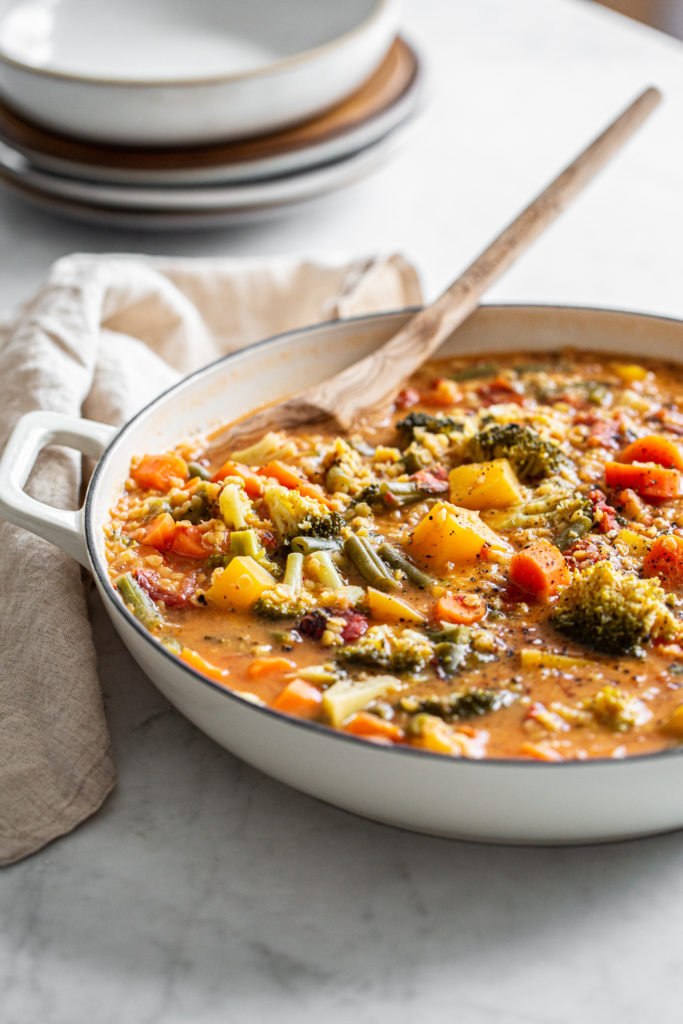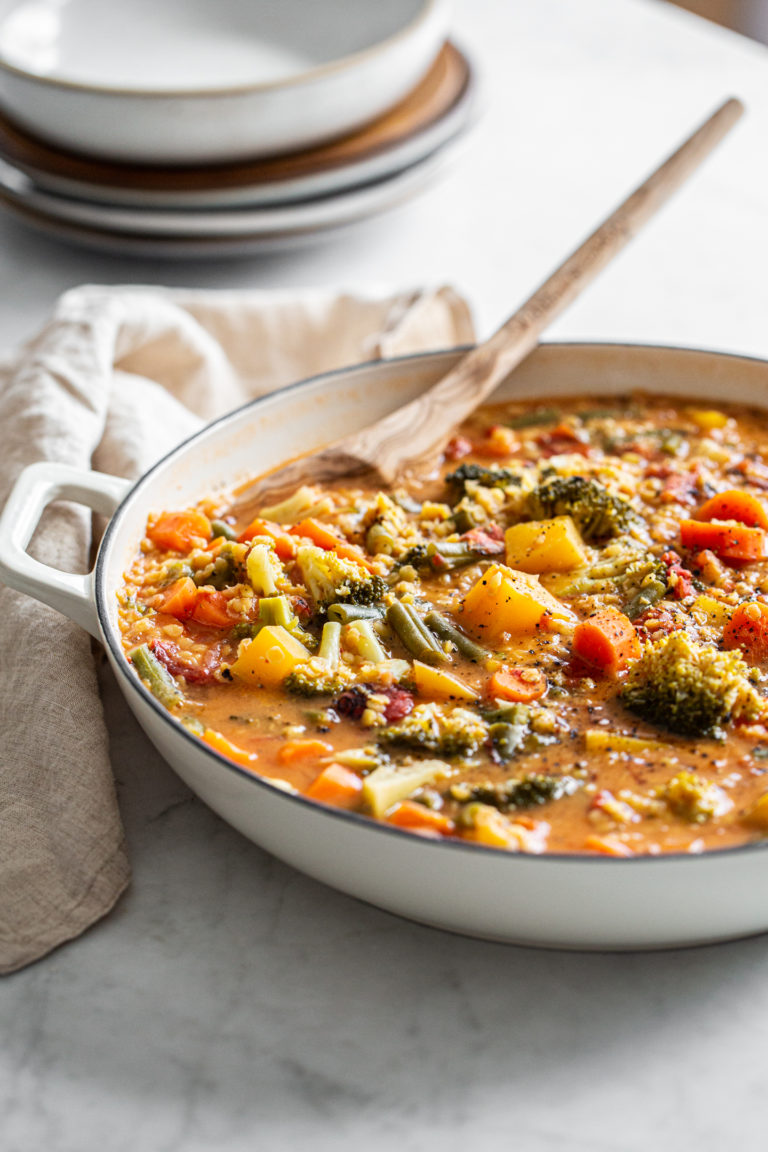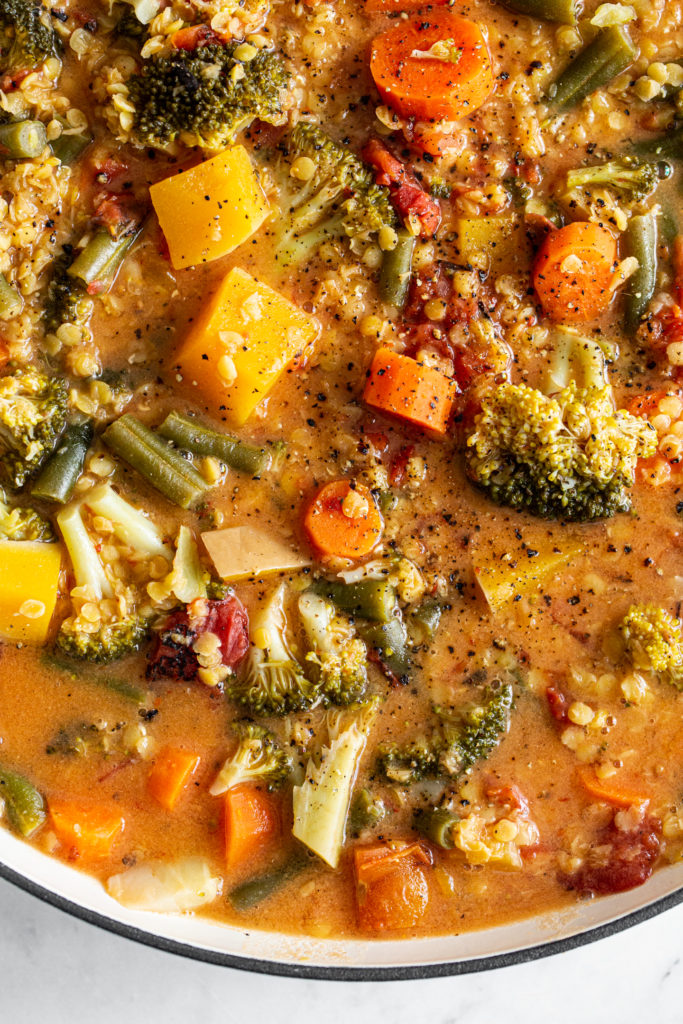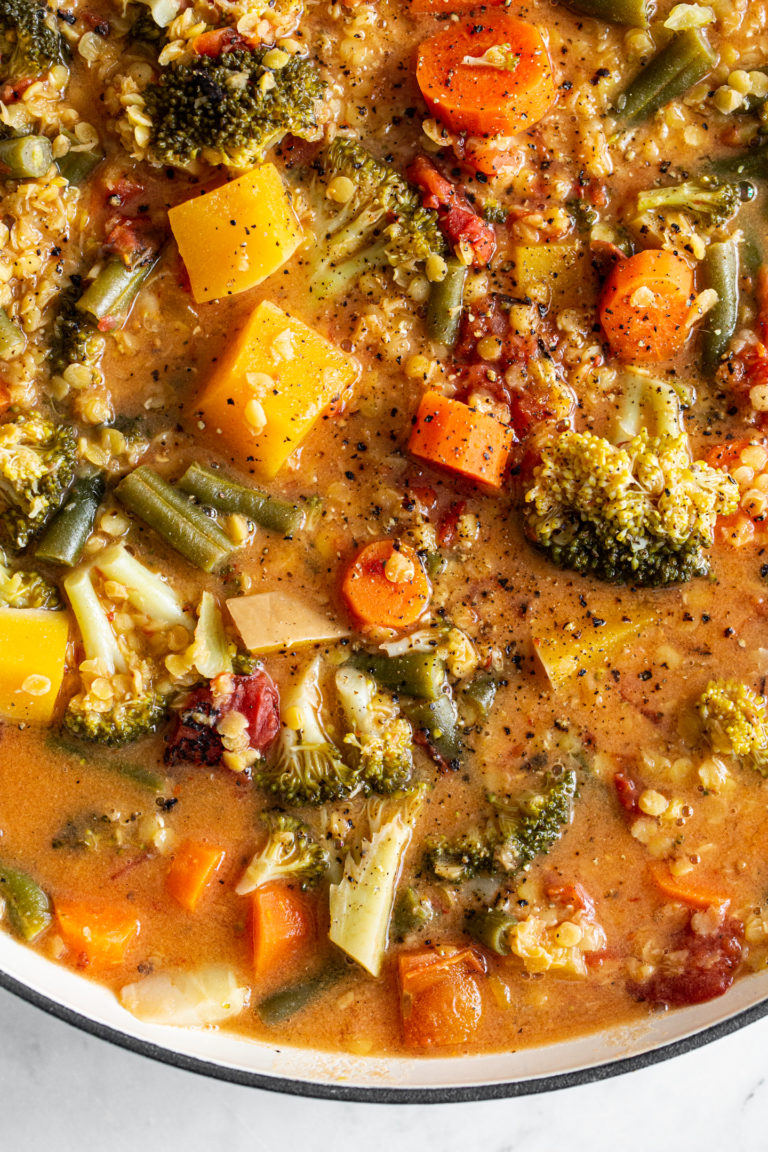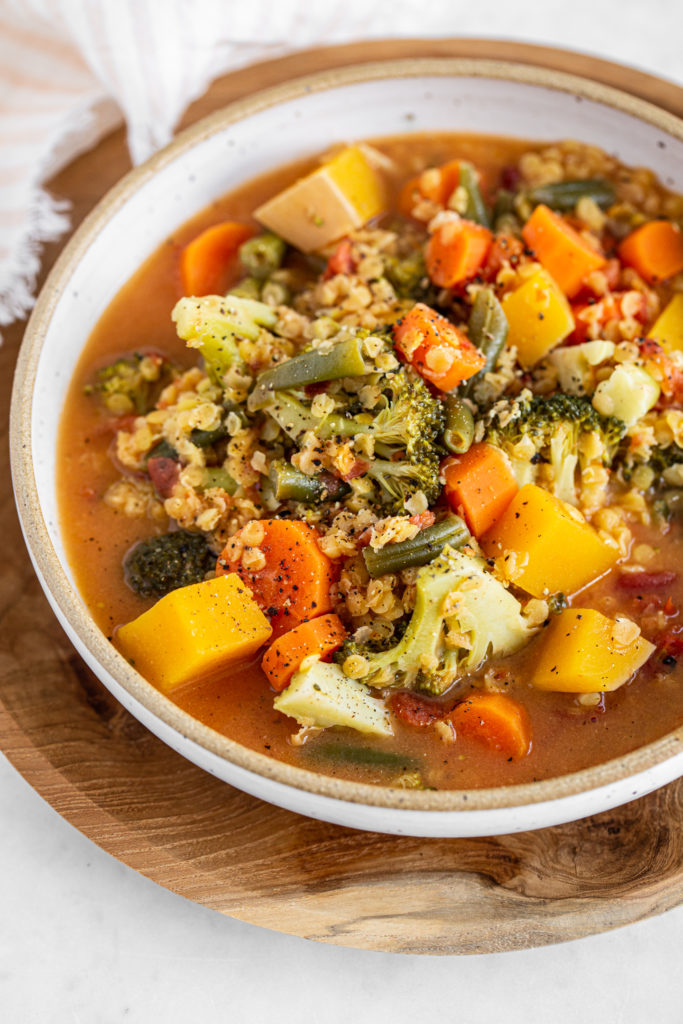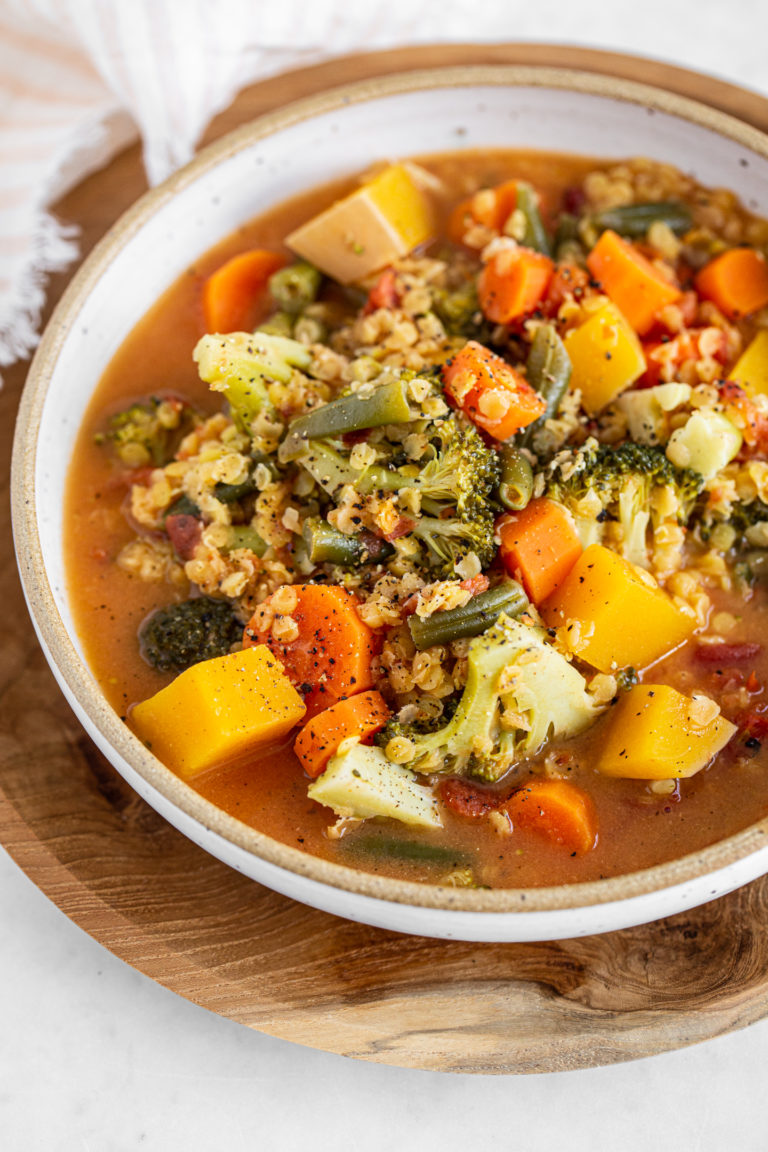 Yield

8 cups (2 L)
Prep time

Cook time

Total time

Ingredients:
1 tablespoon (15 mL) coconut oil or olive oil

2 1/2 cups (625 mL) water

1 (14-ounce/398 mL) can light coconut milk

1 (14-ounce/398 mL) can fire-roasted diced tomatoes*

3 cups (190 g) broccoli florets (1 1/2-inch florets)**

2 cups (270 g) peeled, seeded, and chopped butternut squash (1/2-inch cubes)

1 1/2 cups (195 g) chopped peeled carrots (1/2-inch thick coins)

1 1/2 cups (160 g) frozen cut green beans***

2 teaspoons red pepper flakes, or to taste****

1 teaspoon fine sea salt, or to taste

1 teaspoon garlic powder

1 cup (170 g) uncooked red lentils

2 tablespoons (30 mL) apple cider vinegar, or to taste

Herbamare, for garnish (optional)
Directions:
Stovetop method: To a large pot, add the oil, water, coconut milk, diced tomatoes (with juices), broccoli, butternut squash, carrots, frozen green beans, red pepper flakes, salt (starting with 3/4 teaspoon), garlic powder, and red lentils. Stir to combine.
Set the heat to high, cover with a tight-fitting lid, and bring the mixture to a low boil. Once it comes to a boil, remove the lid and reduce the heat to medium. Stir again, scraping off any lentils stuck to the bottom of the pot.
Simmer, covered, over medium heat for 15 to 20 minutes, stirring occasionally, until the lentils are soft and the veggies are just fork tender. The veggies should have a touch of resistance when pierced with a fork. The cook time will vary based on the type of veggies you use.
After cooking, remove the lid and stir in the apple cider vinegar, starting with one tablespoon and adding from there, to taste (we love 2 tablespoons for a lot of brightness). Sometimes, there may be a slight separation in the soup after adding the vinegar, depending on the brand of coconut milk used. This is nothing to worry about. Season with more salt, if desired (I add another 1/4 teaspoon of fine sea salt, plus a bit of Herbamare). I also enjoy adding a bit more apple cider vinegar to my individual serving because I adore its tanginess in this soup. Serve and enjoy. Refrigerate leftovers in an airtight container for up to 4 to 5 days.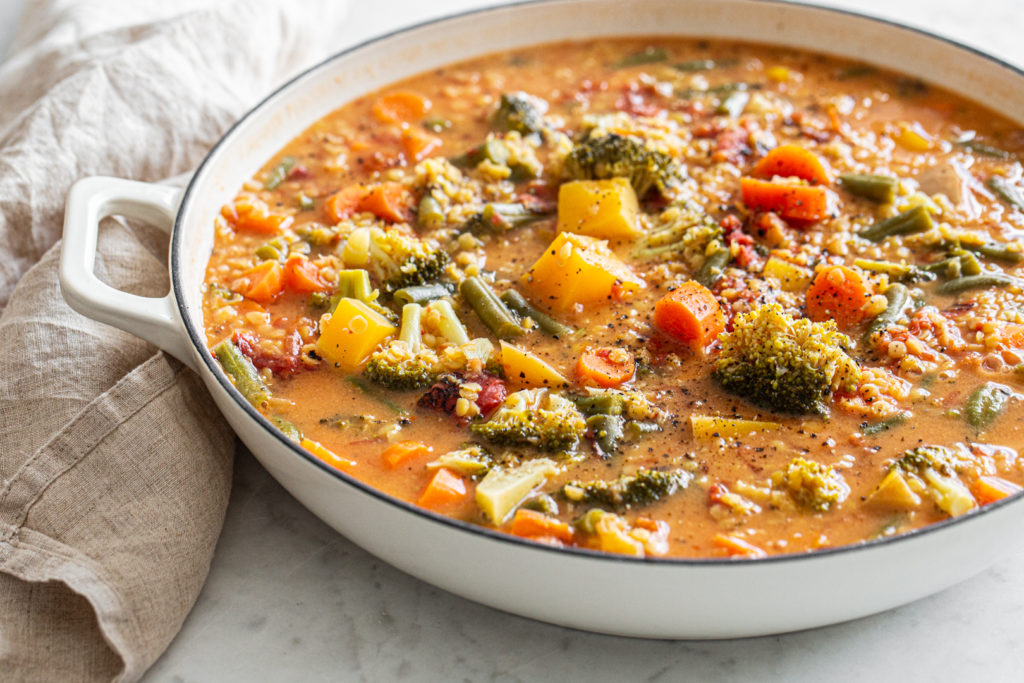 Let's get social! Follow us on Instagram @ohsheglows, Facebook, , and Pinterest

[ad_2]