Copycat Chick Fil A Frosted Lemonade
This Copycat Chick Fil A Frosted Lemonade is a delicious and creamy cold drink for the summer. This copycat frozen lemonade is so refreshing and perfect for hot days!
If you love Chick Fil A as I do, you have to try these other copycat recipes, they are to die for! Try my Copycat Sandwich, Nuggets, and of course their amazing Chick-fil-A Sauce!
Chick Fil A Frosted Lemonade
I have an obsession. Chick Fil A's Frosted Lemonade! Have you had it?! It is the most amazing and creamy delicious frozen drink that I have ever had. I crave Chick Fil A frosted lemonade all of the time. Especially on the hot summer days. So the last time that I ordered this frosted lemonade, I noticed that they just add vanilla ice cream to their delicious hand-squeezed lemonade. And since I have the recipe for their lemonade on my blog I wanted to make some at home for myself.
It was pretty simple to squeeze some fresh lemons and combine it all into the blender. This Chick Fil A frosted lemonade blended so smooth and creamy and the hint of lemon is absolutely fantastic! I could drink this drink everyday for the rest of the summer. It is fantastic! You will love everything about it and it will be the best refreshing lemonade drink that you make this summer. It tastes identical to the frosted lemonade at Chick Fil A. And the best part is that you can make a big batch at home!
What You Need To Make Copycat Frosted Lemonade
This ingredient list is short and sweet! It is perfect to make this frosted lemonade this summer as many times as you want! It is the perfect blend of sweet and savory and so easy to make! You will find the full measurements located in the recipe card below.
Lemon Juice: Fresh squeezed is best.
Sugar: Balances the tartness in the frosted lemonade.
Water: Makes the lemonade.
Vanilla Ice Cream: Gives it that frosted taste and chill you are going to love.
How to Copy Chick Fil A Frosted Lemonade
To make this quick and easy Chick Fil A frosted lemonade simply add lemon juice, sugar, and water to a blender. Add the vanilla ice cream. I used about the equivalent of 4 cups. Blend until smooth. Pour into four cups and enjoy! It is so simple to make and you will be making it over and over again.
All You Need To Know About Fresh Lemons
Incredible Frozen Lemonade starts with fresh squeezed Lemons. Yes, fresh. Not the bottled stuff, so here is all you need to know.
How to Pick Lemons: It can seem complicated, but when you know what to look for, you'll be an expert. Look for lemons that seem heavy when you hold it in your hands. Also look for thin skin, that is firm and has a fine texture to the peel. It should be a deep yellow color. The heavier the fruit and thinner the skin the more juice it will have.
Where should I store Lemons? It is so tempting to decorate your counter with fresh fruit in a pretty bowl. Just leave the lemons out. If left at room temperature the skins can become tough and the lemons can actually dry out. Keep your lemons in the fridge.
Juicing Tip: Cut and quarter your lemons and then microwave them for about 30 seconds. This helps the lemons release more of its juice.
Can I use bottled lemon juice instead of lemons? I would say if you weren't making lemonade, yes you could. But for the best tasting and refreshing lemonade, use fresh lemons. It just won't be the same otherwise.
Intensify the Flavor: Add the zest of one lemon to the mixture before adding the ice cream for even more of that citrus flavor without adding too much more zing.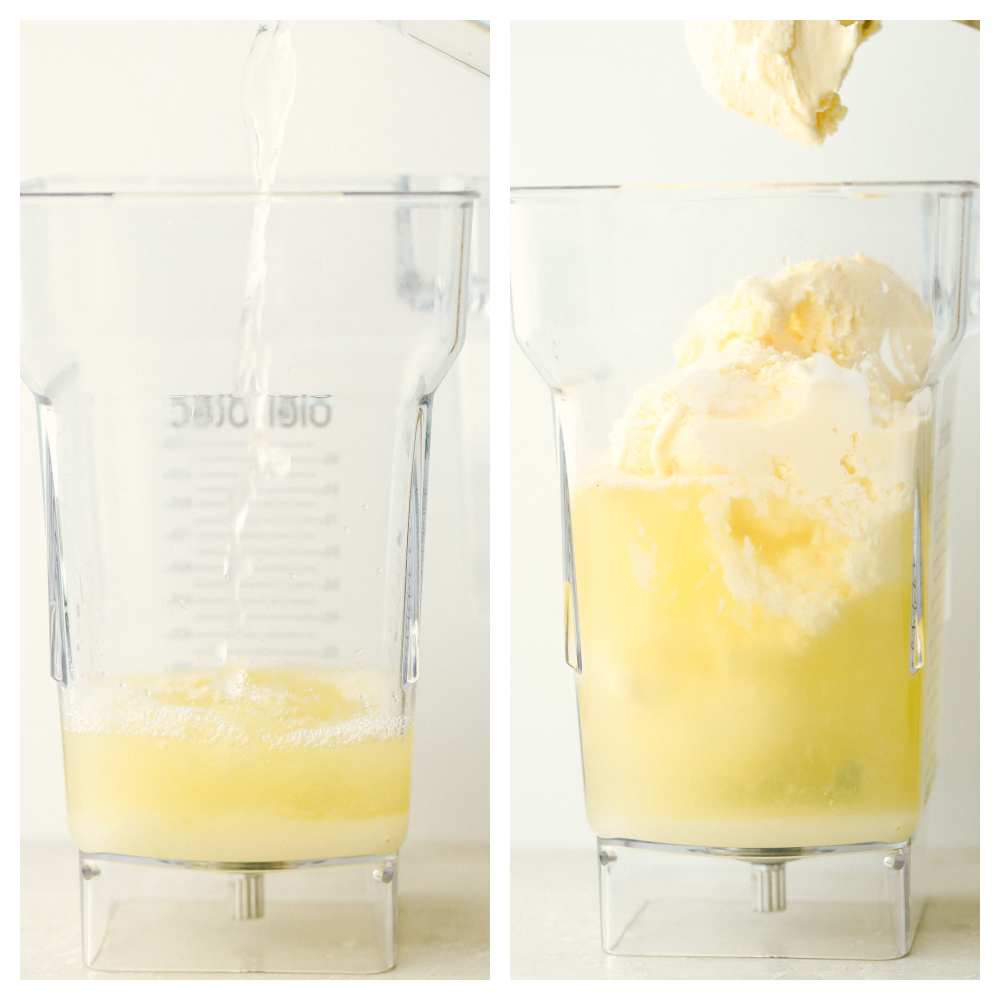 Easy Chick Fil A Frosted Lemonade Tips and Variations
This is one of the simplest recipes you can make, that being said here are some ways to make it perfect!
Blender: Because everything is essentially a liquid for this refreshing drink, you do not have to have a fancy blender. Even an immersion blender will work. Just blend till desired consistency.
Sugar: Make sure the sugar is dissolved as much as possible before adding the ice cream for a creamy texture.
Lemonade: Out of lemons, you can use already made lemonade. You will need 2 cups of lemonade for this recipe instead of the freshly squeezed lemon juice, sugar, and water. I highly recommend using a good-quality, all-natural lemonade.
Ice Cream: I love using ice cream full of ingredients I can pronounce and nothing artificial if I can help it. If you need a dairy alternative or something different, go for it! The taste and texture might be a bit different, but should still be amazing.
Add-ins: Vary this refreshing lemonade by adding in frozen berries, peaches, or other fruit of choice.
Mix it Up: Use Chocolate ice cream instead of vanilla, or use orange juice and reduce or omit the sugar. For extra zip use lime juice instead of lemons for a frozen limeade.
How to Store Frozen Lemonade
This is best served immediately, but you can make it a few hours beforehand. Blend and place in the freezer. When ready to use, let it thaw a bit or blend it again by adding extra ice cream or water as needed for desired consistency.
Add lemon juice, sugar, and water to a blender. Add the vanilla ice cream. I used about the equivalent to 4 cups.

Blend until smooth. Pour into four cups and enjoy!
---
Updated on May 29, 2021
Originally Posted on June 12, 2015
---
Serves: 4
Calories383kcal (19%)Carbohydrates60g (20%)Protein5g (10%)Fat15g (23%)Saturated Fat9g (45%)Cholesterol58mg (19%)Sodium111mg (5%)Potassium326mg (9%)Fiber1g (4%)Sugar54g (60%)Vitamin A556IU (11%)Vitamin C24mg (29%)Calcium175mg (18%)Iron1mg (6%)
All nutritional information is based on third party calculations and is only an estimate. Each recipe and nutritional value will vary depending on the brands you use, measuring methods and portion sizes per household.