Nopales salad is a traditional Mexican dish made with cactus paddles. Pair with a meat and serve it as a side dish, or use as taco and burrito filling.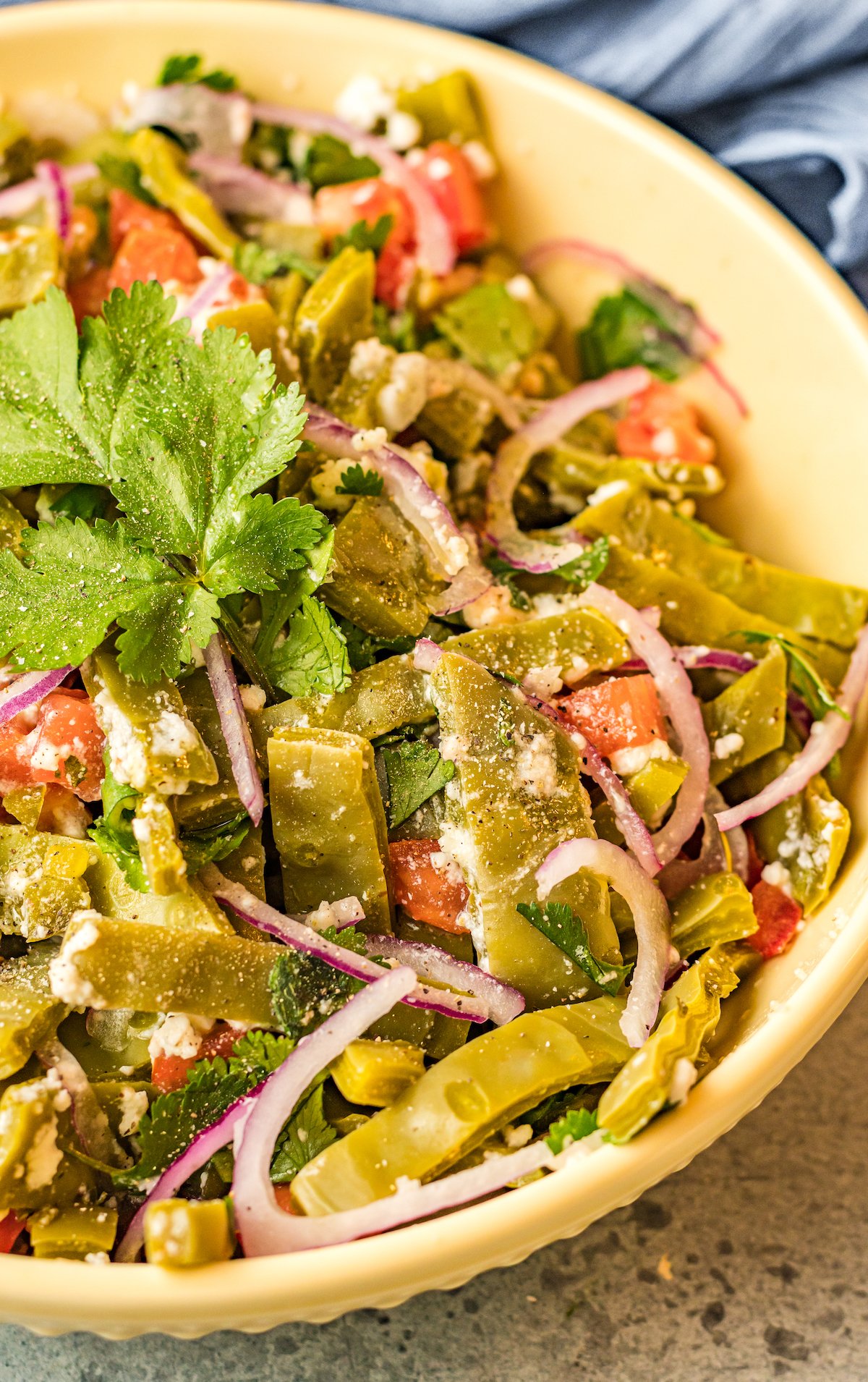 Nopal cactus is a staple of Mexican cuisine. I got hooked on it after moving to Southern California over a decade ago. My favorite way to enjoy it is in this traditional salad.
If you've never eaten cactus, you're probably wondering about the flavor and texture. It's often described as being similar to a green bean.
This dish combines queso fresco, onions, tomatoes, jalapeños, and spices with it to make a refreshing salad that's perfect for warm weather. And you can feel good about eating it, because cactus is packed with nutrients and has both antioxidant and anti-inflammatory properties.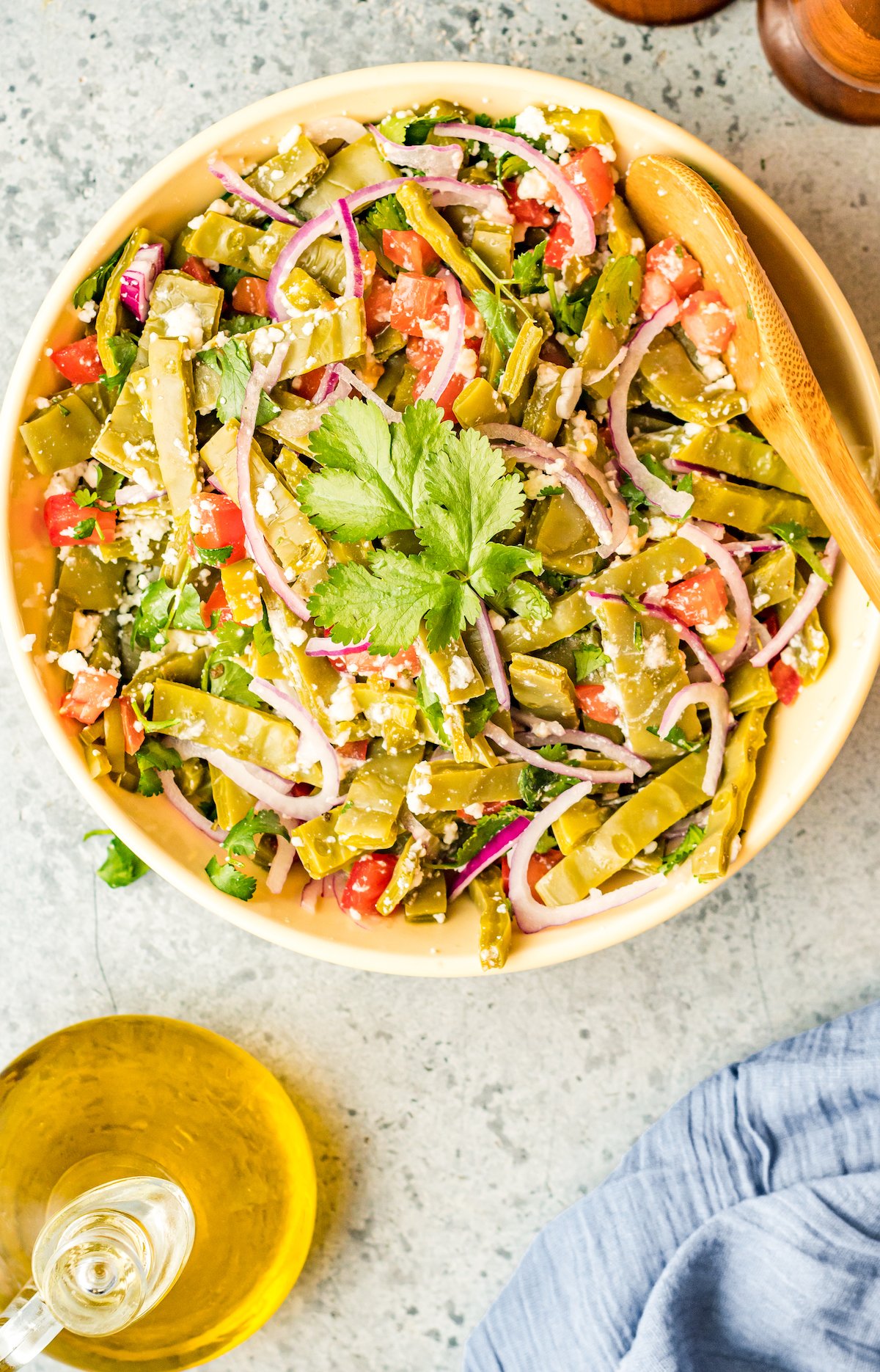 This post contains affiliate links (when you buy we make a little money at no cost to you). See our disclosure for more information.
Ingredients
Nopales – You can use fresh cactus or jarred cactus. I prefer the texture of fresh, but jarred works well in a pinch. See some tips in the post below for buying fresh cactus paddles.
Red onion – Red onion is preferred, but white works well too.
Roma tomatoes – You can really use any type of tomato, but Roma is ideal because it holds together well after being sliced.
Pickled jalapeños – I like the little kick the salad gets from pickled jalapeños. You can omit them if you don't want any spice.
Queso Fresco – This is a soft, crumbly white cheese that has a salt, slightly tangy flavor. You could substitute feta cheese in a pinch, though it is tangier.
Cilantro – Fresh cilantro adds a bit of sharpness to this salad and makes a beautiful garnish. You can leave it out if you'd prefer.
Mexican oregano – This is a very common spice in Mexican cuisine and it pairs well with cumin. A good substitute is marjoram.
Cumin – Traditional cumin pairs with the Mexican oregano to give this dish an authentic flavor.
Lime juice – Fresh squeezed lime juice brightens up the salad and helps to keep it fresh. I do not recommend substituting pre-bottled juice as it contains preservatives that will alter the flavor.
Olive oil – A little drizzle of olive oil is the "dressing" for this salad. Avocado oil is a great substitute.
Buying Cactus for Salad
Mexican grocery stores generally carry fresh cactus paddles. They will have already removed the spines so that they're ready to cook. If you're using ones that still have spines, you will need to remove them yourself. Follow this easy guide.
Like all produce, the key to delicious cactus is picking one at peak ripeness. Look for paddles that are both plump and bright green. I recommend choosing smaller ones as they are younger and more tender.
Fresh cactus paddles will require blanching. You can use jarred cactus as a shortcut to skip that step.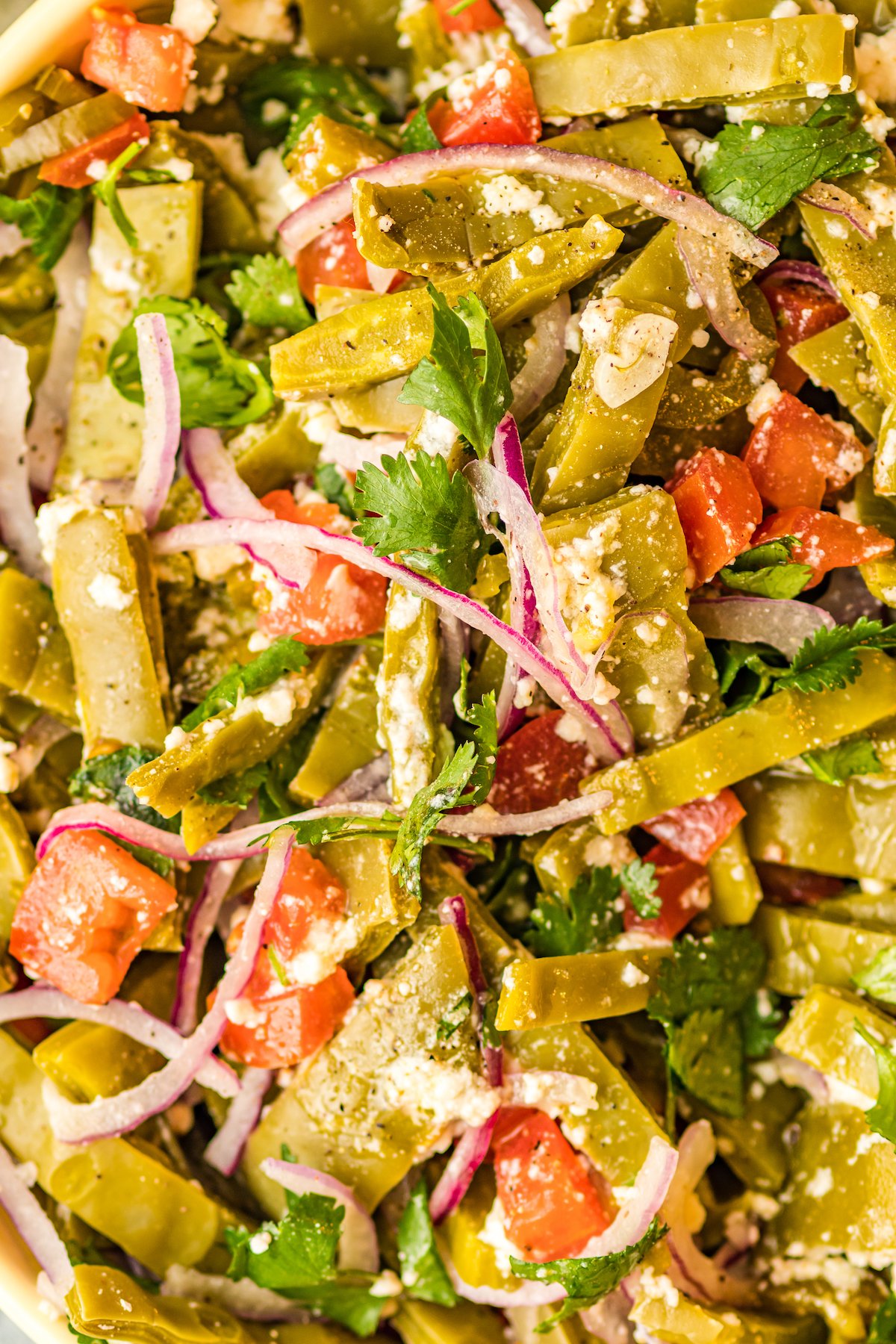 Related Recipes
Print
Cactus Salad
A traditional Mexican dish that uses cactus paddles as a base for salad.
Ingredients
4 Nopales, cleaned, cut into bite sized pieces (or 30 ounce jar nopales, drained and rinsed)
¼ Red Onion, sliced very thin
2 Roma Tomatoes, diced
¼ cup Pickled Jalapeños, diced
¼ cup + 1 Tablespoon Cilantro, chopped, divided
¼ teaspoon Cumin
¼ teaspoon Mexican Oregano
1 Lime, juiced
½ teaspoon Salt
½ teaspoon Pepper
1 Tablespoon Olive Oil
¼ cup Queso Fresco, crumbled
Instructions
If you are using fresh nopales, place them in a saucepan and cover with water and boil for about 5 minutes just till they change to a darker green color.  Drain and rinse with cool water.
If using canned, drain and rinse. If they are slimy, you can grill in a pan for a few minutes on each side.
In a large serving bowl, combine the nopales, onions, tomatoes, jalapeños and 1/4 cup cilantro.  Toss to combine.
Add all the herbs and lime juice and drizzle with olive oil.  Stir gently.
Sprinkle with the tablespoon of cilantro and queso fresco.
Cover and store in the refrigerator until ready to serve.
Notes
Store leftovers in an airtight container in the refrigerator for up to 3 days.