Air Fryer Avocado Egg Rolls (Cheesecake Factory Copycat!)
Whether it is for a party or for your own private dinner, Avocado Egg Rolls in an air fryer are the appetizer to make. Crispy and golden on the outside, creamy and decadent on the inside, you have to try these!
Copycat recipes are some of the best recipes out there! They are usually just as good as the restaurants but way cheaper like making this Queso, Roadhouse Rolls and Gnocchi Soup.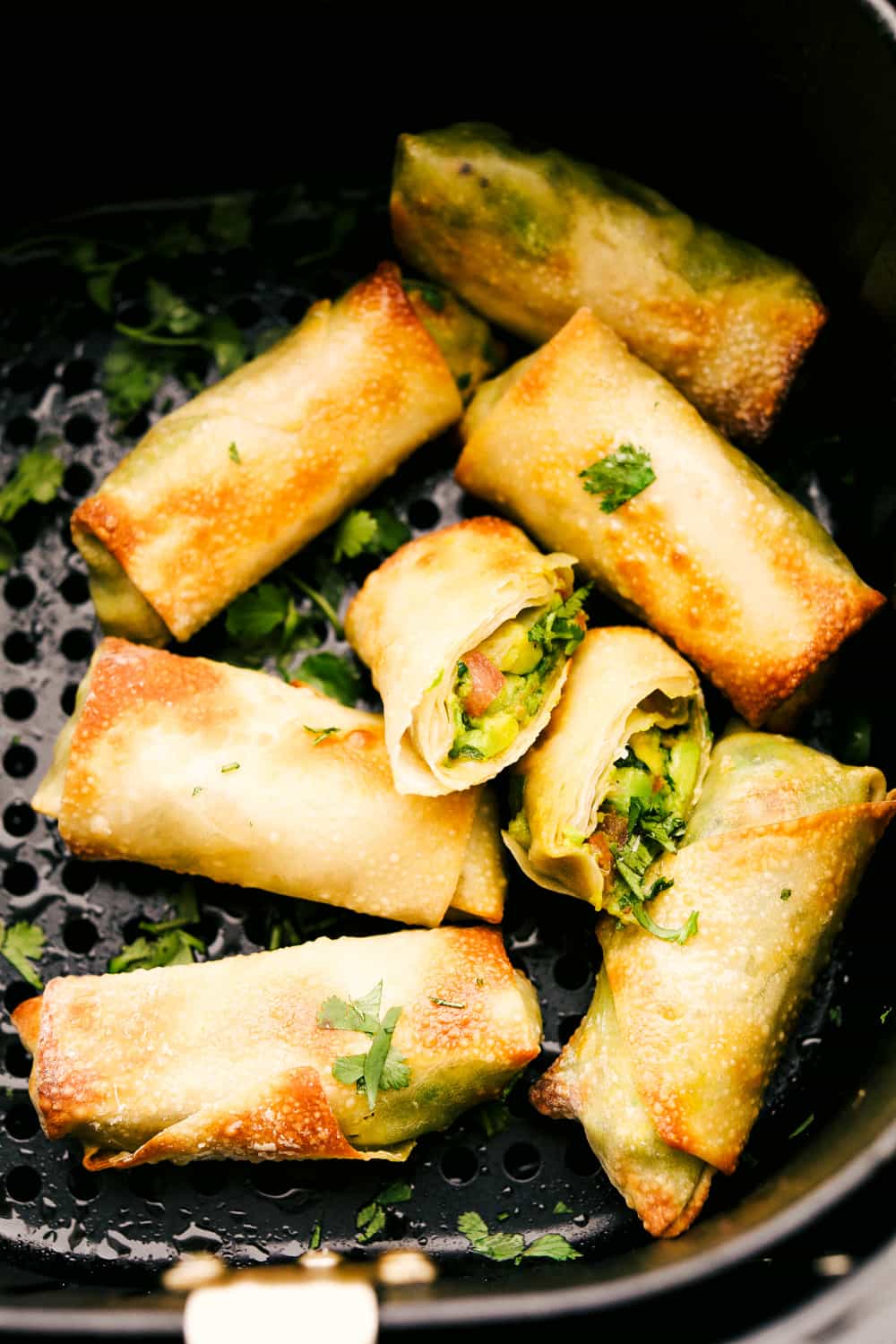 Air Fryer Avocado Egg Rolls Recipe
This air fryer recipe is going to become a fast favorite. Similar to my air fryer egg roll recipe, cooking them in the air fryer will change the way you make an egg roll. Whether it's southwest chicken or philly cheesesteak egg rolls, air frying makes them just divine. Without all the extra oil and mess you can have insanely crispy outsides and glorious creamy tender insides. Air frying avocado egg rolls is just genius!
This egg roll recipe has all the goodness of the Cheesecake Factory's Avocado Egg Rolls but half the fat and is so much cheaper. You won't have to go drive to the restaurant, wait in line, or pay an Uber eats to get these addicting avocado egg rolls. Whip up a batch for your next party or just when you get that craving. Either way these air fryer avocado egg rolls are going to be crazy good!
Amazing Avocado Egg Roll Ingredients
These ingredients resemble an incredible guacamole, without the jalapeno. Use fresh cilantro and tomatoes for the best flavor. Picking avocados can be tricky. I'll give you all the tips and tricks below.
Avocados: You'll need three large avocados.
Red Onion: Adds a hit of heat, but not too much.
Roma tomatoes: Deseed and dice.
Cilantro:  Fresh chopped.
Garlic Powder: Adds flavor without bulk.
Lime: 1 medium lime juiced.
Salt and Pepper: Add to taste.
Egg Roll Wrappers: You can find these in the produce section usually of your local grocery store.
Olive Oil Spray: To help crisp the egg rolls.
Homemade Egg Rolls in the Air Fryer
Super easy to throw together, you are going to want to make these all the time. You will have to muster some self control so you don't eat all the filling before you wrap it up. I wouldn't blame you if you did though.
Mash: In a medium bowl add the avocado and mash to desired consistency.
Add: Add the onion, tomato, cilantro, garlic powder, lime juice and salt and pepper to taste.
To Make the Egg Rolls: Place the avocado mixture in the center of each wrapper. Using your finger, rub the edges with water. Bring the bottom edge of he wrapper and roll it tightly over the filling. Fold in the sides and continue to roll up the wrapper and press to seal. Repeat until you have used all of the wrappers.
Bake: Spray the basket of the air fryer with olive oil spray. Place ethe egg rolls in the basket and lightly spray the tops of the egg rolls with the olive oil spray. Cook at 400 degrees for 6 minutes.
Flip: Then flip the egg rolls and cook for an additional 6 minutes.
Read now: Top 10 Best Air Fryer In 2021
The Best Avocado Egg Roll Tips
Egg rolls can seem intimidating at first. Tightly wrapped and stuffed with delicious fillings, and then fried to perfection, they can seem overwhelming for sure. But cooking them in the air fryer takes all the work out of frying them, and rolling the egg rolls are as easy as rolling a burrito. In fact, it's exactly the same.
Wrappers:  Be sure to cover the wrappers you're not using with a damp paper towel so they don't dry out.
Can I use Spring Roll Wrappers? Absolutely, although the texture and crispiness will differ. Because the spring roll wrapper is thinner they will be crispier. Follow directions on package for best results.
Other Substitution for Egg Roll wrappers: If you can't find egg roll wrappers or you just don't want to go to the store, try phyllo dough. Roll thin and cut into squares and fill, being sure to seal the edges.
Know Your Air Fryer: Every air fryer cooks a little differently. Adjust your temperature and timings to fit your air fryer. If this is the first time cooking these avocado egg rolls, check them a bit earlier to make sure you're not over cooking them.
Don't overcrowd your air fryer: The number one rule in air frying is to not over crowd it. The food needs to be spaced apart so that the heated air can circulate and cook your food evenly, and get everything nice and crispy.
All About Avocados
With all their healthy benefits and various ways to use them, avocados are the fruit to buy these days. From avocado chicken,  shrimp burrito bowls to smoothies, they add creaminess and flavor. But they can be intimidating to buy. It's like playing russian roulette. You never know if you're going to pick a good one or not. And you never know if it'll ripen in time for when you need it. It can truly be stressful. Here are some tips that can make it a bit more relaxed.
How to pick Avocados: Even if you know the best places to go to get avocados there are a few tricks to know to help you get that perfect avocado for these egg rolls.
Don't rely on color alone: Most often ripe avocados will be dark green almost black in color. But I've had dark almost black avocados not be ripe, so don't rely on this alone.
Do the gentle pressure test: Test for ripeness near the top of the avocado near the stem. Press down gently, about the same amount of pressure you would a computer mouse. If it gives slightly it's ripe. Leaving an indent means it's over ripe. If you can't press down on it at all, it's not ready.
Don't worry about the Texture:  Some avocados have lots of bumps and some are smooth. That all depends on the variety of avocado you're purchasing. The key is to avoid ones with dark spots or mushy brown spots.
Need to ripen your avocado? We've all been there, we bought an avocado thinking it would ripen in time and it hasn't yet. To help ripen an avocado place in a brown paper bag with an apple or a banana. Check it daily as it will ripen quickly.
It's ripe and you don't need it yet. When avocados ripen before you're ready for them place them in the fridge to slow the ripening process.
Dipping Avocado Egg Rolls
Our family loves to dip things. Children often love to dip everything. These avocado egg rolls are so creamy and tender on the inside you may not need or want a sauce. But you like to dip your egg rolls here are a few ideas.
Ranch Dressing
Cilantro Jalapeno Ranch: Add chopped cilantro and jalapeno to the above ranch dressing recipe.
Salsa: Try this homemade salsa, or use your favorite kind.
Sour Cream: Try mixing the sour cream with the salsa for a twist.
Spicy Chipotle Ranch: Add chipotle peppers in adobo to the ranch dressing.
More Amazing Appetizer Recipes
Appetizers like these egg rolls can steal the show and become the main event. This is probably why so many times people order their dinners from the appetizer menu at restaurants. With these favorites you might just make your next dinner from only appetizers!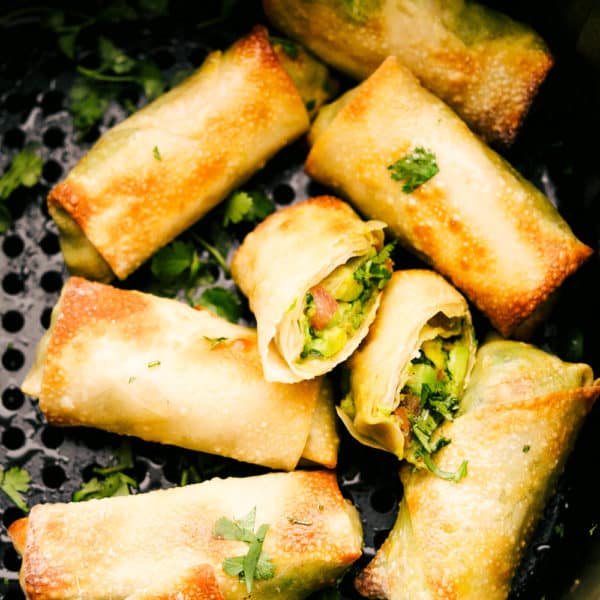 Air Fryer Avocado Egg Rolls
Prep Time 10 minutes
Cook Time 12 minutes
Total Time 22 minutes
Author Alyssa Rivers
Servings 8 Egg Rolls
---
Whether it is for a party or for your own private dinner, Avocado Egg Rolls in an air fryer are the appetizers to make. Crispy and golden on the outside, creamy and decadent on the inside. You have to try these!
---
---
3




avocados diced

1/4




cup




red onion diced

1




Roma tomato diced

3




tbsp




chopped fresh cilantro leaves

1




teaspoon




garlic powder

Juice of 1 lime

salt and pepper to taste

8




egg roll wrappers

olive oil spray
---
---
Serves: 8
All nutritional information is based on third party calculations and is only an estimate. Each recipe and nutritional value will vary depending on the brands you use, measuring methods and portion sizes per household.
[ad_2]