Classic Honey Glazed Ham Recipe
This Honey Glazed Ham is a deliciously prepared ham coated with a brown sugar and honey sweet glaze mixture and then baked to a tender, juicy perfection in every slice. Perfect for your holiday meal!
Christmas is best celebrated with a ham in our family. Try this Juicy Butter Herb Turkey Recipe, Garlic Butter Herb Prime Rib Recipe or Best Ever Beef Wellington Recipe for more delicious recipes to enjoy for your holiday dinner.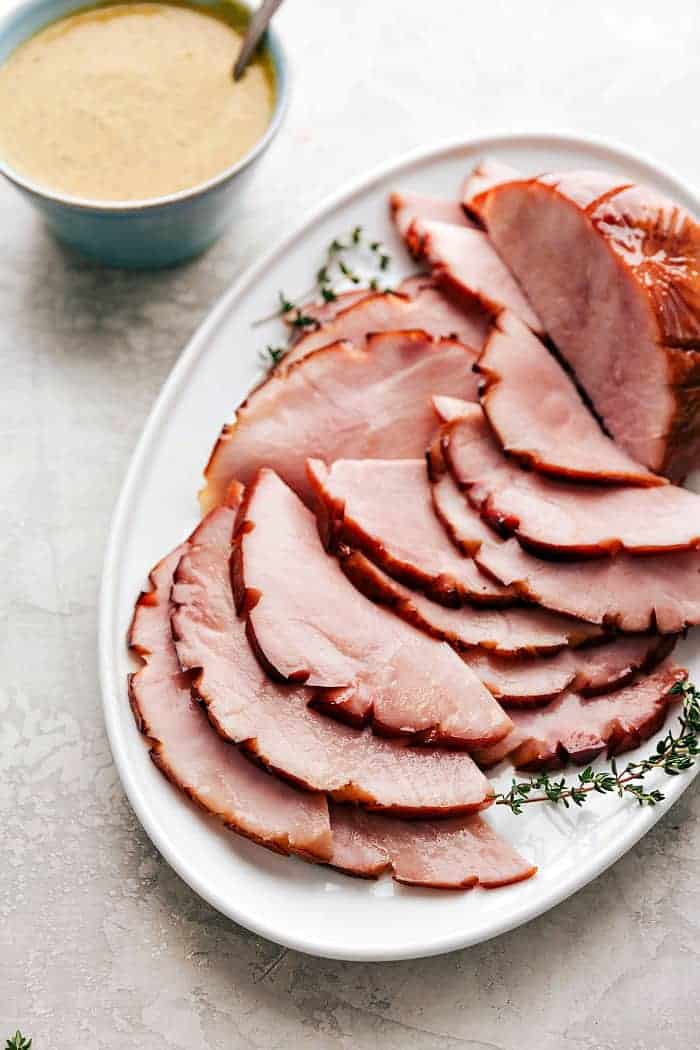 Honey Baked Glazed Ham
Lately I have been craving ham. Isn't that weird? I couldn't wait to bake this ham just so I could eat it with my family and have leftovers. I have been eating ham sandwiches almost every day and I can't seem to get enough of it. This baby has been having some weird cravings. From fruit, to ham. Pretty opposite if you ask me!
A lot of people ask me questions on how to bake the perfect ham. It is pretty simple but there are a few tricks to get your ham to taste fantastic. My favorite glaze to use is a simple honey glaze and it gives the ham a perfect sweet flavor. Here are a few tips that I go by when cooking my ham.
What you Need to Cook Honey Brown Sugar Ham
Honey Glazed Ham is a one of my favorite meals during the holidays! I love the smell of it baking in the oven, the juicy first cut and the warmth it brings in our home and our hearts! It is a comforting meal that is sure to please everyone gathered around your table.
Ham: about 5 pounds big and precooked.
Honey: for a sweet, sticky glaze.
Butter: combines and melts in with the sweeter ingredients.
Dark corn syrup: a great thickener and sweet taste.
Brown sugar: tastes a bit like toffee and turns into a caramel taste when melted with butter.
Whole cloves: this is a strong and sweet with a little bitterness to it.
How to Cook a Precooked Ham
This ham is a precooked ham that is purchased at our local grocery store. If you choose a larger ham simply double the glaze mixture to have enough to cover over your ham. This honey glazed ham is one of the most tender and juicy hams you will ever have. Sweet, and savory honey ham will be your show stopping meal on Christmas Day.
Simple ingredients for this simple recipe that doesn't take long to prepare and bake. Every slice comes out juicy and tender with a beautiful golden brown color. This honey ham glazed is a tried and true favorite and will become your family tradition soon enough.
Let your ham rest: Take the ham out of the refrigerator and allow it to rest 30 minutes before cooking. Preheat the oven to 325 degrees.
Cook glaze mixture: Prepare the glaze by heating honey, butter, dark corn syrup, and brown sugar in a medium saucepan on medium low heat.
Prepare the ham: Line a 9×13 inch pan with aluminum foil. If scoring the ham, lightly score the top into diamond shapes and place the ham in the pan. If using whole cloves, put them in between the lines you scored, but remove before cutting and eating.
Brush the glaze on and bake the ham: Brush the glaze on top and create a foil tent over the ham. Bake the ham according to how many pounds you have. Usually 15 minutes per pound. Brush the glaze over the ham every 15 minutes.
Broil the ham: Once the ham is cooked, remove the foil tent and caramelize the top by turning the oven to broil and letting the ham get dark for about 3-5 minutes. Remove the ham from the oven and pour remaining glaze over the top.
How Do you Know When your Ham is Cooked?
Most hams are already precooked. Essentially you are warming up your ham in the oven. The thickest part of the ham needs to be cooked to at least 145 degrees Fahrenheit according to the proper food safety temperature.
Make This a Complete Meal
This Honey Glazed Ham has all the feels around the holidays. It is a classic tradition in most homes and carried on from generation to generation. I am a tradition kind-of girl and love this Honey Glazed Ham with a few of my favorite sides here:
Tips for making a The Best Honey Glazed Ham
Classic honey glazed ham is simple and easy to make with little ingredients. This sweet glaze is so good and tenderizes the ham while baking.
These tips will help you make your holiday dinner what everyone is raving about. Golden, tender ham that is juicy when sliced thin is pure heaven this holiday season. Try these tips to perfect your holiday dinner this year!
Picking your ham: pre-cooked and bone in is one type of ham or precooked without the bone. With these choices the ham is already juicy and great for left overs.
Scoring your ham: Before I cook my ham, I score the top in diamond shapes. This not only adds a beautiful presentation, but allows the glaze to seep into the ham. You can also put whole cloves into the cracks, but remove them before carving and eating.
Cutting the Ham:  Once your ham is fully cooked, it can be served at warm or cool temperatures but never straight out of the oven. Let the ham rest for about 10 minutes before cutting. And ham can be stored in the refrigerator for up to a week.'
Baking the ham: place your ham cut-side-down into your baking pan. This will help the meat stay juicy with the tinfoil over top.
Use aluminum foil: make sure to use aluminum foil or a cover over your honey glazed ham so it does not dry out.
Let your ham rest: after baking your ham, let it sit on the counter to rest. This is a great time to finish making and setting up your holiday dinner.
Serve with yellow mustard or spicy brown mustard at the table. You can also add a tablespoon of spicy mustard or honey mustard to the glaze for a hint of sweet and spicy flavor.
Frequently Asked Questions
These are great questions to ask and will help you when making this honey glazed ham. It is so simple to make and comes together beautifully. Soon you will be cooking your very own honey glazed ham and enjoy your holiday dinner with your family. A delicious sweet honey glaze that gives your ham the perfect flavor!
Do I slice the ham before cooking? No, this is not recommended. You can score the outside of the ham but slicing the ham will dry it out.
How much ham per person? Usually it is about 1/2 pound of ham per person. If you are wanting left overs at the end estimate 1 pound per person when buying your ham.
How big of a ham should I buy? This is a great question for baking the ham. You may have several people coming but the important part is how big your pan is that will be baking it in. A 6 to 8 quart pot or 12 x 16 pan fits about a 6 to 7 pound ham.
Will a ham cook overnight? Yes! This is a great idea when needing more time for other things during the day. Simply preheat the oven to a 275 degrees. Follow the instructions for preparing and baking the honey glazed ham. Bake uncovered for 6 to 7 hours. While baking continue to spread the glaze over the ham.
Do you cover your ham? Yes, this is a great way to avoid your ham from over baking and becoming dry. At the end of baking the ham remove the aluminum foil and broil it for a crisp outer layer.
Should I glaze the ham before cooking? Yes! Brush the glaze mixture over top and into the ham as much and best that you can. Continue to glaze the ham throughout the baking process every 15 to 20 minutes for best results. When the ham is finished cooking brush the remainder of the glaze mixture and broil the top and outside layer of the ham. This will leave a caramelized look and texture on your ham.
Variations for Glazed Ham
This is a tried and true honey glazed ham favorite that we make year after year in our family. This Spiced Rub Brown Sugar Pineapple Glazed Ham or this Slow Cooker Honey Garlic Mustard Glazed Ham are other great ways to enjoy a classic ham recipe this holiday season. I love the traditional honey glazed ham recipe but there are some variations that can be made.
Sweetener: instead of honey try using maple syrup or add a little extra brown sugar.  
Syrup: if you do not have dark corn syrup on hand, molasses works great in replace of it.
Spices: you can omit garlic clove if you would like. This is an optional ingredient and try cinnamon or nutmeg in replace of it.
Extra flavoring: add pineapple juice or apple cider over top. Even orange juice or cranberry juice for a fruitier flavor.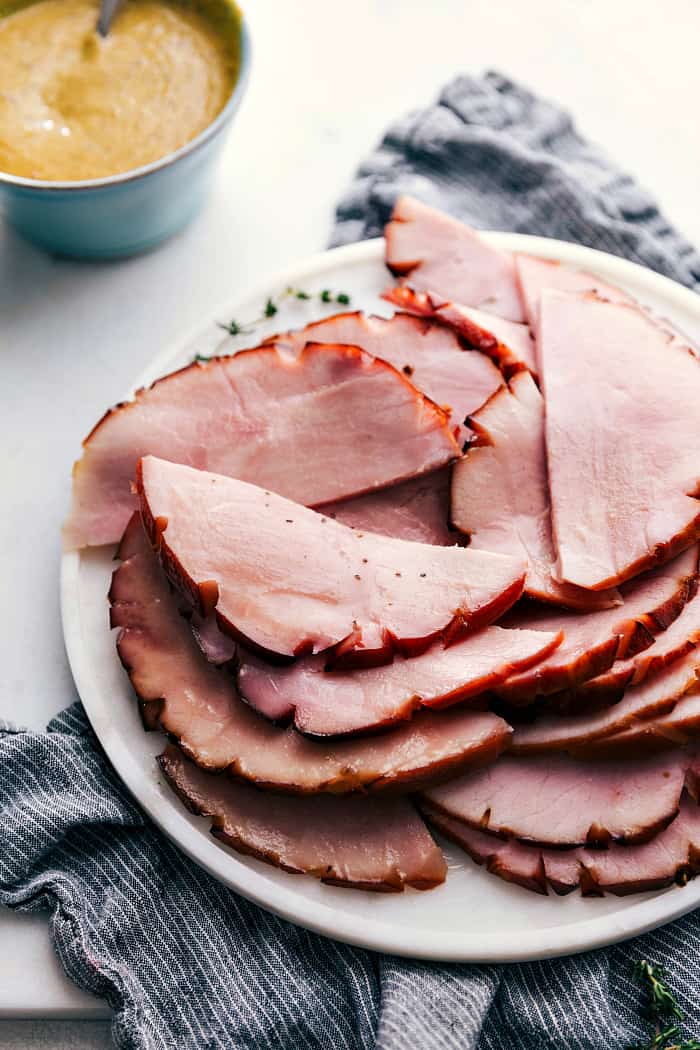 Storing Honey Glazed Ham
This honey glazed ham is perfect for making ahead, storing for left overs and even freezing! It is a great way to enjoy ham even more this holiday season. This honey glazed ham is all the greatness to your holiday meal and adds so much flavor that everyone will be raving about.
Here are the best ways to store your honey glazed ham this holiday season:
Thawing a frozen ham: If you ham is already frozen, simply place it in the refrigerator for 24 to 48 hours until it is completely thawed before baking.
Making honey glazed ham ahead of time: Place in the oven over night and cook at a low temperature warming it up slowly.
Refrigerate: Simply follow the instructions and bake your ham. Once it is cooled and rested, place in a ziplock bag or airtight container and store up to 1 week in the refrigerator.
Can you freeze honey glazed ham? Yes! This is a great meal to freeze for later. After your ham is cooked, place your ham either sliced or not sliced in a ziplock bag and lay flat for up to 1 month.
Warming up honey glazed ham: When ready to warm up, place your ham in the refrigerator and let thaw. Reheat in the microwave or oven until warmed through. Try not to over heat leaving it dry and rubbery.
H
Honey Glazed Ham
Prep Time 20 minutes
Cook Time 1 hour
Total Time 1 hour 20 minutes
Author Alyssa Rivers
Servings 12 people
---
Classic Honey Glazed Ham is a deliciously prepared ham coated with a brown sugar and honey sweet glaze mixture and then baked to a tender, juicy perfection in every slice. Perfect for your holiday meal! 
---
---
1




(5 pound)




ham

2




cup




honey

2/3




cup




butter

1/4




cup




dark corn syrup

1




Tablespoon




brown sugar

whole cloves




optional about 1/4 cup
---
Updated on December 25, 2020
Updated on December 14, 2019
Original Post on December 16, 2018
---
Serves: 12
Calories287kcal (14%)Carbohydrates53g (18%)Protein1g (2%)Fat10g (15%)Saturated Fat6g (30%)Cholesterol27mg (9%)Sodium105mg (4%)Potassium36mg (1%)Fiber1g (4%)Sugar53g (59%)Vitamin A315IU (6%)Vitamin C1mg (1%)Calcium8mg (1%)Iron1mg (6%)
All nutritional information is based on third party calculations and is only an estimate. Each recipe and nutritional value will vary depending on the brands you use, measuring methods and portion sizes per household.
[ad_2]