Delicious, creamy, zippy, tangy homemade Yum Yum sauce that tastes just like the one at your favorite Japanese steakhouse! Perfect for dipping seafood, steak, and chicken.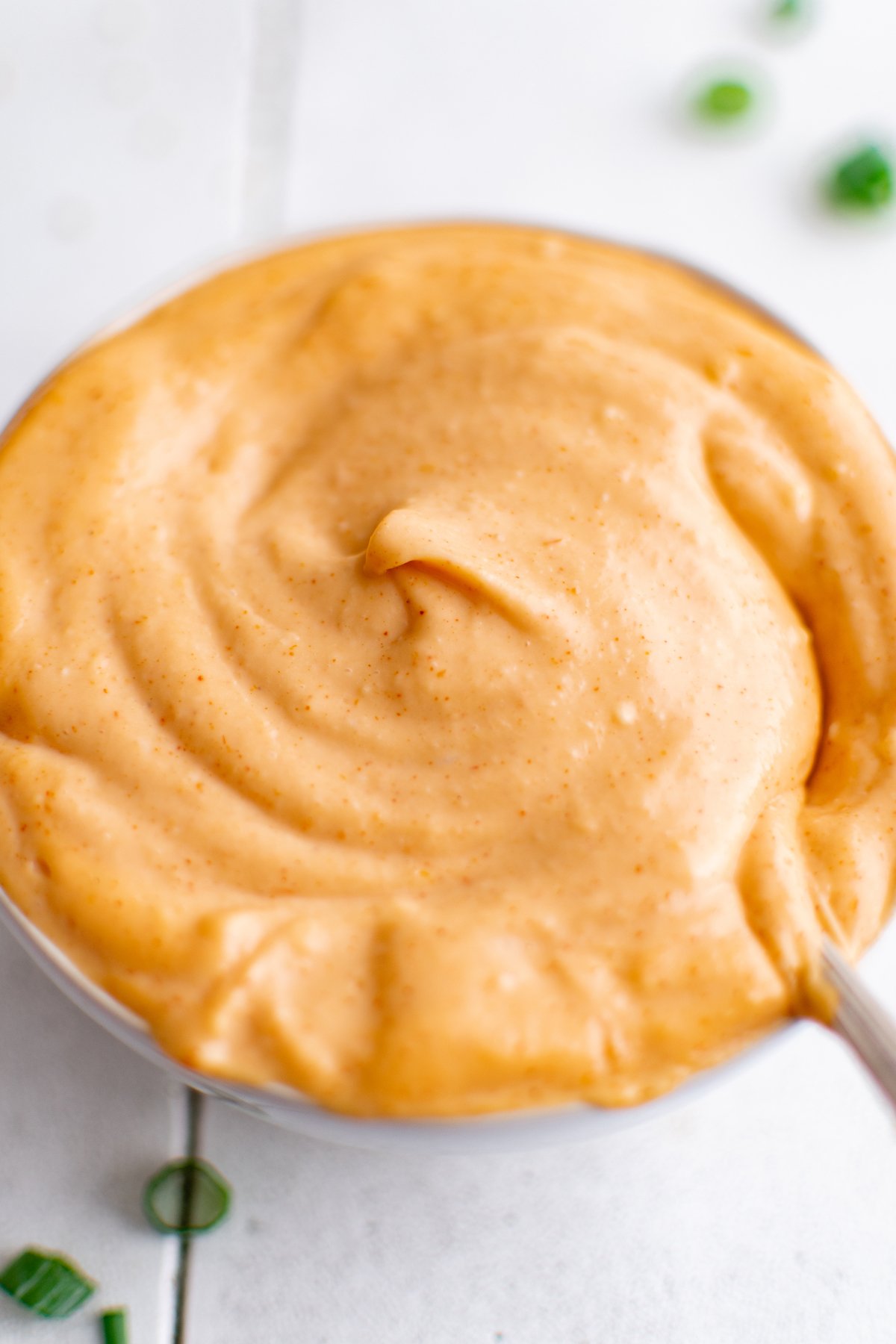 We've been having some fun date nights at home and hibachi shrimp has become one of our favorites. And you can't eat hibachi without that oh-so-delicious yum yum sauce!
If you've ever been to a Japanese steakhouse, you know exactly what we're talking about. It's this creamy sauce that's got a little zip and tang to it that goes great on literally everything!
You may have heard it called white sauce, hibachi shrimp sauce, yummy sauce, or sakura sauce.
Ingredients
Mayonnaise – Use a high-quality mayo like Hellman's, Duke's, or Kewpie. For best flavor do not use a reduced fat version.
Ketchup – You can substitute tomato paste for this if you'd prefer.
Butter – A bit of melted unsalted butter gives this sauce a savory element.
Sugar – A pinch of sugar helps to balance out the sauce from the vinegar.
Garlic Powder – For a more pronounced flavor, mince fresh garlic instead.
Rice Wine Vinegar – If you don't have any, sub apple cider vinegar.
Smoked Paprika – Using the smoked version of paprika helps to give this sauce a slightly "smokey" flavor, you can substitute sweet paprika if you'd prefer.
Cayenne Pepper – A dash of cayenne pepper adds a slight kick. You can increase it if you'd prefer a spicier sauce.
Water – A little bit of water will help is thin the sauce and get it to the correct consistency.
Tips
Like it spicy? Add a few tablespoons of Sriracha, or 1 teaspoon of cayenne pepper.
Make it in advance. The sauce has the best flavor after it has had a few hours to sit and the flavors have melded together. I'd recommend making it at least the night before you'd like to use it.
How To Store
You should store this sauce in a airtight container and keep it in the refrigerator. It will be good for up to 2 weeks.
FAQs
Is it Japanese?
No, yum yum sauce is not authentically Japanese. It was developed and made popular by Americanized Japanese hibachi restaurants.
Does it need to be refrigerated?
Yes, you need to keep it refrigerated.
How long does it last?
Yum yum sauce will last up to two weeks when store in an airtight container in your refrigerator.
Is it gluten free?
Yes, it is gluten free.
Is it keto?
Traditional yum yum sauce is not keto, though you could make a keto version with monk fruit sweetener and homemade mayo.
Is it vegan?
No, it contains mayonnaise and butter which is not vegan.
Yum Yum Sauce
A delicious dipping sauce served at hibachi restaurants. Pairs well with shrimp, steak, chicken, and vegetables.
Ingredients
1 cup of mayonnaise
3 tablespoons of ketchup
1 tablespoon of melted butter
1 teaspoon of sugar
1 teaspoon of garlic powder
1/2 teaspoon of rice wine vinegar
1/2 teaspoon of smoked paprika
1/8 teaspoon cayenne
1–2 Tablespoons Water
Instructions
Add all the ingredients except the water to a medium size bowl and stir until there are no more lumps. Add the water 1 tablespoon at a time and combine until the desired consistency has been reached.
Store in an airtight container in the fridge for up to two weeks.
[ays_quiz id='1′]