The Perfect Healthy Granola (Low Oil & Naturally Sweetened)
There are a few different granola camps. This one falls squarely in the great, everyday, healthy granola category. Instead of the cookies masquerading as granola camp. It is my new favorite thing, and I've had it on my counter for weeks now. Give it a go!
Midnight black and deeply chocolate-flavored with dark black cocoa and cocoa nibs, this granola is packed with heart-healthy oats and seeds. Naturally sweetened, clumpy, and crunchy, the recipe calls for just a small splash of olive oil, and leverages a secret ingredient to bring it all together.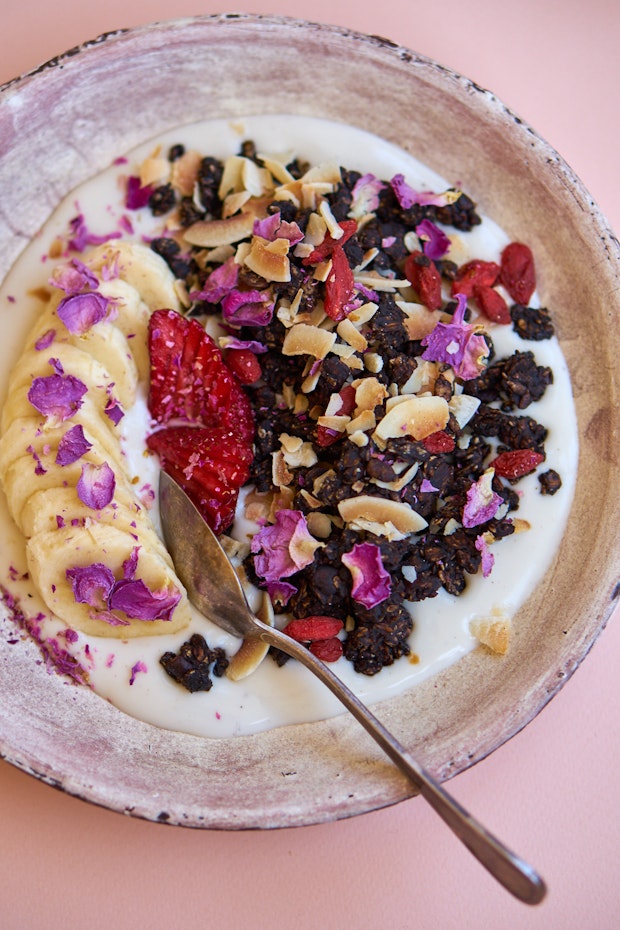 Is Homemade Granola Bad for You?
This is a question I get asked a lot. The short answer is, many granolas have a lot of sugar in them. And, many granolas have a lot of unnecessary added fat or oils. We're essentially talking about cookies in clumpy form, which, I think we can all agree is delicious. As the foundation for your daily breakfast? Laugh / cry. My hope is today's recipe will be a nice alternative.
My Healthy Granola Inspiration
In Los Angeles last month, I finally made it to beautiful Botanica. After dinner, Emily Fiffer, one of the inspiring owners, sent us home with a tote of treats for our long drive back to San Francisco. Included was a jar of Botanica's Cacao Coconut Granola. In short, it was a (serious) granola revelation – crunchy, clumpy, deeply chocolate flavored, short ingredient list. The Botanica granola was the jumping off point for this recipe, and if you want to take that recipe for a spin as well, you can find it here.
The main tweaks? I used whipped aquafaba (the liquid in a can of chickpeas) as the binder, allowing me to scale back the added oil by a good chunk. Black cacao gives you that midnight chocolate flavor reminiscent of Oreo cookies, but regular cocoa powder is also great! And, I dial back the sweetness a shade.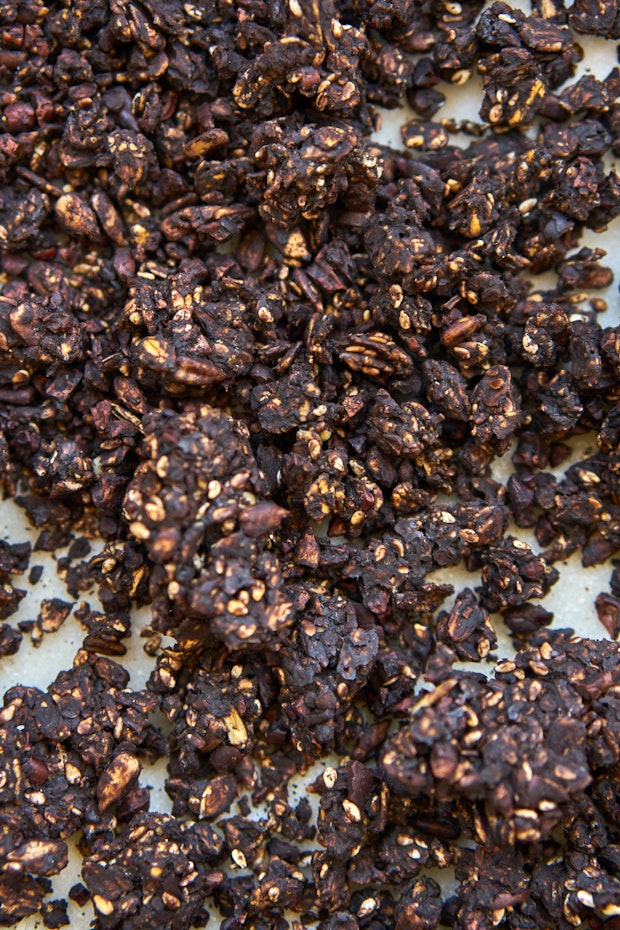 The Magic of Aquafaba
Have a look below. What you're seeing is aquafaba. If you have a can of chickpeas, you have enough aquafaba for this recipe (the liquid in the can). It is whipped into peaks, and the other granola ingredients are folded in. It's a fantastic medium for granola acting as a binder, helping to deliver that clumpy magic everyone loves. Aquafaba behaves much like whipped egg whites, but by making granola with aquafaba you can do a version that can be enjoyed by a wider range of people, including vegans and people trying to work more whole food plant-based meals into their diet. And now I'm itching to remake this rose petal granola using this technique!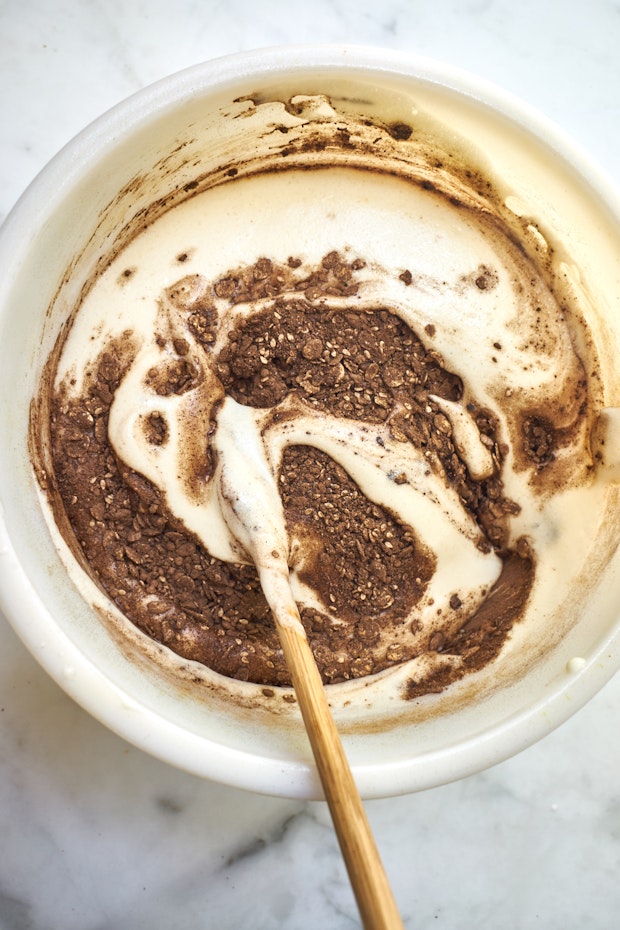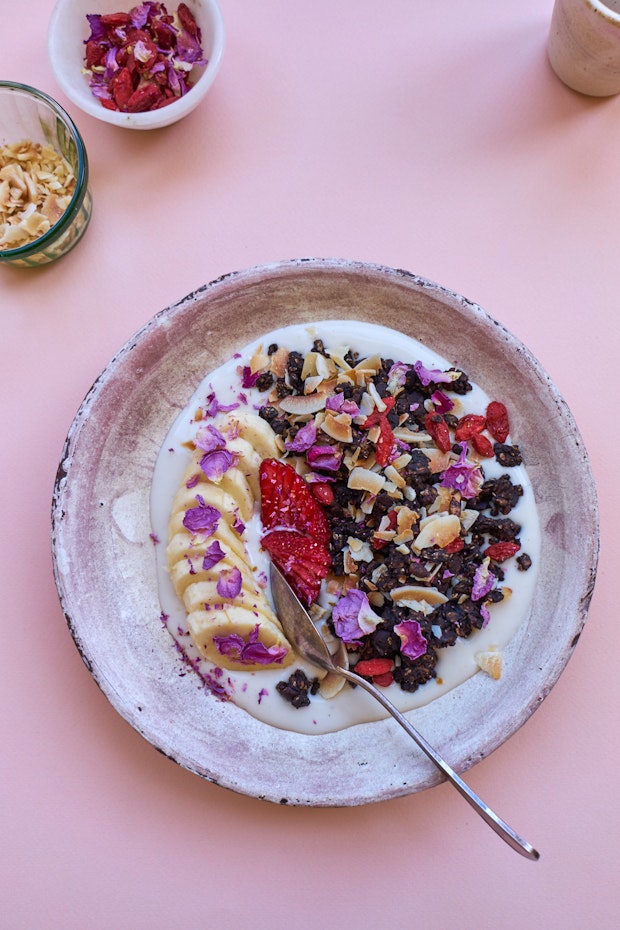 Serving Ideas
If you're going for healthy granola, you're going to want to opt for healthful toppings. I like this granola served over yogurt, with a side of whatever seasonal fruit looks good. You can see it pictured here alongside sliced bananas and strawberries. There is a sprinkling of goji berries and rose petals as well. It's also good in a simple bowl of mylk or milk – I like almond or oat.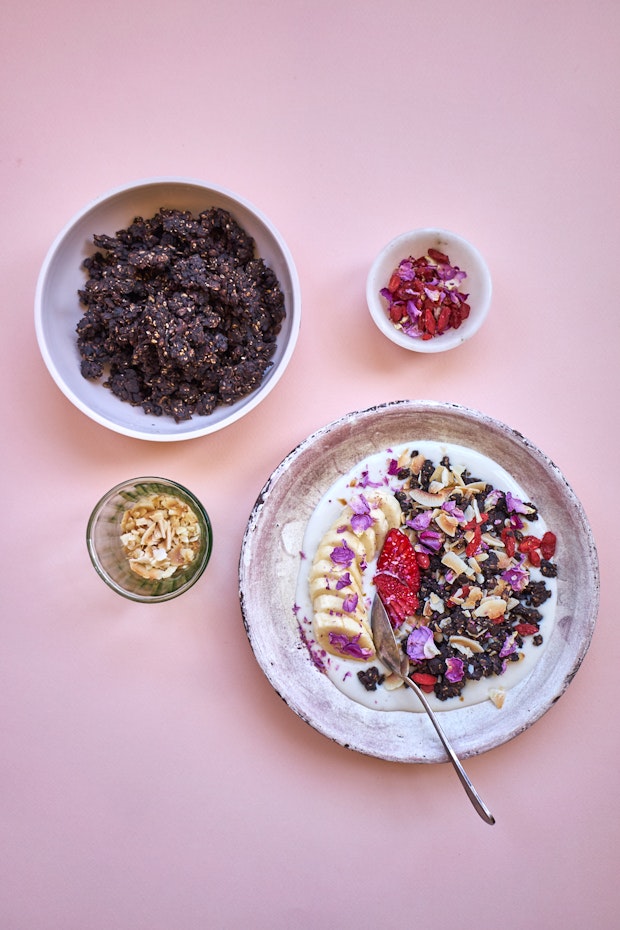 Enjoy the granola! If you're looking for other breakfast recipes don't miss these pancakes, or the best waffle recipe (seriously!), these homemade cinnamon rolls, a loaded frittata, tofu scramble, Herb Cream Cheese Scrambled Eggs, and the baked oatmeal is always popular.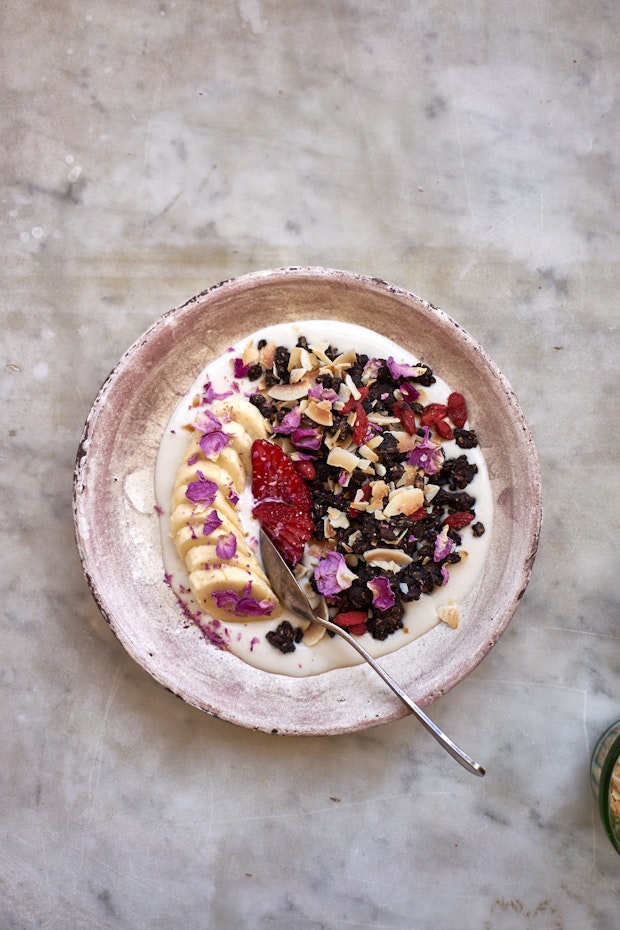 [ad_2]