The Perfect Christmas Star Bread
Star Bread is a visually stunning, decadent tasting sweet bread, that will be the talk of the table. Whether it's for the holidays or a special occasion this eye pleasing, mouth watering bread is the way to go.
Bread is the ultimate comfort food for me, it's so luscious and satisfying, especially when it's homemade with love.  Whether it's this recipe or Grandma's Perfect Homemade Bread Recipe, Easy Homemade Naan Bread, or Easy Cheesy Garlic Bread, they will all hit the spot!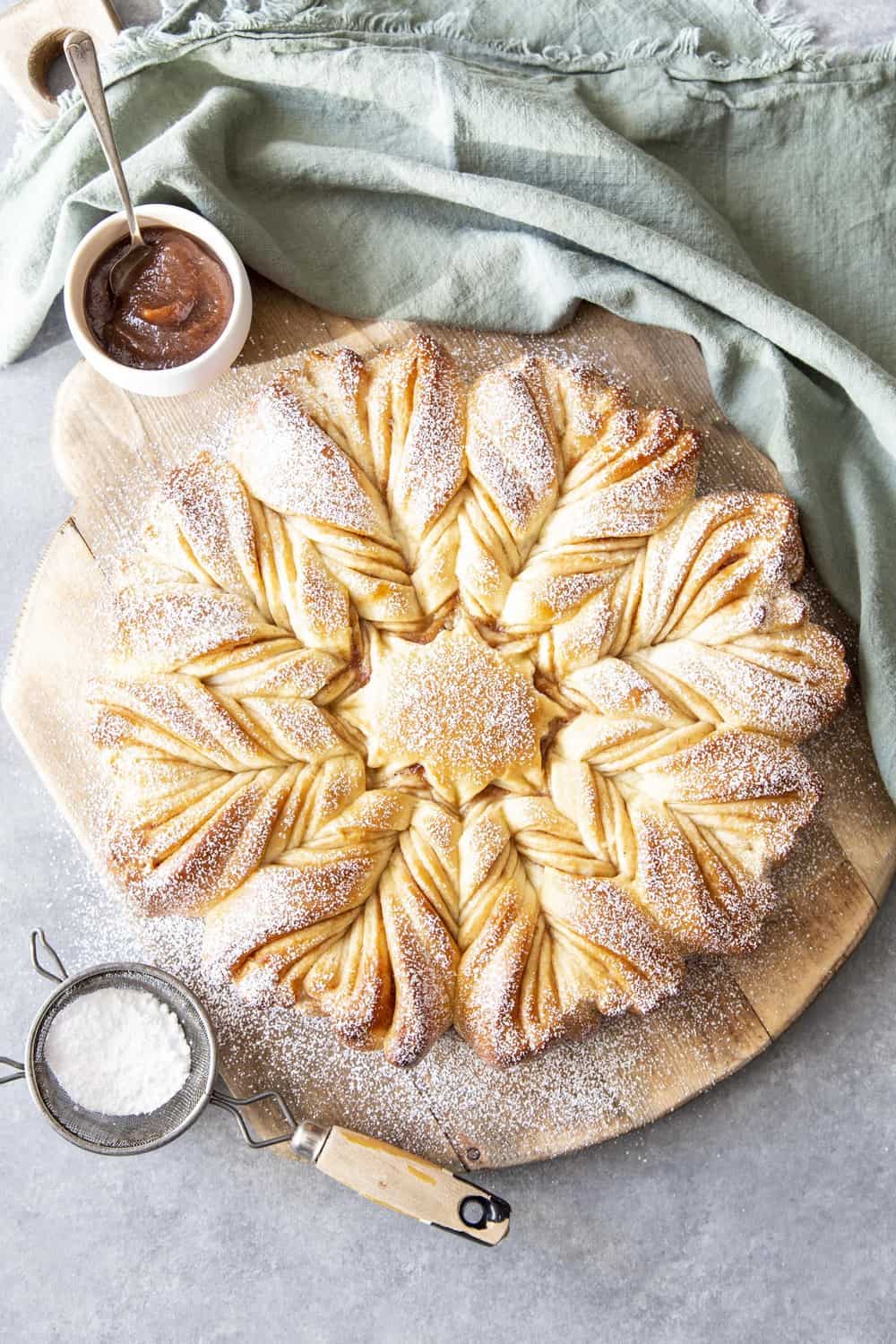 Christmas Star Bread
I'm not entirely sure on why this is called Star Bread, but I'm guessing it has to do with not only the shape, but the fact that it will quite literally be the star of the meal. This isn't just bread, it's art. And it's art you can eat! And it tastes absolutely divine. Everyone will not only rave about how beautiful and intricate your star bread looks, but the fact that it is simply delicious. Make it for breakfast or brunch. Make it for a holiday or celebration, anyway and anytime you make it, it'll make you the star baker!
Now before you say to yourself, that looks too hard. Let me tell you it's super easy. Truly! Anyone who can use a pizza cutter or even a knife can make this bread. If you are worried about your cutting skills you can even use a template, or a big bowl turned upside down to cut around to get it perfect. The mesmerizing swirls and beautiful shape of this star bread all add to its elegance. The sweet filling isn't just for show, it is just as rich and tasty as it is beautiful.
Bread Dough Ingredients 
This is your basic enriched dough with milk and butter added for increased structure and flavor. Most of these ingredients you might already have on hand. If not, they can all be found easily at your local grocery store.
Milk: Use whole or 2% milk if you can, it helps the dough become extra soft when baked.
Butter: Adds incredible flavor.
Instant Yeast: This can be made with active yeast too.
Sugar: This feeds the yeast
Salt: This actually retards the yeast from getting too active and adds important flavor to the bread.
Flour: I used all purpose flour, unbleached flour also works.
Apple Filling Ingredients 
Apple Butter: Make your own for incredible flavor, or you can purchase at your store.
Egg Wash: Helps create that deep golden color and stick it all together.
Egg
Milk
Powdered Sugar for Dusting: This is optional, but oh it looks stunning!
Creating This Amazing Pull Apart Bread
Because of the extra richness the star bread will rise slightly slower than usual.  So don't worry if it isn't rising as fast as you think it should. This beauty does take a bit of patience, but it's worth it. It truly is simple to do and the apple butter flavor is to die for. It looks like a lot of instructions, but we're breaking it down into lots of steps so it's easier to follow. You got this! Now go make it!
Scald: In a small saucepan add the milk and over medium heat bring to a simmer, stirring occasionally. Turn the heat off and add the cubed unsalted butter. Stir until the butter melts completely. Pour the hot milk mixture into a stand mixer bowl and set aside to cool to below 110 degrees F.
Bloom: When the milk the mixture is cool enough add the yeast and stir. Let it sit for 5 min to bloom.
Mix: In a medium bowl, add the flour, sugar, salt and mix to blend. Transfer the flour mixture to the stand mixer bowl with the warm yeast and mix gently.
Knead: Using a dough hook on speed 2 knead for about 7-10 min. The dough should start pulling away from the side of the bowl.
Rise: Oil a glass bowl and your hands. Scrape the dough out of the mixing bowl and shape it into a ball in your hands and place it in the oiled bowl. Over, and let rise in a warm place for 1-2 hours until at least doubled in size.
Layering and Creating the Beautiful Star Shape
Cut: Turn the dough out onto a lightly floured surface and cut into 4 equal portions. Shape into balls.
Roll: Roll on dough ball  out into a circle about 9″-10″ in diameter. Place it on a piece of parchment paper and spread 2 tablespoons of apple butter over it.
Layer: Roll another dough ball out to the same size as the first one and place it on top, spread another 2 Tablespoons of apple butter over the top. Repeat for the 3rd and 4th dough ball. You should end up with 4 layers of dough and 3 layers of apple butter.
Mark: With the back of a round cookie cutter or a cup, mark a 3″ circle in the middle. Cut the dough into 16 sections leaving the 3″ circle in the middle untouched.
Twist: Take two sections away from each other and press the end together to form the star point. You should end up with 8 star points. Cover and let rise for 20 minutes.
Bake: Beat the egg with a tablespoon of milk and brush it lightly over the star bread. Bake for 30 min until golden brown. Dust with powdered sugar before serving.
Tips and Info for the Best Star Bread Ever
Working with yeasted breads can be intimidating don't stress it. It's really simple. If you feel like you need to practice try these favorites, Copycat Texas Roadhouse Rolls, Quick 45 Minute Cinnamon Rolls and Homemade Parker House Rolls. You'll be an expert in no time, and adding star bread to your rotations will be excellent. It's such a gorgeous bread!
Yeast: For this recipe I used instant yeast, which means you don't have to mix it with the warm milk first if you don't want to. Active yeast means you need to activate it. Which means you will definitely want to mix it with the warm milk first to feed it and to get it going.
Warm Milk:  Make sure your milk is below 110 degrees F before you add the yeast or you'll kill it. But also make sure it's above 80 degrees F or it won't activate it, it'll be too cool. If you have a thermometer use it for best results.
Shortcut: If you don't trust your bread making skills you can use frozen bread dough. Use two loaves of frozen bread dough. Once thawed cut each loaf in half to create your 4 circles.
Don't sweat it: Even if your circles aren't perfect, most of the time mine are not, don't worry about it. It always seems to come out just as beautiful and tastes just as amazing.
Twist: I found that you only need to twist the sections twice.
Christmas Bread Variations
There are multiple ways to fill this bread. The apple butter is one of my favorites though. Its silky smooth sweetness is the perfect balance of tart, sweet and spice. The variations for this are endless.
Cinnamon and Sugar
Your favorite Jam (raspberry, strawberry, apricot…)
Nutella
Orange using butter, orange juice, orange zest and sugar
Cinnamon, nuts and raisins
Make a glaze with powdered sugar, milk and vanilla to drizzle over the top instead of the powdered sugar.
Make it savory with pesto, tomato sauce, herbs, pepperoni, sausage, or cheese , etc.
Storing Baked Star Bread
Store this bread in an airtight container or bag once it's completely cooled. Keep at room temperature for up to 4 days. Freeze for up to 3 months.
Star Bread
Prep Time 45 minutes
Cook Time 30 minutes
Total Time 1 hour 15 minutes
Author Alyssa Rivers
Servings 12 People
---
Star Bread is a visually stunning, decadent tasting sweet bread, that will be the talk of the table. Whether it's for the holidays or a special occasion this eye pleasing, mouth watering bread is the way to go.
---
---
Dough
1




cup




whole milk

2




ounces




unsalted butter

2




teaspoon




instant yeast

¼




cup




granulated sugar

1




teaspoon




kosher salt

2 ½




cup




all-purpose flour

Extra flour for rolling
Filling
6




tablespoon




of apple butter

Egg wash

1




large




egg

1




tablespoon




milk

Powdered sugar for dusting
---
---
Serves: 12
Calories170kcal (9%)Carbohydrates26g (9%)Protein5g (10%)Fat5g (8%)Saturated Fat3g (15%)Cholesterol28mg (9%)Sodium211mg (9%)Potassium80mg (2%)Fiber1g (4%)Sugar5g (6%)Vitamin A174IU (3%)Calcium32mg (3%)Iron1mg (6%)
All nutritional information is based on third party calculations and is only an estimate. Each recipe and nutritional value will vary depending on the brands you use, measuring methods and portion sizes per household.
[ad_2]