The Best Raspberry Baked Brie
Raspberry Baked Brie is the perfect holiday appetizer with just FOUR ingredients! It is quick and easy to make and a tried and true favorite!
Baked Brie is one of those appetizers that looks and tastes so fancy, but is so easy and quick you almost feel like you cheated. For more brie wonders try Maple Pecan Baked Brie or Cranberry Pecan Brie Bites. They both make amazing mouth watering appetizers.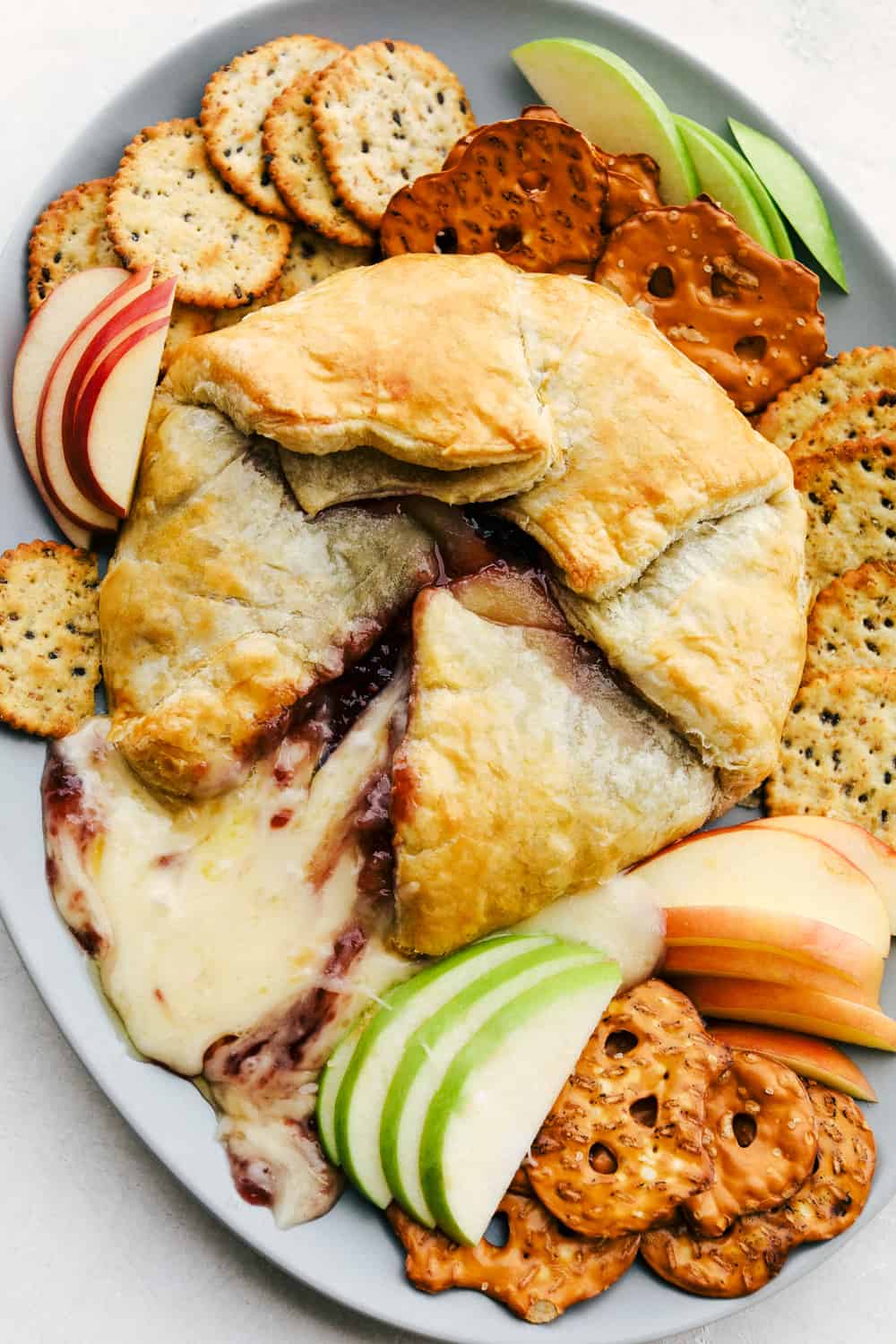 Baked Brie Recipe
This is a delicious holiday appetizer that will make preparing for holiday parties a breeze! Do you ever take notice about which appetizers get scarfed up versus the ones that sit there hardly touched?  Well, this is a recipe that will be get inhaled. It's so creamy, full of complimentary flavors and it looks like you slaved over it for hours. This is going to be one you'll want to put in your rotation for sure.
When the brie is baked it gets super soft and melty, but not stringy, almost like a thick sauce. It makes it ideal for dipping, spreading and enjoying. Cooking it in a pastry keeps all that goodness contained till you're ready to cut into it. Then watch as the marvelousness oozes from the golden flaky crust. It's absolutely divine.
What type of Appetizer is Brie?
Bakes Brie is the perfect for Christmas and New Year's Eve! Baked Brie is a classic and often a popular staple at parties and holiday gatherings. Brie is a mild, nutty, buttery cheese with hints of a fruity after tones which makes it ideal to pair with raspberries. You're going to love this flavor combination and colors of white and red are perfect for the holidays!
Raspberry Brie Ingredients
With just four ingredients you can even assign the task of making the appetizer to your husband or kids. Even though it looks and tastes fancy the ingredients can all be found at your local grocery store. Even Brie is now usually carried at most stores, so you don't have to drive all over town to find your ingredients.
Puff Pastry: You'll need 1 sheet which is half a box
Brie: Buy a wheel of brie, not the wedge
Raspberry Preserves: Pick your favorite, or make your own.
Egg: This is for an egg wash.
How to Bake Brie
With only 4 ingredients, this is super simple to put together. It is best served warm to get that oozy warm center. Make sure you plan ahead enough to have time to bake it. Trust me it'll be worth serving warm.
Roll: On a cutting board open the sheet of puff pastry and with a rolling pin roll it out to 1/4 inch thickness.
Place: Place the wheel of brie in the center of the pastry. Spread the raspberry preserves over the top. Leave a thin edge all the way around the cheese.
Fold: Bring up the pastry carefully and completely cover the top of the cheese.
Transfer and Brush: Move the brie to a cookie sheet. Mix the egg with a Tablespoon of water. Brush over the pastry. Wipe any egg wash that drips onto the pan.
Bake: Bake in a 400 degree oven for 35-40 min or until golden brown. Let cool for 5 min before serving.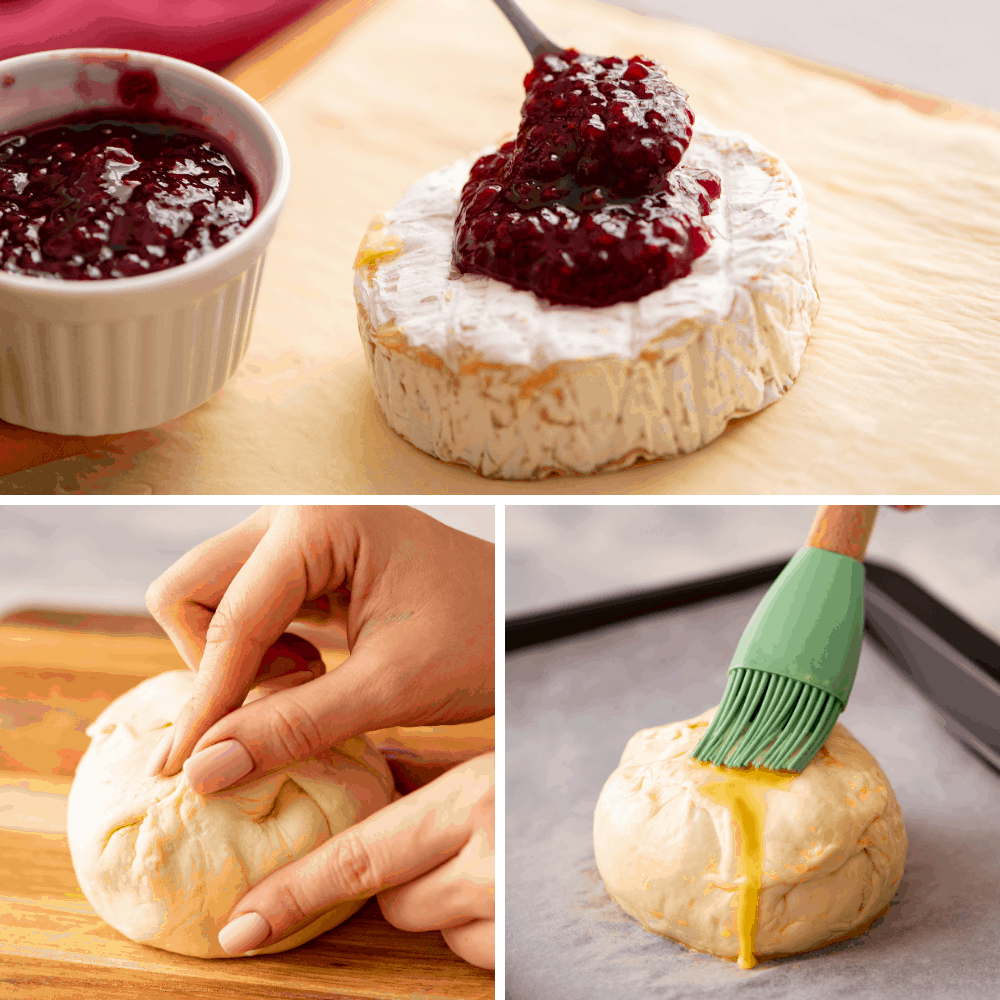 Tips for the Perfect Baked Brie
Baking brie for the first time can seem intimidating but it couldn't be more simple. No need to stress about this appetizer with these tips.
Rolling: Make sure not to roll the pastry too thin or it can split while baking. Also take care to not stretch it too much as you fold it up and over the top.
Show: If you want the preserves to show like above, fold over the dough like a galette that just meets in the middle. This is an easy festive way to have a beautiful baked brie.
Top it: If you want to have a fully wrapped baked brie fold it over to seal it completely like a present. You can garnish the brie by scoring it with shapes or lines or even with raspberries or extra strips of puff pastry.
Wash: When adding the egg wash, wipe away any egg that pools under the brie so it doesn't cook up like eggs.
Patience: Wait five minutes before cutting into the brie or the cheese will all  melt out of the puff pastry quickly. Pictured below is a five minute cool down.
Make Ahead: Puff pastry actually cooks up best if the pastry is cold and the oven is hot. Assemble the brie wheel with the pastry then place in the fridge for at least half an hour before baking to get that crisp puffy texture.
Garnish: This is beautiful all by itself but you can add a bit of garnish if you desire. Garnish your baked brie with fresh raspberries, chopped pecans or walnuts and a drizzle of honey for a festive look.
Leftovers: Leftovers should be tightly wrapped in plastic wrap and be stored in the fridge for up to 3-4 days. Rewarm in the oven at 200 degrees F for about 20 min till the outside is crispy again and the inside warm.
Other Fillings: Raspberry isn't the only jam that pairs well with brie, try fig, apricot, currant, strawberry, peach and even jalapeño jam instead.
To Trim or Not to Trim!
I've discovered there are two ways of thinking out there. People are either on team trim the rind or on team not to trim the rind. There are good reasons to do either, and it's purely a matter of personal preference.
Team Trim: When wrapping the brie in pastry you can trim the brie without worry since the pastry will contain the warm melty center. It can also be easier to cut without the rind on as it can be tough and you end up smashing it instead of cutting it
Team Not to Trim: You can warm up the brie without a pastry case and the rind will hold it in place. Many enjoy the taste of the rind and prefer to have it on. The rind can also make sure that the melty center doesn't leak out of your pastry.
The Best Way to Serve Brie Appetizer
Baked brie is a favorite because you can serve it with many different things and it will all taste good. It will go perfectly on a cheese board too. Here are a few suggestions of what to serve it with.
Crackers: Most varieties will work
Bread: Crostini, bread sticks, baguette's toasted
Baked puff pastry sticks: Yum, more puffed pastry
Pretzels
Fruit: sliced tart apples, grapes, clementines segments or more berries
Cured Meats: prosciutto, salami, sausage, capicola
Pita Chips
Olives
Toasted Nuts: almonds, walnuts, cashews, pistachios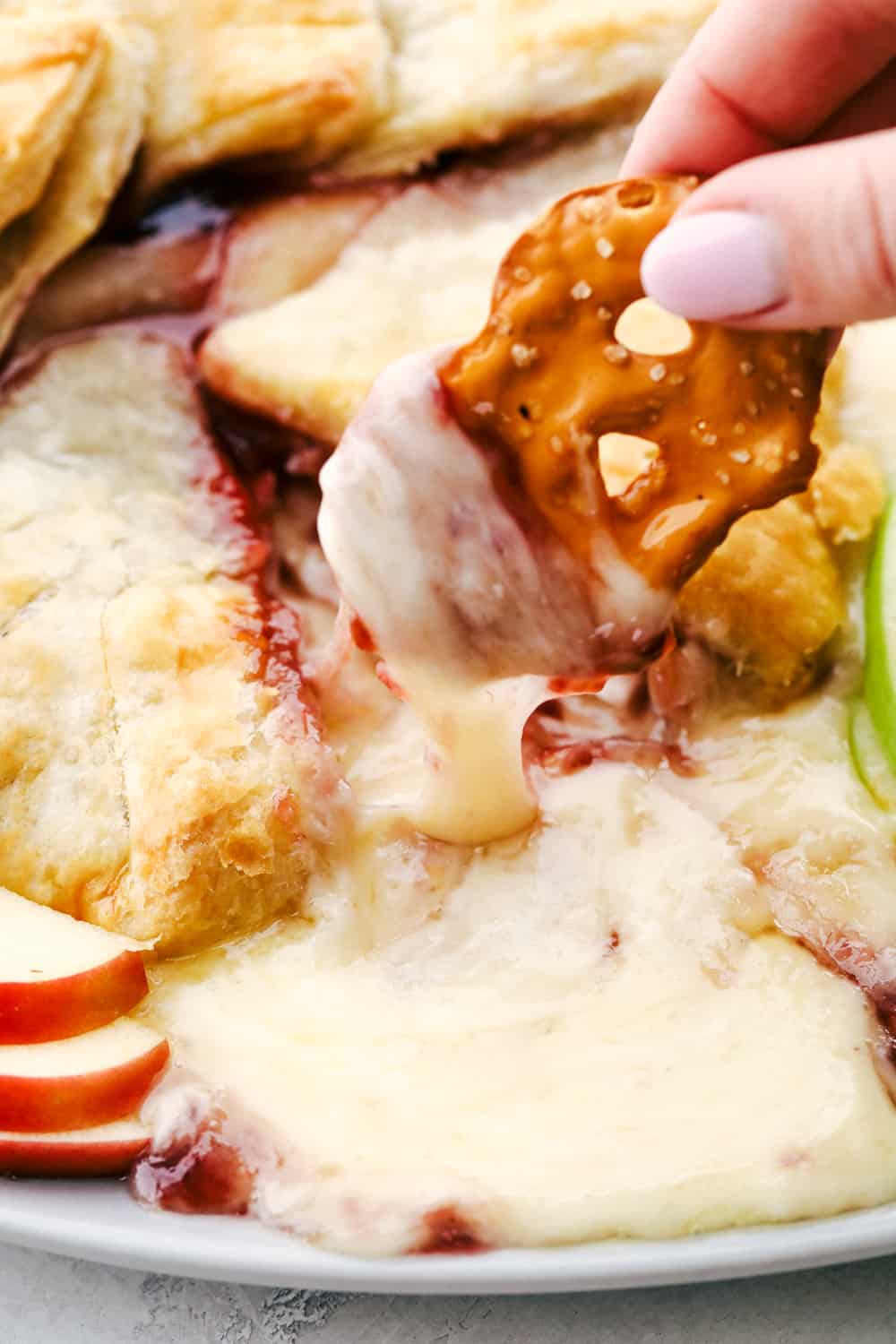 Raspberry Baked Brie
Prep Time 5 minutes
Cook Time 35 minutes
Total Time 40 minutes
Author Alyssa Rivers
Servings 12 People
---
Raspberry Baked Brie is the perfect holiday appetizer with just FOUR ingredients. Perfect for Christmas and New Years Eve!
---
---
1




sheet




puff pastry




1/2 a box

1




wheel




Brie cheese

1/3




cup




raspberry preserves

1




egg




mixed with one tablespoon of water
---
Updated on December 11, 2020
Originally Posted on December 21, 2017
---
Serves: 12
Calories207kcal (10%)Carbohydrates16g (5%)Protein6g (12%)Fat13g (20%)Saturated Fat5g (25%)Cholesterol32mg (11%)Sodium178mg (7%)Potassium53mg (2%)Fiber1g (4%)Sugar5g (6%)Vitamin A131IU (3%)Vitamin C1mg (1%)Calcium41mg (4%)Iron1mg (6%)
All nutritional information is based on third party calculations and is only an estimate. Each recipe and nutritional value will vary depending on the brands you use, measuring methods and portion sizes per household.
[ad_2]