Soft and Chewy Cranberry Bliss Bars
These Cranberry Bliss Bars are a little slice of heaven! White chocolate chips hidden in a blondie cookie bar with dried cranberries then the perfect cream cheese frosting overtop and finished off with sprinkled droplets of cranberries and a white chocolate drizzle for the best garnish is just the beginning!
Wait until you try these bars! Cranberry is all the rave this holiday season and this Cranberry Apple Crisp, Cranberry Cheesecake Fluff and Cranberry Orange Punch are the perfect addition to for any table!
Cranberry Dessert Bars
Bliss bars are similar to white blondie bars with an enhanced amount of small chunks of white chocolate and sweet but tart cranberries that balance with the perfect cream cheese frosting. Drizzle an elegant white chocolate frosting overtop, garnish with more dried cranberries for look and watch these dessert bars disappear quickly. These cranberry bars are perfect for sharing with family and friends! Make a batch or two and surprise neighbors with this delicious dessert on their doorstep!
With the help of Reynolds Wrap® these bars are baked to perfection and the clean up is even better! Simply add a layer of Reynolds Wrap® around the base of your baking dish and start layering the cranberry bars. The Reynolds Wrap® Non Stick Aluminum Foil works like a charm and keeps the baking evenly throughout each bar without over cooking. Once baked and cooled, slice right on the Reynolds Wrap® Non Stick Aluminum Foil. It is easy to remove from the pan lifting the sides of Reynolds Wrap® Non Stick Aluminum Foil. This makes these cranberry bliss bars simple and delicious!
What you Need to Make Dessert Bars
These pantry staple ingredients are perfect for making a sweet treat this holiday season. I upgraded on the chocolate chips to ensure the best taste and deliciousness for each bar. These cookie bars will be gone in minutes!
Reynolds Wrap® Non Stick Aluminum Foil: This is a MUST! I love how simple it is to use and clean up is a breeze.
Butter: Melt your butter ahead of time.
Brown Sugar: Light brown sugar is best and will give you a subtle
Eggs: Large are usually the most common and help build up the crust.
Vanilla: Always a great way to add in extra flavor.
Flour: All purpose flour is best for this recipe but read through variations to see what you can substitute it with.
Baking Powder: Great to have to help rise the bars and create a thickness.
Salt: Just a pinch!
Cranberries: Dried cranberries are perfect to add into the bars as well as on top!
White Chocolate Chips: It is best to spend a little more and get a more delicious cranberry bar.
Preparing Easy Cranberry Bars
Each step of the baking is simple and all you need is a little time to perfect these bars. Watch them disappear right before your eyes this holiday season!
Prepare Pan: Preheat oven to 350 degrees. Line a 9×13 inch pan with Reynolds Wrap® Non Stick Aluminum Foil and set aside. Using a stand or hand mixer add the butter, brown sugar, and eggs.

Combine Ingredients: In a medium sized bowl add the flour, baking powder, and salt. Add the dry ingredients to the wet ingredients and mix until combined. Fold in the cranberries and chocolate chips. Spread in the bottom of the 9×13 inch pan.
Baking Time! Bake for 18-20 minutes or until golden brown. Remove from the oven and allow to completely cool.
Using Reynolds Wrap® has been so helpful and makes cleanup much easier with all your favorite meals. I have used Reynolds Wrap® all year long. It is my go-to when baking, cooking or grilling!
Measure: It is so simple to pull out the Reynolds Wrap® from their box. The roll stays in place and holds well while trying to measure your pan. Pull out as long as the pan is and add a bit more to make sure the sides are covered.
Cut: The Reynolds Wrap® box has the perforated jagged edges that are crisp and give the Non-Stick Aluminum Foil a nice clean cut. Hold down on the box itself and pull at the same time making a nice straight line.
Cover the Pan: It is best to cover the entire inside of the baking pan to make sure that there is even baking and again, easy clean up at the end. Gently press in the sides and around the baking dish. The Reynolds Wrap® will cling to the edges and the sides smoothly.
Making Perfect Cranberry Bliss Bars with Reynolds Wrap®
The batter for these bliss bars are so Ooey, gooey and chewy goodness! You will love the deliciousness they bring around the holidays. The batter is shallow in the baking pan and with the help of Reynolds Wrap® Non-Stick Foil the wrap helps bake it evenly and to perfection! It does bake up quicker because of the foil. Because of this remove the cookie bars from the oven quickly and let cool. The bars will be soft and chewy!
The color of the cookie bar may look like a pale golden hue when they are done in the oven. The cookies will continue to bake in the Reynolds Wrap® Non-Stick Foil. These bliss cookie bars are meant to be undercooked. Once cooled you can begin to slice them and enjoy!
Tips for Making the Best Cranberry Bars
From Reynolds Wrap® to making the perfect bar and having the It is best not to over bake, create the perfect
Covering the Pan: Reynolds Wrap® is here to help! This is a MUST for these bars. Make sure that your whole baking pan is covered by Reynolds Wrap® Non-Stick Aluminum Foil. Once baked and cooled you can easily grab the side of the foil and lift away out of the pan leaving the pan clean and the bars easy to release from the foil.
Melting Chocolate: This is a job that takes both eyes, ears and hands and still can sometimes be stressful. I am here to help! When melting white chocolate, it does tend to over cook or scorch easily. It seems to melt twice as fast than regular chocolate chips. Please go slow and melt them in 10 to 15 second increments.
Frosting Color: Cream cheese frosting tends to have a yellow tint to it. Try adding a tiny bit purple or a dark navy food coloring. This will help change that tint to a creamy white color. Only the tip of a toothpick will be just enough to create that beautiful white color.
Frosting: Running out of time, make it easier by buying store bought frosting. It won't be the same as homemade but this can help save on time.
Orange Extract: This is so fun to do! Add a little orange zest or extract for a fun twist and taste!
Slicing: Make sure to let the bars cool completely before slicing. Use a sharp knife. When ready to slice, clean the knife off after each cut. This will help create a clean cut every time.
Variations and Substitutions of Cookie Bars
Cookie bars are so simple to make and come together quickly! Have some fun with these cranberry bars and add to the ingredients or switch things up as you make these each time. It is the perfect holiday dessert!
Flour: I used Medal Gold Medal All Purpose flour and that seemed to be the best flour for raising and thickness in these cookie bars.
Nuts: There are no nuts in the ingredients but add some in! A half cup will go a long way and will give that added sweet and savory crunchy texture everyone loves. I recommend walnuts or pecans but macadamia nuts will be a sweet addition too!
Chips: Instead of white chocolate chips substitute with butterscotch and semi-sweet chocolate, consider peanut butter chips, white chocolate chips or milk chocolate chips for a fun variation!
Drizzle: That drizzle over top with white chocolate is going to be the biggest hit! Add a drizzle of chocolate or caramel syrup to the top of the bars or substitute it with a colorful white chocolate for the holidays.
Add-In: If you like the flavor of oranges add in 1 to 2 tablespoons of grated orange zest in to the frosting!
Frosting Ingredients
This frosting is so easy to make! With the combination of cream cheese and white chocolate this frosting is decadent and delicious! Impress your family and friends with these delicious bars this holiday season.
Cream Cheese and Butter: Soften ahead of time by leaving these two ingredients out on the counter for about 30 minutes before creaming. It is best to have them soften but not too soft. Leaving them out at room temperature is the best recommendation.
Powdered Sugar: Adds in sweetness and thickness to the frosting.
Dried Cranberries: These are for garnish and are sprinkled on top of the frosting for look and extra taste!
White Chocolate Chips: These white chocolate chips will be melted in the microwave slowly and stirring in-between each interval.
How to Make Perfect Cream Cheese Frosting
Only 3 steps to helping make these cranberry bliss bars come to life! With the help of Reynolds Wrap® the cream cheese frosting can easily be frosted on making every inch of these bars covered.
Combine: Beat the cream cheese, butter and powdered sugar together until smooth.
Frost: Spread on top of cooled bars.
Garnish: Sprinkle with cranberries and drizzle with melted chocolate.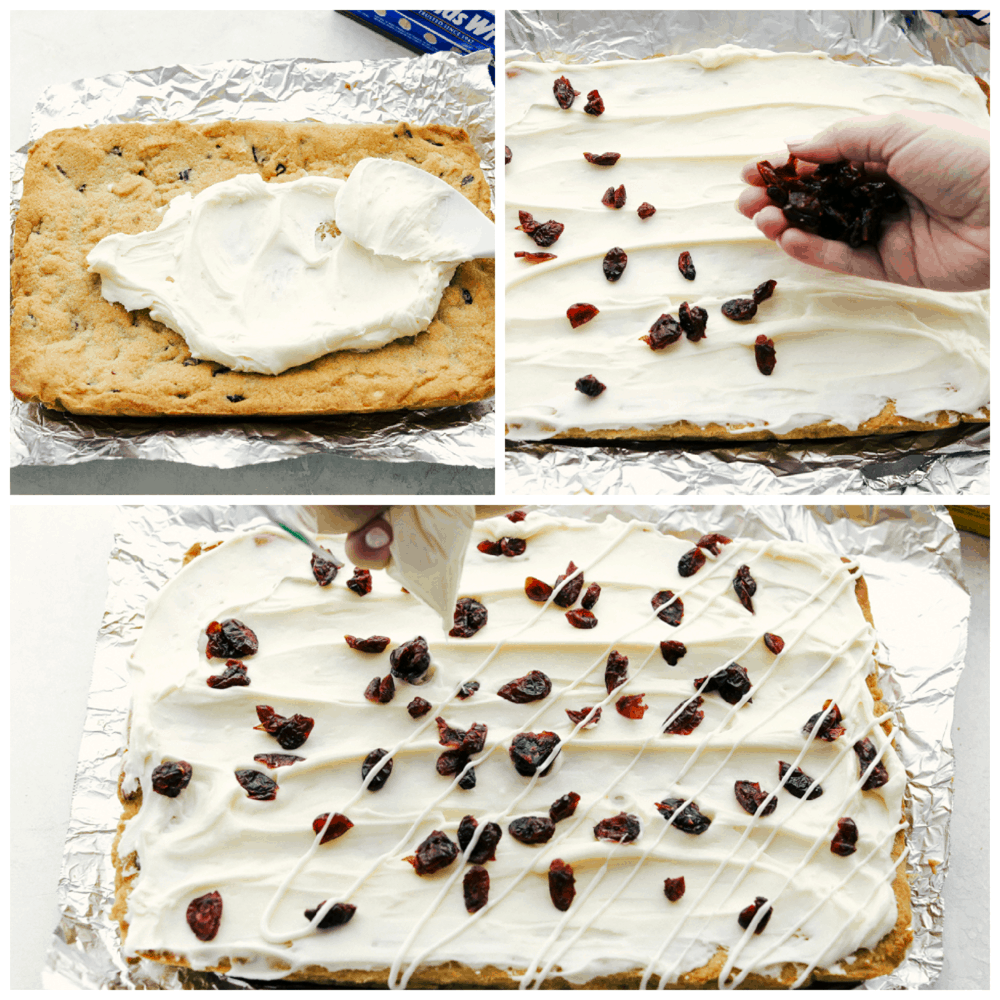 How to Slice Triangle Bars
Slicing these bliss bars are simple and can be done in so ways. Pick your shape that you are wanting to make: square, triangle or long rectangles. These are all easy to master and with the help of Reynolds Wrap® Aluminum Foil slicing is comes easy!
Let Cool: Make sure the bars are set up for about 30 to 45 minuets. Remember you want them Ooey, gooey and not to fall apart. It also makes the bars look prettier and easier to cut.
Lift: This is where Reynolds Wrap® comes in! Use the Aluminum foil hanging over the edges to lift out the bars. Now you have a "plate" to cut the bars on and your dish is semi-clean!
Slice: Begin slicing the bars into sections long ways. Then turn the foil and cut them again, this time horizontal. Now you will see they appear to be squares.
Triangle Bars: From corner to corner, slice in one straight line crosswise. This will create the triangle bars!
Storing Dessert Bars
Usually these dessert bars don't last long. If you happen to have leftovers, giving them to a friend or making them ahead of time the possibilities are endless with this holiday treat!
Storing: Leaving them out on the counter top in a cool dry place will keep them soft and chewy. They will last about 3 to 4 days in an airtight container.
Refrigerate: It is best to store them in an airtight container without stacking them on top of each other. They will last longer in the refrigerator for about 5 days.
Can I Freeze these Cranberry Bliss Bars? Yes, still prepare them and even cut them as listed in the recipe card. Refrigerate the bars for a few hours getting them chilled and cold. Place them in airtight bags or containers wrapped in Reynolds Wrap® Aluminum Foil  to store in the freezer. They are best stored in the freezer for 3 months. When ready to enjoy, thaw in the refrigerator overnight and they will be ready to enjoy by the morning!
Cranberry Bliss Bars
Prep Time 10 minutes
Cook Time 20 minutes
Total Time 30 minutes
Author Alyssa Rivers
Servings 24 Bars
---
These Cranberry Bliss Bars are a little slice of heaven! White chocolate chips hidden in a blondie cookie bar with dried cranberries then the perfect cream cheese frosting overtop and finished off with sprinkled droplets of cranberries and a white chocolate drizzle for the best garnish is just the beginning!
---
---
Reynolds Non Stick Aluminum Foil

1




cup




butter melted

1 1/3




cup




brown sugar

2




large eggs

1




teaspoon




vanilla

2 1/4




cups




flour

1 1/2




teaspoon




baking powder

1/4




teaspoon




salt

1/2




cup




dried cranberries

1/2




cup




white chocolate chips
Frosting:
4




ounce




cream cheese softened

1/4




cup




butter softened

1




cup




powdered sugar

1/2




cup




dried cranberries

1/2




cup




white chocolate chips melted
---
---
Serves: 24
Calories251kcal (13%)Carbohydrates33g (11%)Protein2g (4%)Fat13g (20%)Saturated Fat8g (40%)Cholesterol45mg (15%)Sodium137mg (6%)Potassium79mg (2%)Fiber1g (4%)Sugar22g (24%)Vitamin A379IU (8%)Calcium40mg (4%)Iron1mg (6%)
All nutritional information is based on third party calculations and is only an estimate. Each recipe and nutritional value will vary depending on the brands you use, measuring methods and portion sizes per household.
[ad_2]