Quick and Easy Chocolate Covered Pretzels
Chocolate Covered Pretzels are fast, easy and delicious! A perfect sweet and salty treat that's perfect for parties, holidays or any special occasion.
Add pretzels to a dish for a sweet and salty combination! The salty crunch adds to this Chicken dish is divine along with this Strawberry and Raspberry salad version too!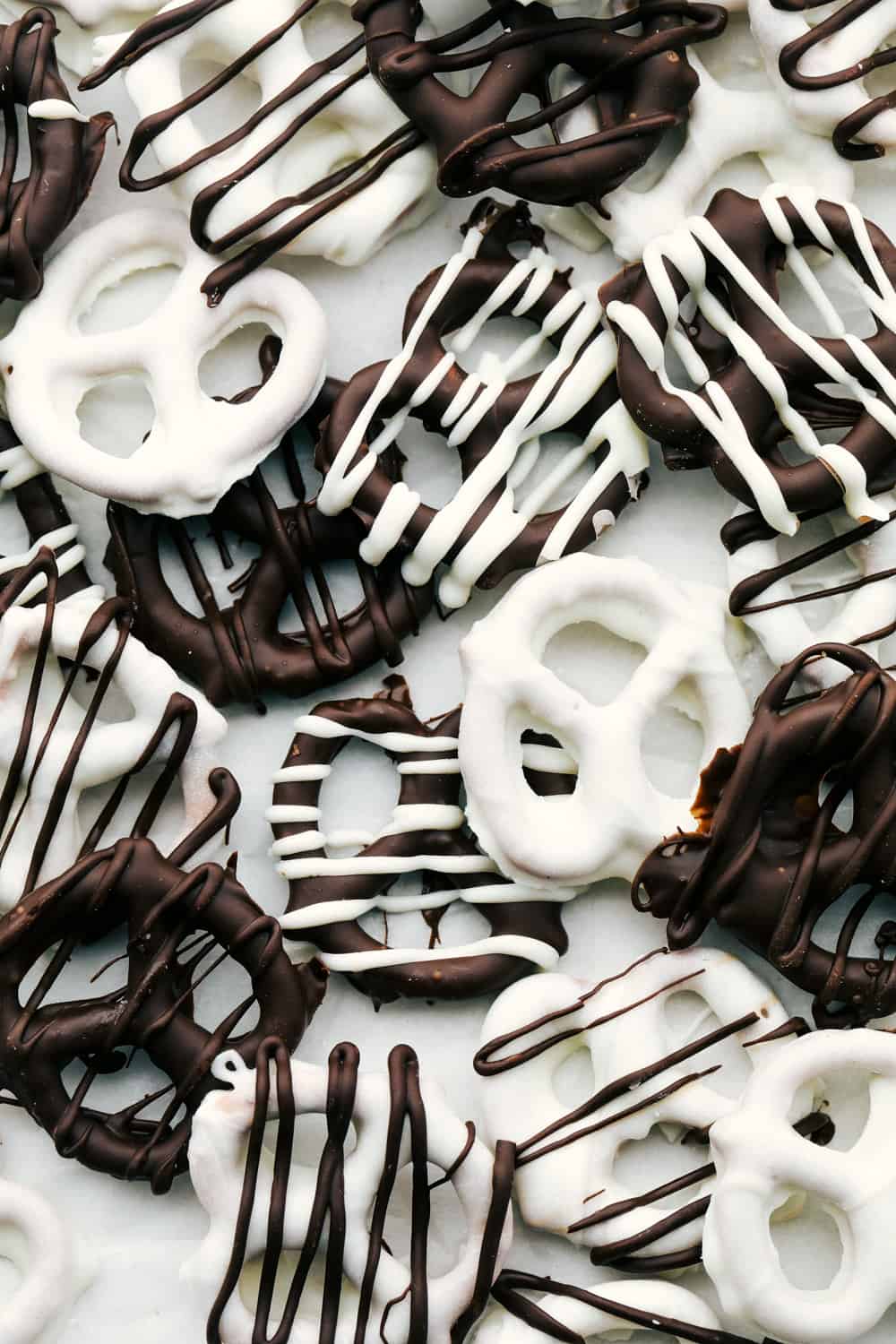 Easy Chocolate Covered Pretzels
Every now and then we all need a sweet treat that looks beautiful and tastes amazing, but we need it to be easy and simple. This is the recipe for you! With no more than two essential ingredients, you can have a favorite treat ready in no time, and it's a sweet treat everyone is going to love.
The sweet richness of the chocolate and the salty crunch of the pretzel is a match made in heaven. These chocolate pretzels are the perfect addition to any party, special occasion or just because you want them. This is a fun recipe to get the kids involved in. They can dip and decorate, and they'll have so much fun doing it. Chocolate covered pretzels are a classic that are easy to customize and fun to eat!
Ingredients for Covered Pretzels
With only two ingredients, you can't get much easier than that! Use your favorite brand of pretzels and chocolate and get ready to dip!
Chocolate: Choose from semi-sweet, milk, dark, white or all of the above.
Pretzels: 2 cups of mini pretzels is what I used, but see variations for other pretzel options.
How to Make Chocolate Covered Pretzels
The hardest part about making these pretzels is the waiting for them to harden so you can eat them.
Melt: In a small microwave safe bowl add the chocolate chips. Microwave 30 seconds at a time stirring in between until chocolate is smooth.
Dip: Using a fork, dip each pretzel into the chocolate and put it on parchment paper. Drizzle the pretzels using the remaining chocolate.
Set: Let set until the chocolate hardens then enjoy!
Tips for the Best Chocolate Covered Pretzels
Crunchy pretzels and velvety smooth chocolate, and sweet and salty, chocolate covered pretzels are the perfect example of opposites attract. These are so insanely delicious, they're addicting! You should make a double batch, just to be safe.
Don't Overheat your chocolate: When melting your chocolate, you don't want to burn it or overheat it, this will cause it seize and take away that shiny finish. In between the 30 second intervals, really give the chocolate a good stir. This will help distribute the warmth and melt the chocolate faster and more evenly.
Avoid Moisture: Water and melting chocolate don't mix. Water will cause the chocolate to also seize. Don't cover the chocolate when melting it to avoid condensation.
Use Parchment Paper: If you have it, use parchment paper to allow your pretzels to harden on. They won't stick to it and it works a bit better than wax paper.
Decorate While Wet: You will want to add any sprinkles, or crushed nuts, candies etc while the chocolate is still wet before it hardens so it will stick better.
Faster Dipping: I like to take a handful of pretzels and stir them in the chocolate and fish them out with the fork. It's a faster way of coating the pretzels than one at time.
Keep the Chocolate hard: If it's a warm time of year you might want to consider keeping these chocolate covered pretzels in the fridge so that the chocolate doesn't soften.
Variations for Mini Chocolate Pretzels
Chocolate covered pretzels are fantastic year round, although I see them mostly around Christmas and Valentines. Because they are so customizable you can make them whenever you want and all year long!
Add Color: If you are using white chocolate, add food coloring to match the holiday or theme of the party. Green, pink, blue, yellow, they will all taste amazing but look super festive.
Toppings: Add sprinkles of all kinds to your pretzels for decorations and pizazz. Be sure to add them when the chocolate is still wet so they'll stick.
Crushed Toppings: It's also fun to customize these covered pretzels with crushed peppermint, Oreos, Reese's, or nuts. Crushed cookies and candies add flavor and style.
Pretzel Options: Pretzel rods make great chocolate covered pretzels.  Transfer the melted chocolate to a glass and dip the rods in the chocolate coating them about 3/4 of the way up. Decorate and let them harden on parchment.
Chocolate: You can also use melting chocolate to cover these pretzels. Chocolate chips and even chopped chocolate bars all work.
How to Store Your Covered Pretzels
Chocolate Covered Pretzels need a dry cool place to keep the chocolate from going hard. Be sure that before you put the pretzels away they are completely hard and not still wet. Store in an airtight container and they will keep for 2 weeks. If you have a hard time keeping the chocolate from going soft, store in the fridge. Note that keeping them in the fridge can cause condensation to form, making spots on the chocolate.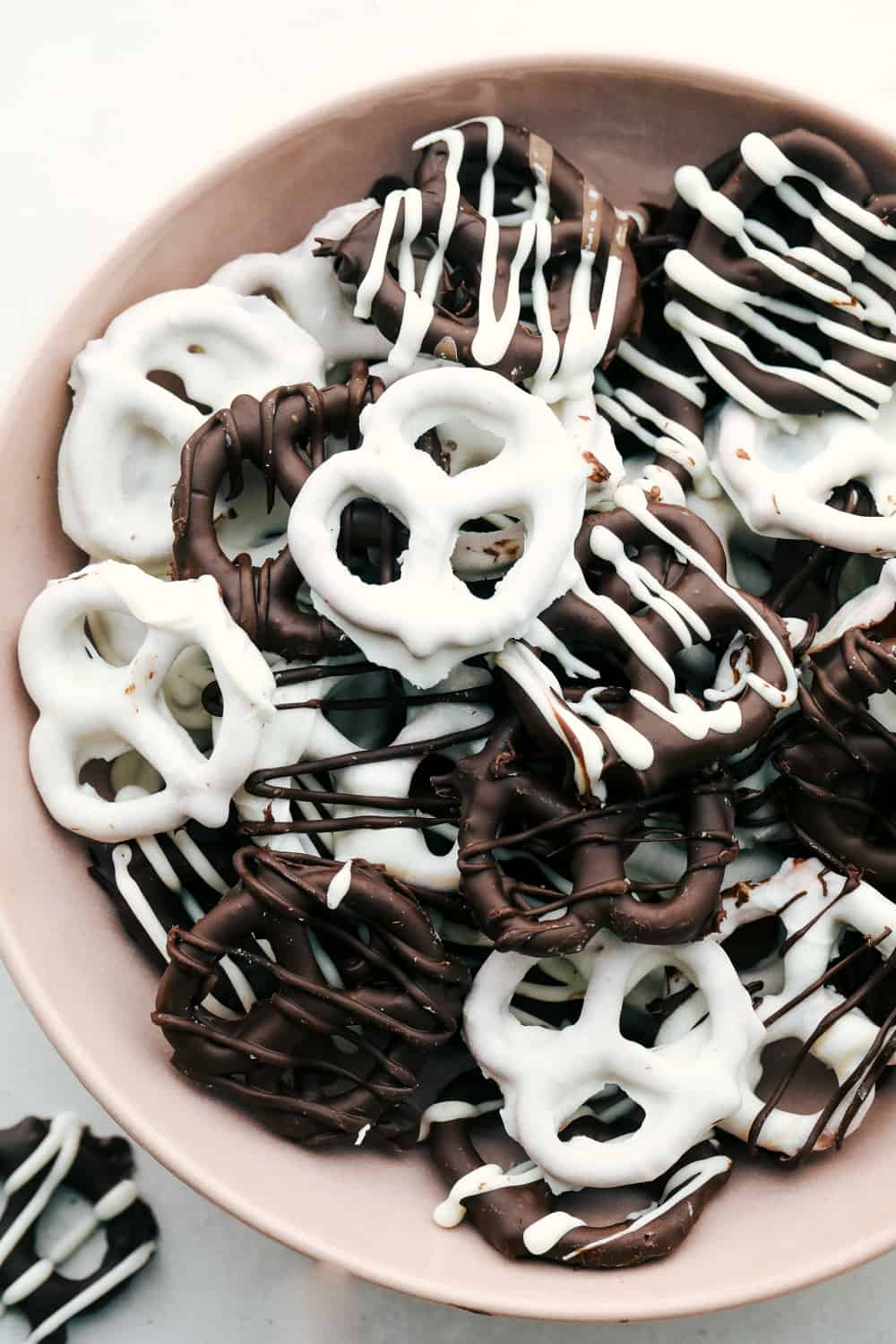 Chocolate Covered Pretzels
Prep Time 10 minutes
Cook Time 5 minutes
Total Time 15 minutes
Author Alyssa Rivers
Servings 24 Pretzels
---
Chocolate Covered Pretzels are fast, easy and delicious! A perfect sweet and salty treat that's perfect for parties, holidays or any special occasion.
---
---
12




ounces




chocolate of choice




white chocolate, milk, or semi-sweet

2




cups




mini pretzels
---
---
Serves: 24
Calories25kcal (1%)Carbohydrates5g (2%)Protein1g (2%)Fat1g (2%)Saturated Fat1g (5%)Sodium84mg (4%)Potassium9mgFiber1g (4%)Sugar1g (1%)Calcium1mgIron1mg (6%)
All nutritional information is based on third party calculations and is only an estimate. Each recipe and nutritional value will vary depending on the brands you use, measuring methods and portion sizes per household.