Perfect Tres Leches Cupcakes Recipe
Tres Leches Cupcakes are drenched in a three milk mixture, just like classic Tres Leches Cake, but in the handheld form! Topped with whipped cream, cinnamon, and strawberries, these make a wonderful finish to any Mexican dinner!
Celebrate Cinco de Mayo or plan a Mexican-inspired feast with these tres leches cupcakes as the perfect dessert! Make a complete meal with these Fajitas or Chimichangas and creamy Horchata (a delicious Mexican cinnamon rice drink).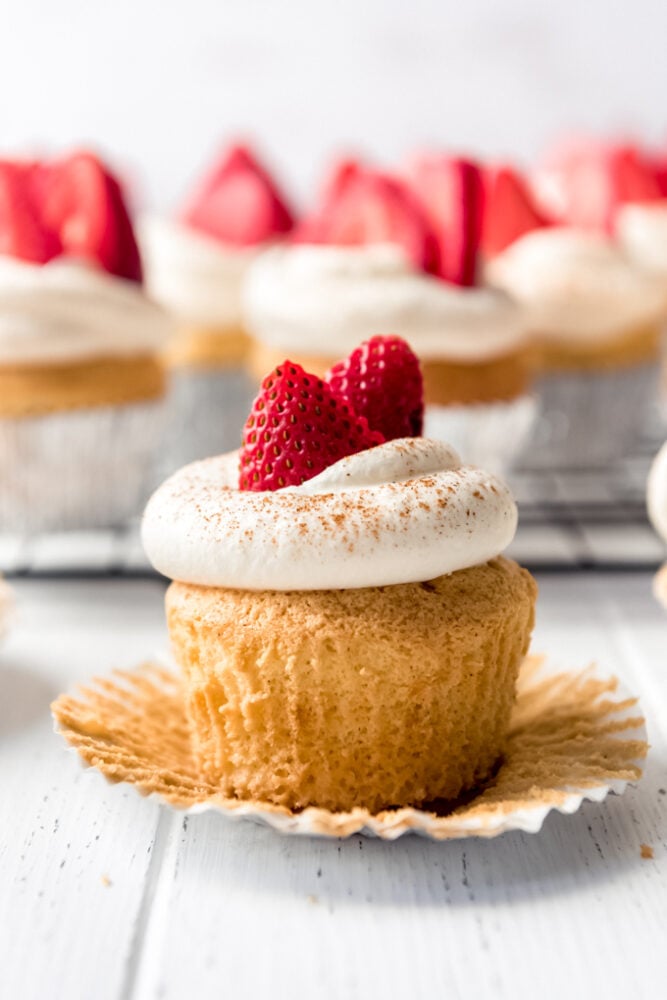 Homemade Tres Leches Cupcakes
These light and fluffy cupcakes that are soaked in a decadent three milk mixture! Tres Leche cupcakes are a combination of easy but impressive and fun! These cupcakes always stand out at parties. Plus, they can be made ahead for stress-free planning!
While we love tres leches cake in its classic form, this cupcake version is just too much fun! They would be great for bake sales or backyard cookouts because you don't know forks and plates to enjoy them.
Ingredients You'll Need
You might think there is an ingredient missing in this recipe: butter or oil. But actually no! This cupcake is made without any added fat. This gives the tres leches cupcakes the proper texture to absorb all of the deliciously sweet "three kinds of milk" that tres leches are named for.
Flour: All-purpose flour works great for these cupcakes. It is best to measure the flour by spooning it in and leveling it off the top.
Sugar: The cake itself isn't overly sweet since it gets soaked in a sweet milk mixture. There is just enough sugar to keep things balanced.
Eggs: Separate the egg whites from the yolks and beat them to stiff peaks. This helps lighten the cupcakes so they are light and fluffy.
Vanilla extract: This ingredient gives a wonderful vanilla flavor. Use Mexican vanilla if you have some for the most authentic flavor.
Baking powder & baking soda: These two leavening agents work in tandem to provide lift so the cupcakes rise beautifully.
"Three kinds of milk": This trio plays a starring role in the recipe. Sweetened condensed milk, evaporated milk, and whole milk makes for a creamy, moist bite that is just right!
Heavy cream: Instead of overly sweet frosting, tres leches cupcakes are topped with lightly sweetened whipped cream.
Strawberries or Maraschino Cherries: Strawberries on our tres leches cupcakes are our favorite. You can even use maraschino cherries will add the same pop of color and burst of flavor.
Cinnamon: Just a tiny amount for dusting.
How to Make Tres Leches Cupcakes
These cupcakes are easy to make but take a little time and patience. The cupcakes need time to get all of the milk mixtures to soak in.
Prepare the batter: This is batter gets a lot of its lift from stiffly beaten egg whites. This will ensure a light and airy cake.
Drench the cupcakes in a 3 milk mixture: Combine the milk then poke holes in the cupcakes with a fork.
Refrigerate: Place the soaked cupcakes in the fridge for at least 2 hours or overnight. This helps the milk mixture have time to fully soak the cupcakes and disperse. If not, it will all be concentrated in the bottom.
Top with Whipped Cream: Before serving, whip the heavy cream with a little powdered sugar and vanilla extract. Do this until the stiff peaks form.