These Korean street-food style corn dogs are covered in a french fry batter then deep fried to golden, crunchy perfection.
I first got turned onto Korean-style corn dogs at an outdoor food market, Smorgasburg LA. As soon as I saw the stand I bought one and it was definitely love at first bite!
One of my favorite varieties is the French fry coated Korean corn dog. It's very popular on the streets of Seoul, but looks exactly like something you'd find at an American state fair.
Since we love to make deep fried recipes, we thought we'd try our hand at this legendary street food. We used frozen French fries as a shortcut, making this recipe incredibly simple!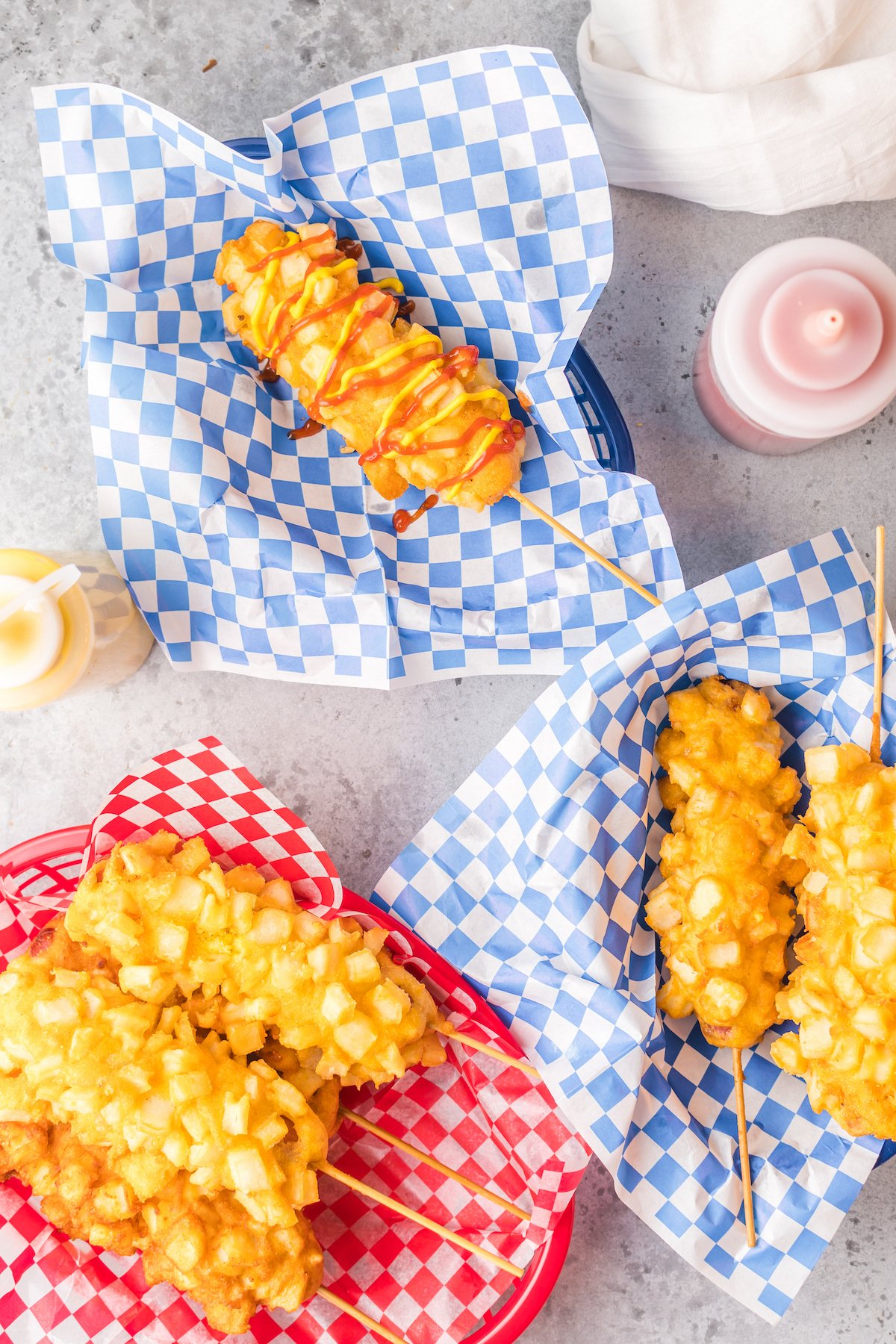 This post contains affiliate links (when you buy we make a little money at no cost to you). See our disclosure for more information.
Ingredients
Oil – You'll want to use an oil that's good for frying. I like to use canola or peanut oil.
Hot dogs – You can use any kind of hot dog you prefer. I find that long skinny ones work better than the thicker kind.
Fries – Frozen fries make this recipe a breeze. I used crinkle cut fries, but you can use any kind you prefer.
Corn meal – I used a yellow corn meal that was finely ground.
Sugar – Just your average white granulated sugar.
Baking powder – Baking powder is a leavening agent and helps to "puff" out the corn dog batter.
Flour – I used all-purpose white flour.
Egg – Eggs help keep batter together. I used a large egg.
Milk – Whole milk is used for the batter.
Vinegar – We need the vinegar to add to the milk and make it thicker.
Salt – Use regular table salt.
Tips
If not using a deep fryer, be sure to use an oil thermometer. If the oil is too hot the corn dogs can burn on the outside and the inside may not be cooked. If the oil is too cold, the corn dogs can absorb grease making them heavy.
Make sure the hotdogs are very dry before you begin. If they are damp, the batter will just slide off.
Chilling your batter for 10 minutes before using is important.
Put the batter in a tall glass, this will make it easier to coat the entire hot dog.
The fries are a bit tricky, but so worth it. You will need to work one by one and quickly once you dip the corndog in fries, don't try and turn them, just press fries on top and the sides. Scoop under corndog with your hands and gently place in the oil, careful not to touch hot oil with your hands and don't drop it in causing oil to splash.
Ingredients
Oil, for frying
8 hot dogs
1 cup cornmeal
1 ¼ cup flour, divided
2 Tablespoons sugar
2 teaspoon baking powder
½ teaspoon salt
1 large egg
1 cup milk
1 Tablespoon vinegar
1 package (32 ounces) frozen crinkle fries, cut into small pieces
Instructions
Pat the hot dogs dry and put the sticks in the hot dogs.
In a bowl mix the cornmeal, flour, sugar, baking powder and salt together.
In a separate container mix the milk and vinegar together, let stand for 1 minute. Whisk in the egg. Add the milk mixture to the cornmeal and combine. Pour into a tall glass. Refrigerate for 10 minutes.
Heat 4 inches of oil in a deep pan. Oil needs to reach 350° before cooking.
Place the cut fries in a shallow container.
Begin by coating the hot dogs in flour. Shake off any excess.
Dip one hot dog all the way in the cornbread batter, making sure it is covered completely. Shake off extras.
Take it out and place it on the fries, quickly pressing fries on the top and sides.
Gently cradle the whole fry covered hot dog and place in the hot oil.
Cook for 3 to 4 minutes until the hot dog is golden and crispy.
Remove and repeat with remaining hot dogs.
Serve with ketchup, mustard, chips or fries. A salad is a nice side dish with this as well.
Reader Interactio