This John Wayne Casserole easy to make casserole features layers of ground beef, cheese, and vegetables and it is a family favorite for weeknight dinner. Its origins can be traced all the way back to movie star John Wayne!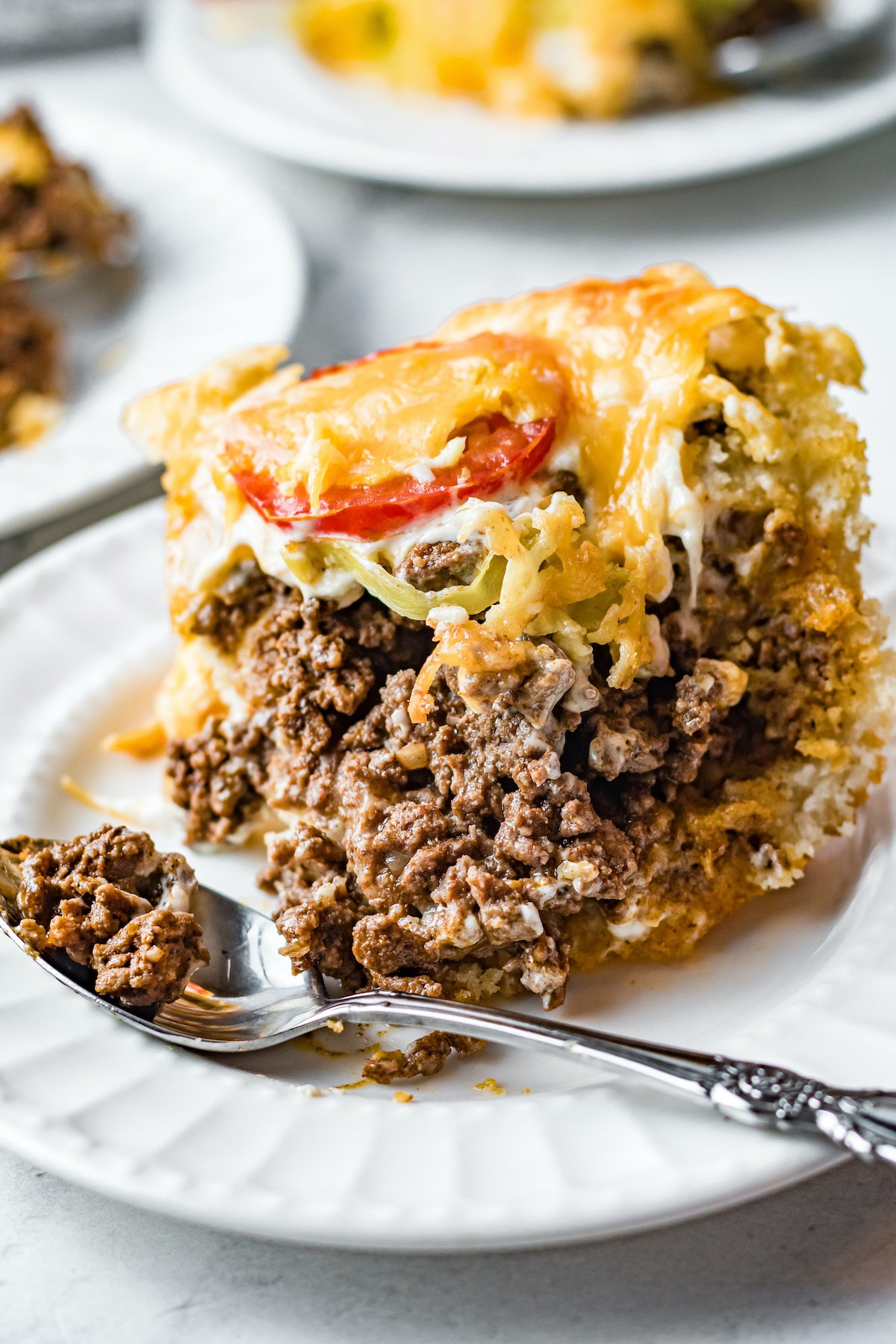 Casseroles are the cornerstone of family dinners because they easily feed several people and are some of the best comfort food around. This one pleases adults, kids, and even old-fashioned cowboy movie stars! It's easy to make, very filling, and the leftovers heat up oh-so-easy.
What is John Wayne casserole?
It's a hearty casserole that includes layers of ground beef, cheese, onions, tomatoes, peppers, and a biscuit crust. Yum!
How did it get its name?
The original John Wayne casserole was published in several different cookbooks back in the 1970s including Cookbook of the Stars – Motion Picture Mothers Inc (1970),  Look Who's Cooking (1974), Favourite Foods of the Famous (1974), The Celebrity Cookbook (1978), Habilitat's Celebrity Cookbook (1978), and Cooking with Love from Cara and Her Friends (1979). (Source)
Some people take the fact that it was published so often to mean that John Wayne really loved this casserole. While that is possible, as someone who has worked in "the biz", I have a very different take. To me, it looks like it's all part of the Hollywood publicity machine. If you look back at that time you can even find Starkist ads with John Wayne's "favorite" tuna recipe.
Who knows though, maybe after a long day on set of riding horses in the sun Mr. Wayne regularly came home and asked his chef to whip up this cheesy casserole.
Scroll all the way to the bottom of this post to see the original recipe!
Ingredients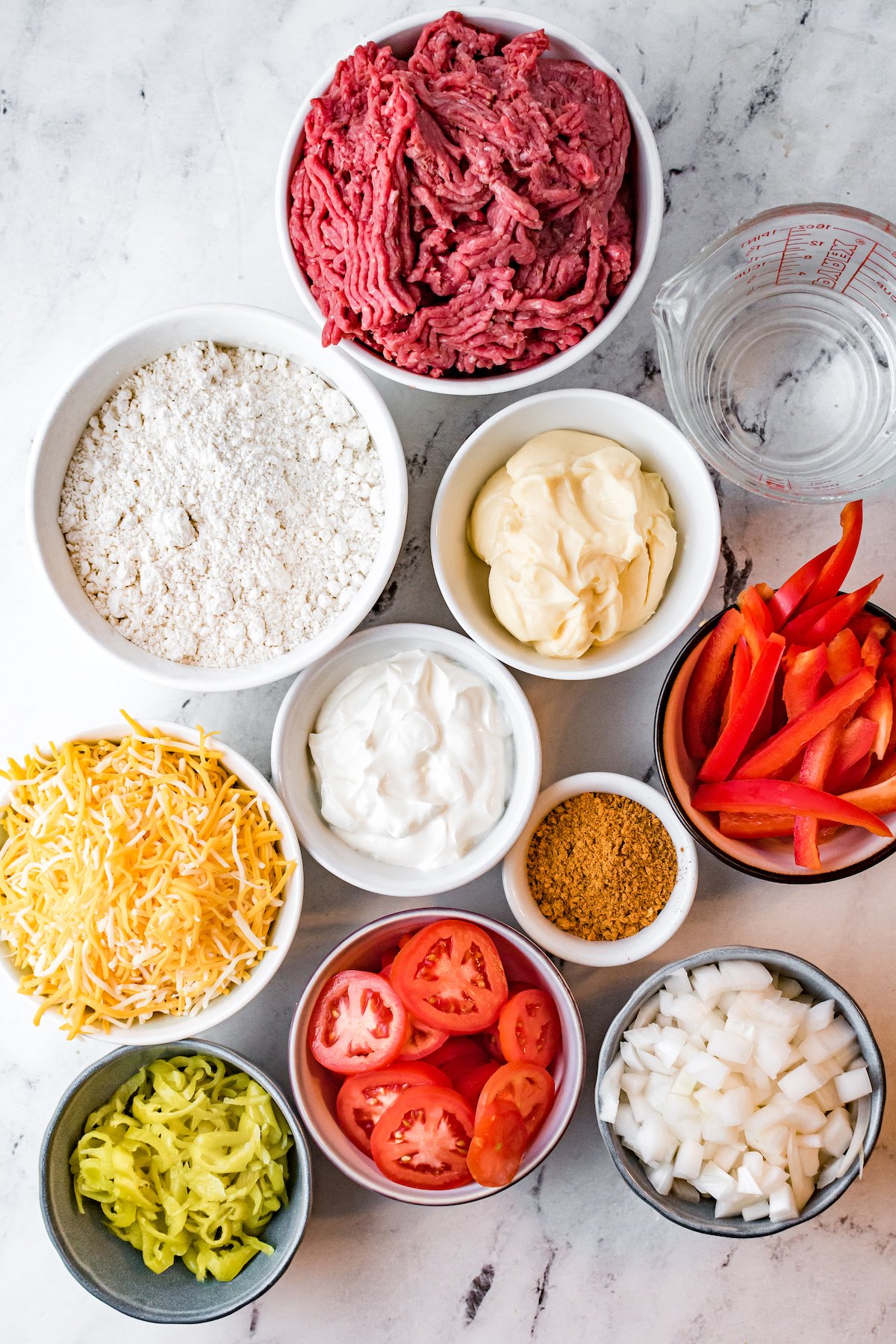 Bisquick – This will make the crust. You could use canned crescent dough if you'd prefer.
Ground Beef – I recommend using 90/10 lean meat, if possible. 80/20 works well too.
Taco Seasoning – Use your favorite brand of taco seasoning (we used this one), or homemade.
Onion – I think the bold flavor of a white onion is best suited for this recipe, but yellow onion can be easily substituted.
Sour Cream – I recommend using full-fat sour cream for optimum flavor.
Mayo – I recommend using Duke's or Hellman's mayonnaise. You can also leave this out and use all sour cream, if you'd prefer.
Cheese – Use pre-shedded Mexican blend cheese to keep this recipe easy. You could substitute Pepper Jack for more heat.
Tomatoes – I like to use Roma tomatoes because they slice easily and are the perfect size, but any tomato you'd like can be substituted, or you can leave them out entirely.
Pepperoncini – These add some acidity that brings the whole dish together. For a spicier version, use jalapeños or serrano peppers. You can also substitute a can of green chiles.
Bell Pepper – I used a red bell pepper, but you could easily substitute a green one or leave it out, if you'd prefer.
How To Make
Instructions
(From left to right, top row first – then bottom)
Brown your ground beef, then add 1/2 cup water and the taco seasoning. Simmer for 2 minutes.
Remove the beef, then add the peppers and onions and sauté 4 minutes.
Mix together the Bisquick and remaining water until a dough forms.
In another bowl, combine the mayo, sour cream, and 3/4 cup cheese.
Press the dough into the bottom of a greased 9×13 pan to form a crust.
Spread the browned meat evenly across the top.
Add the bell peppers and onions.
Spread the sour cream mixture across the top.
Add the tomato slices and pepperoncinis.
Top with the remaining cheese & bake at 325F for 30-35 minutes.
John Wayne Casserole
A hearty casserole with layers of taco seasoned ground beef, vegetables, and cheese.
Ingredients
2 cups Bisquick Mix
1 ½ Cups Water (divided)
2 lbs Ground Beef
1 oz Taco Seasoning
1 Cup Onion, diced
1 Bell Pepper, sliced thin
½ Cup Mayonnaise
½ Cup Sour Cream
1 ½ Cup Mexican Blend Cheese, shredded (divided)
3 Roma Tomatoes, sliced
½ Cup Pepperoncini, sliced
Instructions
Preheat the oven to 325°, and place the oven rack on the middle rack.
Spray a 9×13 baking dish with nonstick cooking spray.
Brown ground beef in a large skillet until no longer pink, add the packet of taco seasoning and ½ cup water, simmer for 2 minutes.
Remove the meat from the skillet and sauté the onions and bell peppers for 4 minutes.
In a medium bowl combine mayonnaise, sour cream and ¾ cup cheese.
In a separate bowl combine the bisquick mix and remaining water. Make a biscuit dough and press into the bottom of the baking dish, press it up the sides of the dish about a half inch high on all sides.
Spread the ground beef evenly over the dough.
Next, add the bell peppers and onions. Then, spread the sour cream mixture evenly across the top.
Now, layer sliced tomatoes and pepperoncinis. Then, add the remaining cheese.
Place on the middle rack in the oven and bake for 30-35 minutes.
Notes
How to store: In an airtight container in the fridge for up to 1 week.
Original John Wayne Casserole Recipe
The OG casserole recipe is a little different than most of the modern takes. If you're looking for the original, here it is!
2 cans diced green chiles
1lb Jack Cheese, coarsely grated
1lb Cheddar Cheese, coarsely grated
4 Eggs, separated
1 Small Can Evaporated Milk
1 Tbsp Flour
2 Tomatoes, sliced
Beat the evaporated milk, flour, and egg yolks together. Add the salt & pepper.
Beat the egg whites until they are stiff. Fold them gently into the evaporated milk mixture.
Butter a deep casserole dish. Add the green chiles and shredded cheese. Mix them together. Pour the egg mixture over the top.
Bake for 30 minutes in a 325F oven. Remove and top with slices of fresh tomato. Bake for 30 more minutes.
[ays_quiz id='1′]