How to Make Mulled Wine at Home: Best Tips
A glass of warm, sweet and spicy mulled wine on a chilly winter night can instantly fill the room with warmth and the nice aroma of winter spices. For centuries, mulled wine was reserved for the upper class of society to demonstrate their ability to add sought after expensive spices to their wine rather than save them strictly for their meals.
Mulled wine has become an interchangeable tradition associated with the arrival of winter. The delicious aroma and warmth can definitely warm you up even in the coldest of nights. As seemingly simple as this drink appears, making great mulled wine requires patience and a bit of finesse.
In this article we'll give you our top tips on how to make mulled wine at home and impress everyone this Christmas.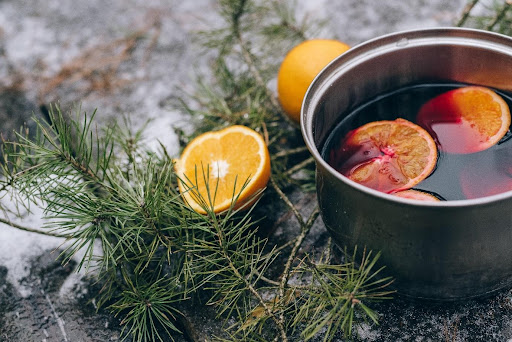 How to Make Mulled Wine at Home?
Everyone tends to have a different recipe for homemade mulled wine including their personal blend of spices that they use, but the base of the recipe remains the same. The basic recipe for mulled wine goes:
Ingredients
1 bottle (750ml) of red wine
1/2 cup of water
1 orange cut into round slices
2 cinnamon sticks
8 whole cloves
2 star anise
5 ounces of sugar, honey or maple syrup
citrus slices and extra cinnamon sticks to garnish
Instructions
Add the water, sugar and spices into a saucepan to make a syrup. Stir well on low heat until boiling.
Bring the heat up and let simmer until the syrup thickens.
Once the syrup is thick enough turn the heat down and add the wine and the orange slices. Let simmer for 15 minutes up to 3 hours.
Using a fine mesh, remove the cinnamon sticks, orange slices and clover.
Serve while warm in mugs or heatproof cups, garnished with a cinnamon stick and orange slices.
Tips for Making Mulled Wine
Select the Right Wine for the Task
As the name of the drink suggests, wine is the base ingredient here. When making mulled wine this winter, it's important that you select the correct wine for this job. The kind of wine you choose and the quality will greatly affect the taste here.
If you want to impress your guests expensive wine is the way to go, however inexpensive dry red wine would make a great mulled wine as well. An inexpensive bottle of Burgundy or Cabernet Sauvignon would be a good choice here. Stay away from aromatic strong flavoured wines such as Merlot as the aroma from the spices will get drowned out.
Wine specialty stores would sometimes feature displays with wines recommended for making mulled wine in the colder months. If your local store does not, you can always ask a staff member to help you with the choice.
Carefully Select Your Blend of Spices
Nowadays, cinnamon and nutmeg are the most commonly used spices in mulled wine, but originally it was made with many more spices. Remember that mulled wine started off as a way for the well-off class to show off, so they used to throw together any spices they had. The more exotic and expensive, the better.
When choosing the spices for your mulled wine, you should think about the possible flavour combinations that might result. Have a play around with different combinations. You can include clover, ginger, pepper, vanilla, lavender, star anise, cardamom or thyme. Don't bother getting fresh spices and herbs. Older recipes suggest grounding the spices before mixing them with the wine, so dried spices will work just as well.
Once you have selected a few different spices, taste them in different combinations. Take a few small plates and put a different combination of spices on each one, then pour yourself a glass of the wine you've selected. Dip you finger into each spice blend and place it on your tongue then take a sip of wine until you find a combination you like the most. Make sure to take a note of the spices in each mix.
Use a Wine Syrup Base
If you want to take your mulled wine to the next level, instead of starting with water and sugar for the simple syrup, use wine instead. Water can bring out the flavours because of its neutral taste but it can also dilute the intense flavour of the wine. A wine based syrup would not compromise the consistency or the taste of the wine.
To make the syrup base using wine simply add enough of your chosen wine to mix with 5 ounces of sugar, your preferred blend of spices and about 2 table spoons of orange and lemon juice. If you want your wine to taste more fruity, you can also add a bit of rind. Heat up the mixture on low heat, stirring consistently, until the sugar dissolves. Once the mixture begins to boil turn up the heat and allow the syrup to thicken.
Once the syrup is thick enough you can follow the regular recipe and add more wine to your syrup.