I first posted this pancake recipe in 2006, and figured it was time to elaborate a bit. It's a recipe I use it a lot, resulting in a beautiful, classic stack of pancakes with impossibly tender crumb and golden edges. The pancakes have lightness and lift, and good color. That said, the real reason I love this recipe is because it's endlessly adaptable. I've used it as a base pancake recipe and jumping off point for endless pancake adaptations and I heartily encourage you to do the same. You can experiment with a range of flours, liquids, and add-ins, and I list off a number of suggestions below.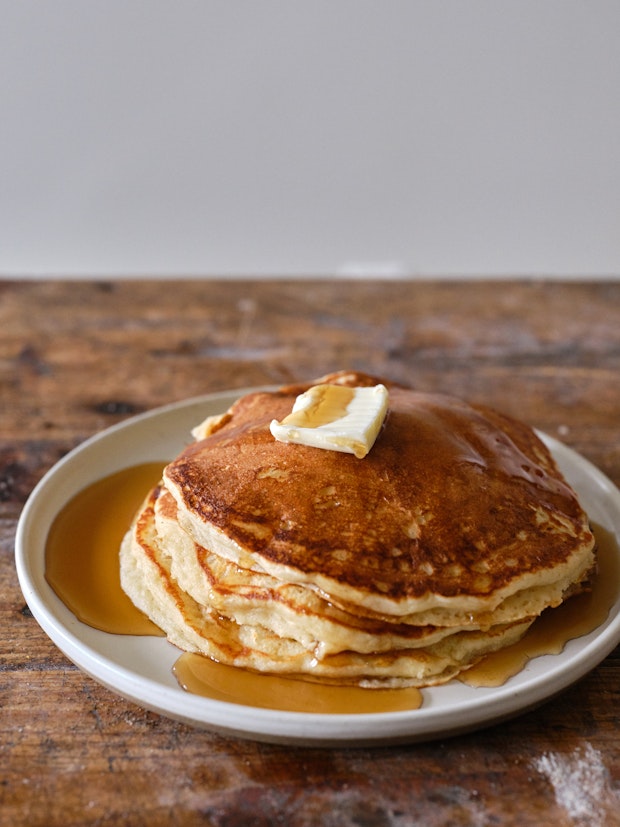 Buttermilk, Yogurt, or Milk? – use what you've got!
You can make these pancakes with just about any liquid you have on hand. I've listed them in order of preference. Buttermilk is wonderful, but yogurt works like a dream too. Not everyone keeps buttermilk on hand, but many people have a cup of yogurt. Go for it! Thin Greek yogurt with an equal amount of water, so for this recipe I'd combine 1 cup + 2 tablespoons Greek Yogurt with the same amount of water. If you're using a standard yogurt don't bother thinning it.
Both of the above (buttermilk or yogurt) are A-plus choices. Don't have other of those? Dairy milk, oat milk, and almond milk will all give you good results. When using one of these, allow the batter to sit for 5-10 minutes before cooking, allowing the batter to thicken a bit.
Experiment with Different Flours in Your Pancakes
I'll start by saying, you can use all-purpose flour in these pancakes. But, by all means, experiment with more nutritious whole-grain flours if you have them (I have suggestions below and in the recipe). White whole wheat flour works wonderfully here. It's the Trojan horse of whole-grain flours, because for finicky people who won't eat anything brown or wholesome you can pass it off as white. It is made from a strain of hard white winter wheat berries and the nutritious bran and germ aren't processed out the way they are in all-purpose white flour. The white whole wheat flour makes for a tender crumb.
Rye Pancakes: Replace about 1/2 of the all-purpose flour with rye flour.
Oatmeal Pancakes: Replace 1/3 cup of the flour with quick cooking oats or oatmeal you've blitzed int a blender. These are particularly good with slices of banana cooked in. Sprinkled with a bit of brown sugar in place of syrup.
Tiny Grain Pancakes: Stir 1/2 cup cooked quinoa or millet into your batter.
Blueberry Beet Pancakes (Vegan):  If you're looking for a colorful vegan pancake variation – hearty, substantial, delicious, and kid-friendly. 
Variations From other Cooks
A number of you have left helpful comments for tweaks and variations to this recipe over the years and I wanted to list off a couple:
Lactose Intolerant: Jenny noted, "I just made these this morning for my lactose-intolerant twins, substituting the 2 1/4 C buttermilk for 1C soy milk. They were absolutely awesome! I ground 2 C wheat berries, which made 4C flour, and doubled the recipe for my large family."
Lots of Bran: Rachael says, "I would really encourage you to try adding bran to your waffles or pancakes next time. I substitute up to half of my flour with bran (sometimes have to reduce the liquid a bit or add in something thicker, like yogurt, because the bran doesn't absorb milk)… it lends a wonderfully nutty flavor to things and it lightens the texture substantially, not to mentioned the good-for-you fiber.
Extra Credit Fluffy
I've tweaked the recipe here to have you separate your eggs, and beat the whites into fluffy peaks. It's an annoying step, and requires extra effort, but is arguably worth it. You fold the whites into your batter as a last step before cooking, and it adds a really nice lightness to the pancake batter. That said, if you're not feeling up to it, no big deal – lightly beat the two eggs and add them to the liquid mixture.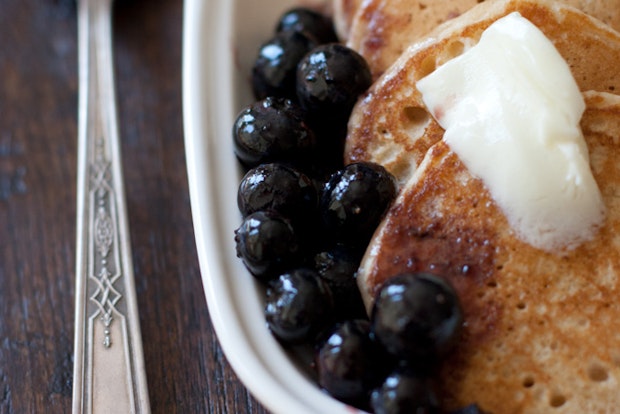 Favorite Toppings for your Pancakes
Whole Blueberry Maple Syrup: This is my favorite syrup for these pancakes and worth the bit of extra effort to make. It's delicious, fragrant and beautiful without being overly sweet. To make blueberry maple syrup put half of a 6-ounce basket of blueberries, 1/4 cup sugar, 1/4 cup maple syrup, and 2 tablespoons of water in a medium saucepan over medium-low heat. Heat and stir until the sugar dissolves. Simmer for 5 or 6 minutes or until the blueberries begin to split. Remove from heat and press the blueberry mixture through a fine strainer into a bowl. Mash the fruit to get all the juiciness extracted. Throw out the solids. Stir the remaining blueberries into the warm syrup and set aside. You can use whatever sugar you like here – white, brown, coconut sugar, etc.
Churro-style Cinnamon Sugar: Combine 2 tablespoons cinnamon with 1/2 cup sugar and stir well. Sprinkle generously across hot buttered pancakes. You can experiment with the sugar blend beyond this as well, adding a pinch of ground cloves or curry powder, and/or crushed rose petals.
Tasty Add-Ins
Berries: If you're adding berries to your pancakes, add them to your pancakes after they're on the griddle. This way your pancake batter retains its color.
Bananas: If you're adding slices of banana to your pancakes, add them after the pancakes are on the griddle.
Boosts: Adding a boost of oat bran, wheat germ, nutritional yeast, kale or beet powder, hemp or flax seeds is always an option. I usually start with a tablespoon or two.
Some Cooking Tips
My pan of choice for pancakes is cast iron, but any pan that holds steady heat is fine. The key is getting and maintaining the right temperature. Too much heat and you end up with burned pancakes that are under-cooked in the middle. Too little heat, and they take forever to cook, and they end up with a bit dry with a toughened crumb. I tend to start  at a lower temperature than I think I'll want, and creep it up from there.
Keep Those Pancakes Warm!
Unless you have a griddle, or multiple pans going, you're going to need make your pancakes in batches. And you don't want your first round to go cold while you're making the next. If you have a cooling rack you use for cookies, you can deploy it here. Place pancakes, preferably in a single layer, on the cooling rack after transferring from the skillet, and place them in a 200F oven to keep warm. I like the cooling rack better than a plate because it allows air to circulate around the entire pancake. This way, the bottom sides of the hot pancakes won't get soggy.
[ad_2]