Fluffy and Perfect Homemade Waffles
Homemade Waffles are worth waking up for! These delicate, crisp, yet fluffy waffles will melt in your mouth!
Serve these insanely delicious waffles with a side of Crispy Bacon, The Best Scrambled Eggs and of course Homemade Maple Syrup!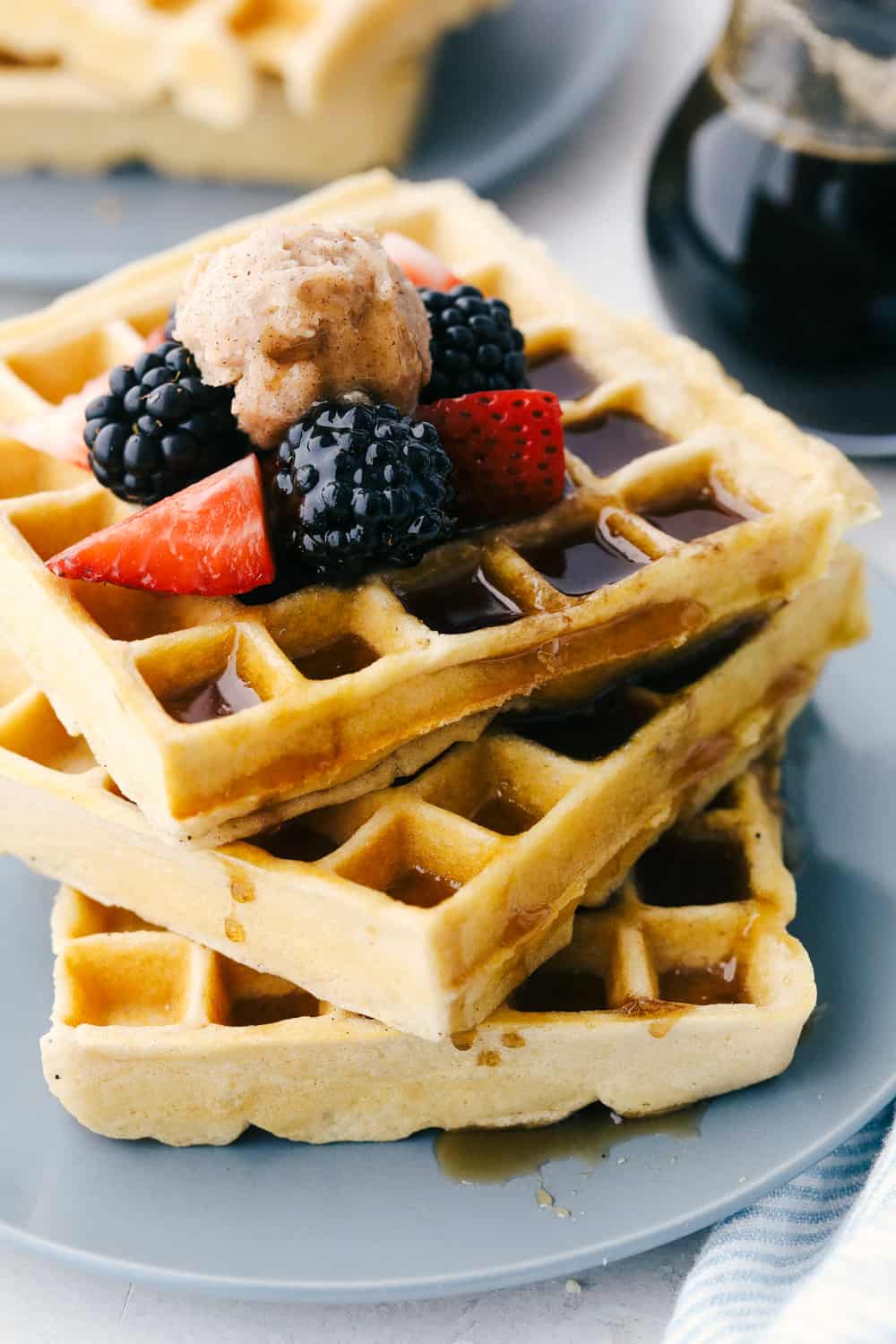 Perfect Homemade Waffles
We love waffles at our house! There is just something magical about waffles that makes them a favorite among millions. Maybe it's the crisp exterior and soft fluffy interior. Or maybe the magic is all about those small square divots that were made to hold your toppings of choice. My kids like to pour this incredible Buttermilk Syrup so that every square is filled with it. Those divots are the perfect way to ensure that every bite has some!
You are going to love these homemade waffles. They taste so much better than store bought mixes and it is so fast and easy to throw together. These waffles have delightful flavor and super light and fluffy. They come out golden brown and crisp on the outside. Absolutely delicious and positively perfect! Make these waffles and it will definitely be a good morning!
What You Will Need For the Best Waffles
These are so much better than any box mix from the store. They whip up in minutes and they are totally customizable.
Eggs: Large or even extra large eggs, but not medium.
Milk: I like to use milk that has some fat in it, at least 1% or more.
Oil: Canola or vegetable oil will work.
Flour: Use all purpose or unbleached flour for this recipe.
Baking Powder: This is your leavening agent to give the waffles their fluff.
Vanilla: Adds flavor and a touch of sweetness.
Salt: Balances some flavors and brings out others.
How To Make Fluffy Waffles
Quick and easy, that is what we love about these waffles. Even on a rushed school morning I can have a decent breakfast on the table in no time.
Prep: Preheat your waffle iron.
Beat: In a medium sized mixing bowl beat the eggs until good and foamy.
Mix:  Add in the milk, vegetable oil, flour, baking powder, vanilla and salt. Mix until combined.
Cook: Grease the waffle iron with cooking spray. Pour about 1/4-½ cup batter in the waffle maker and cook until golden brown.
Serve:  Serve with homemade maple syrup and cinnamon butter if desired.
Tips for Easy Homemade Waffles
These are so yummy and fun to eat! Your whole family is going to love them.
Do not use Pancake mix:  Many people figure that if you have a good pancake recipe it will be perfect for the waffle iron too, this just isn't the case. Waffles taste and cook differently than pancakes and therefore need different ingredients. For starters waffles have more eggs than pancakes and oil. Yes, pancake mixes will cook up in the waffle iron, but they will not taste the same or fluff up and be crispy like a waffle should.
Beat those Eggs: You will really want to beat the eggs till they foam up a lot to get super fluffy waffles. Whipping air into the eggs is what will help give them their poof!
Baking Powder Freshness:  Make sure your baking powder is fresh, if it is older than 6 months, you might want to open a new box. The baking powder will have a chemical reaction with the liquids which will also help give the homemade waffles their rise, so you want it to be fresh.
Do not Make Batter Ahead of Time: Because you whip air into the eggs and the baking powder has that chemical reaction, you want to cook the waffles as soon as you mix the batter. Mixing the batter the night before and letting it sit will deflate the eggs and the chemical reaction will fizzle out. So make a fresh batch right before you cook!
Double it: We love to make a double batch and freeze the leftovers for homemade freezer waffles that I can toss in the toaster for a fast delicious breakfast.
Variations For Homemade Waffles
One thing I love about homemade waffles, is they are so easy to customize.
Coconut Oil: Substitute the vegetable oil for melted coconut oil. It will add a bit of flavor along with the needed oil.
EXTRA Fluffy Waffles:  For even fluffier waffles, separate the egg yolks from the egg whites. Add the yolks to the milk and beat till combined. Whip the egg whites till they form stiff peaks. Mix the dry ingredients with the milk and other wet ingredients till thoroughly combined. Gently fold in the egg whites till just combined and cook. Fluffing the egg whites separately will give homemade waffles even more fluffiness!
Make it Buttermilk: If you want to make your homemade waffles with buttermilk, just reduce the amount of baking powder to 2 teaspoons and add 2 teaspoons baking soda. Then replace the milk with buttermilk.
Add Ins: There are so many different ways to make these homemade waffles divine. Add spices to the batter such as cinnamon, nutmeg, cardamon or pumpkin spice. Stir in chopped nuts, chocolate chips, coconut flakes, or even mashed bananas.
Top It: Besides maple and buttermilk syrup, top your homemade waffles with fresh fruit, powdered sugar, whip cream, peanut butter, jam, and fresh cut bananas and nuts. If you like your waffles savory, you can add bacon, ham, eggs, or fried chicken!
Keeping your Waffles warm and Storing them
Cooking waffles can take a while so it's nice to a get a few done and keep them warm before you call them all to the table. That way everyone can have a nice warm one without the wait.
 Preheat:  When you start to make your batter, preheat your oven to 220 degrees. After your waffle is done cooking place it on a cooling rack and place the rack in your oven. Or you can place the waffles directly on your oven rack. You do not want to place waffles on a sheet pan or stack them. They will steam and lose their crispiness. Using the racks will also help keep the waffles from going soft.
Store: Place completely cooled waffles in a freezer bag and freeze for up to 3 months. They can be reheated in the microwave or toaster for quick breakfasts on those busy mornings!
More Breakfast Recipes to Love
Breakfast is by far one of my favorite meals. It is one of my go to meals even for dinner because everyone loves it! And they are usually so fast to whip together. They fuel your body and mind after being at rest, so breakfast is a very important meal. It is important to make it worth waking up for. These tried and true recipes will guarantee your family will not be hitting the snooze button.
---
---
Serves: 8
Calories278kcal (14%)Carbohydrates27g (9%)Protein6g (12%)Fat16g (25%)Saturated Fat12g (60%)Trans Fat1gCholesterol45mg (15%)Sodium110mg (5%)Potassium312mg (9%)Fiber1g (4%)Sugar3g (3%)Vitamin A134IU (3%)Calcium149mg (15%)Iron2mg (11%)
All nutritional information is based on third party calculations and is only an estimate. Each recipe and nutritional value will vary depending on the brands you use, measuring methods and portion sizes per household.