This no-bake pie made with Oreo cookies has the most delicious cookies and cream flavor! An easy dessert recipe that's always a crowd pleaser.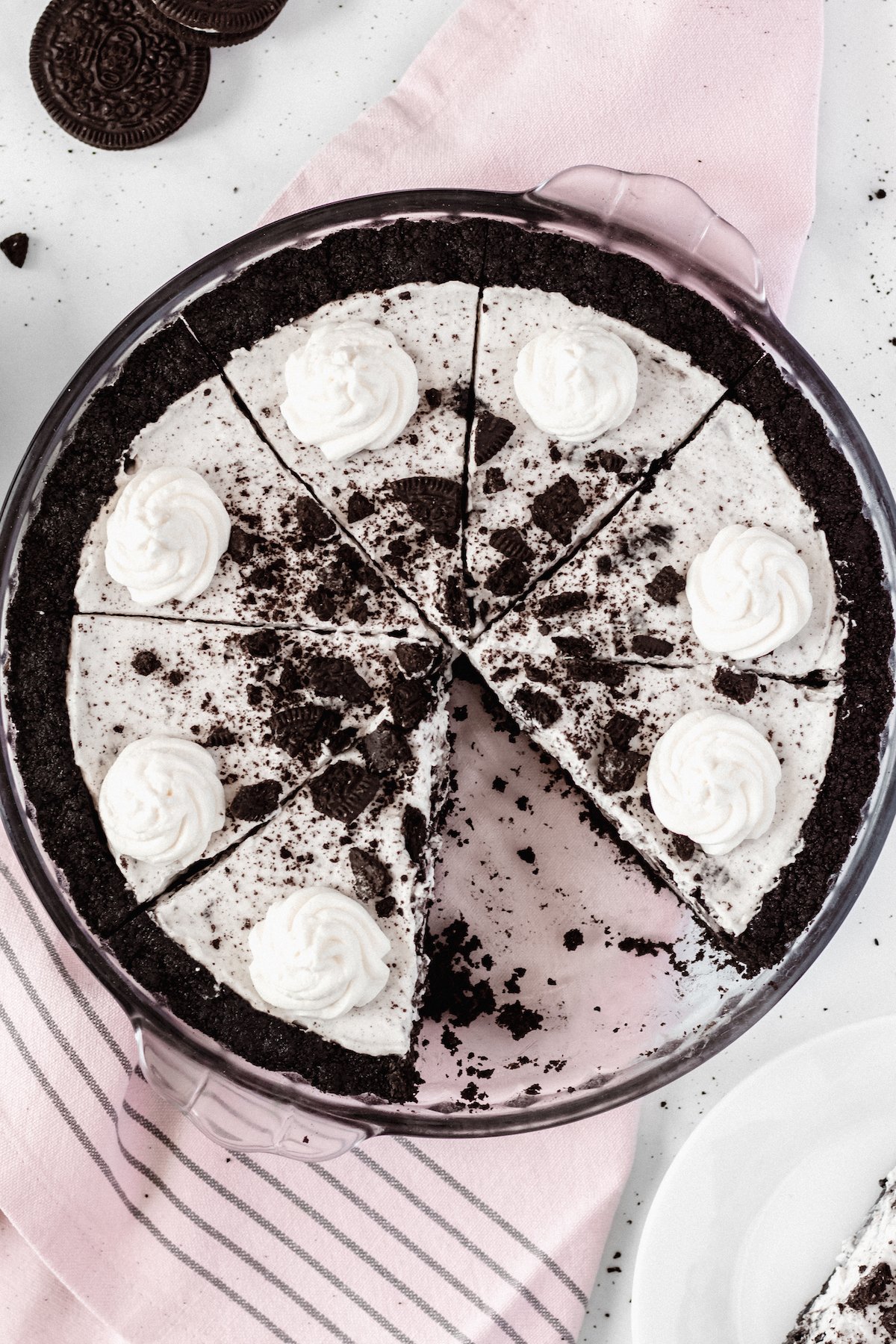 Cookies & cream is one of the most classic American dessert flavors for a good reason – it's delicious!
If you're somehow not familiar, cookies and cream flavored desserts are flavored with Oreo cookies, which happen to be America's favorite cookie! You already know we love them, because we've previously shared our cookies & cream fudge with you.
Now, we're going to show you how to make a cookies and cream pie with a delicious Oreo crust. The best part? It's a no-bake dessert so you don't even need to turn your oven on!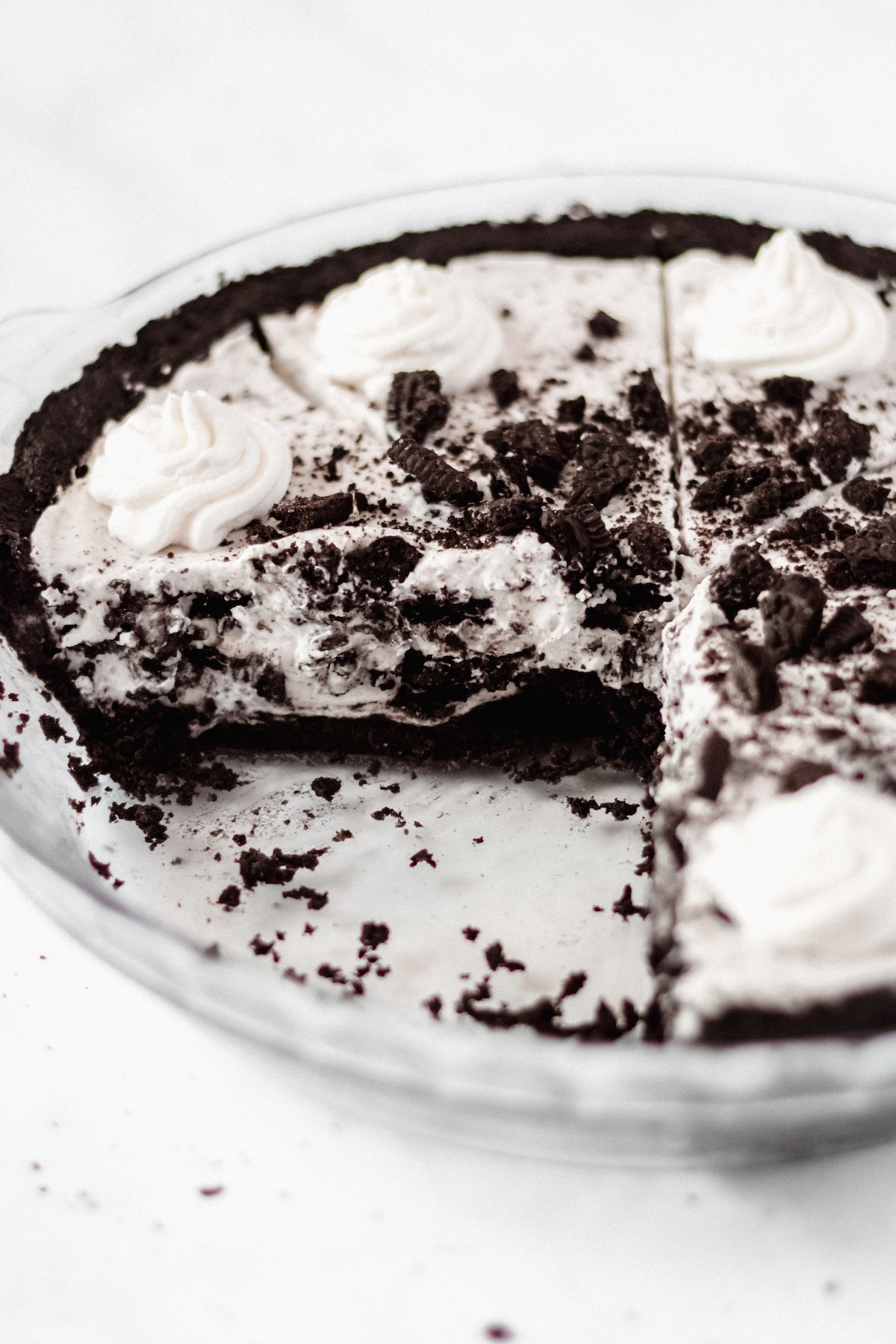 Why You Should Make This
You only need six ingredients.
Both kids and adults love it.
It's perfect for BBQs and potlucks.
No cooking or oven necessary!
Ingredients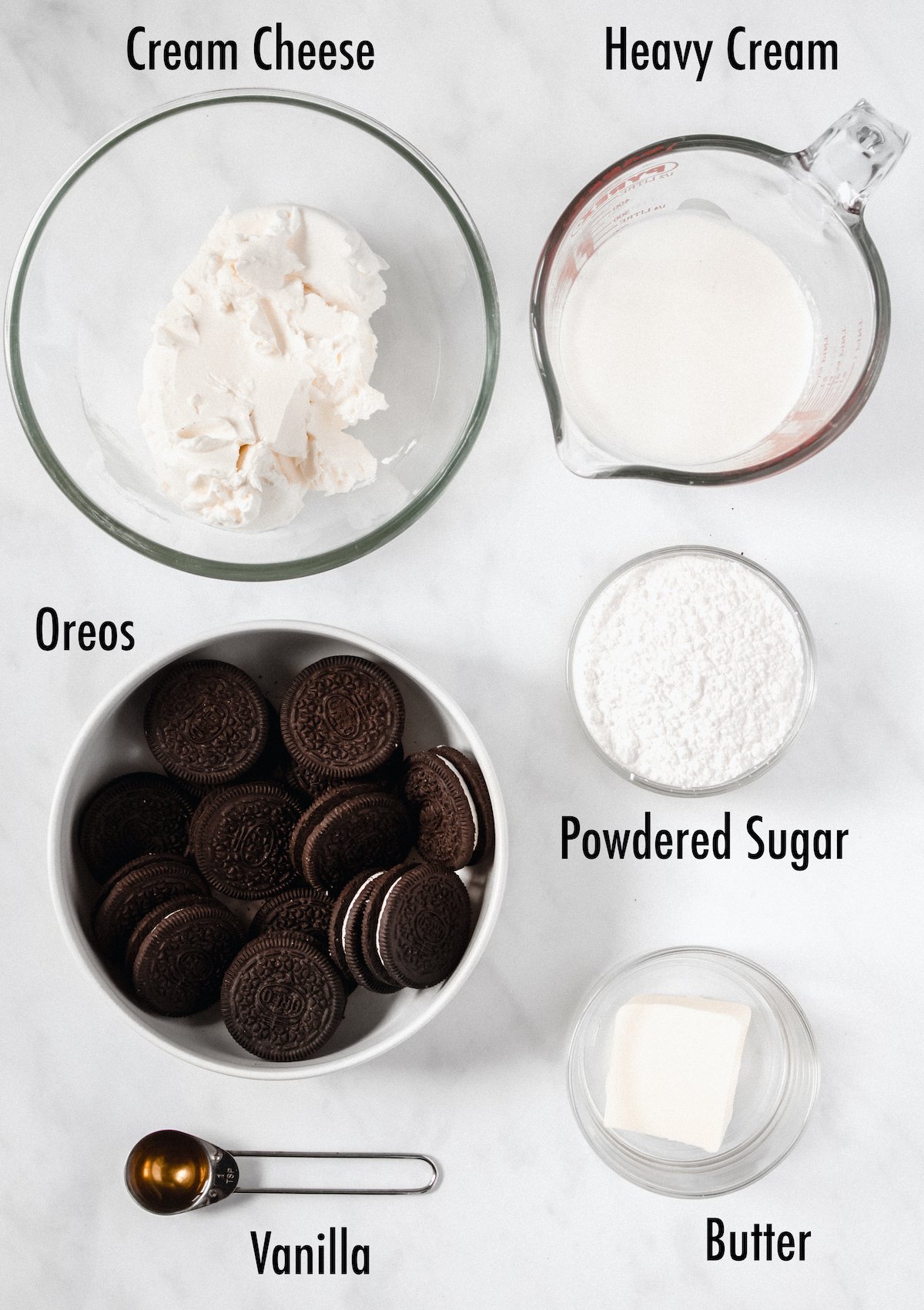 Cream Cheese – Use regular (not reduced fat) cream cheese. We'll be using it in the filling and in the topping.
Heavy Cream – This is the key to the pie's filling. Make sure your heavy cream is really cold, otherwise it won't set up.
Oreos – You can use regular or Double Stuf Oreos. I go Double Stuf because YOLO.
Butter – Butter is the "glue" that holds the Oreo crust together. Be sure to use unsalted.
Vanilla – A little vanilla extract adds another dimension to the flavor of the pie. You could leave it out if you don't have it, or substitute vanilla bean paste if you want to get fancy.
Powdered Sugar – I recommend sifting your powdered sugar first to eliminate any clumps.
This post contains affiliate links (when you buy we make a little money at no cost to you). See our disclosure for more information.
Tips
If you don't have a food processor, use a Ziplock bag and a rolling pin to crush the Oreos. However, the crust tends to hold its shape better when a food processor is used and the Oreos are ground to a fine consistency.
I like to make a topping and pipe it onto each piece of pie. You can use cool whip or whipped cream instead, if you'd rather not go through the extra step.
I think making the crust yourself yields the best flavor, but if you need a shortcut you can buy a pre-made Oreo pie crust.
How To Make Ahead
This pie is an excellent choice for a make-ahead dessert. The recipe already requires 6+ hours of refrigeration, so it's easy to make the night before. Want to make it even more in advance? Here are a few options.
Make the pie crust itself up to 2 days in advance. (Store it covered in the refrigerator until ready to add the filling.)
Make the entire pie and store it in an airtight container in the fridge up to 2 days in advance, or freeze it for up to 3 months.
More Easy Dessert Recipes
Coconut Cream Cake with Coconut Cream Cheese Frosting
Cookies and Cream Pie
A no-bake pie with an Oreo crust and cookies & cream filling.
Ingredients
Oreo Crust
25 Oreos
4 tbsp unsalted butter – melted
Pie Filling
8 oz cream cheese – room temperature
3/4 cup powdered sugar
1 tsp pure vanilla extract
1 cup heavy cream – cold
12 Oreos – chopped
Topping (optional)
4 oz cream cheese – room temperature
1/4 cup powdered sugar
1/4 tsp vanilla extract
Instructions
Oreo crust
Add 25 Oreos to a food processor and pulse into fine crumbs. Transfer the Oreo crumbs into a small bowl, pour in the melted butter and mix.
Transfer the Oreo and melted butter mixture into a 9-inch pie dish and press it into the bottom and up the sides of the dish.
Chill in the refrigerator for 30 minutes or overnight if preferred.
Filling
Using a stand mixer or a hand mixer and a medium bowl, beat the cream cheese until creamy, then add the powdered sugar and vanilla and keep beating until combined and smooth. Set aside.
Using a stand mixer or a hand mixer and a large bowl, whip the cold heavy cream until fluffy with stiff peaks.
Using a rubber spatula, gently fold the cream cheese mixture and chopped Oreos into the heavy cream. Be very gentle when doing this or the heavy cream will deflate.
Gently pour the filling into your prepared crust and smooth down the top with an off-set spatula.
Cover with plastic wrap and chill in the refrigerator for 6-7 hours or overnight (recommended).
Topping
When you're ready to decorate and serve, prepare the cream cheese frosting. In a medium bowl, beat the cream cheese, powdered sugar, and vanilla extract until creamy and smooth. Transfer the frosting into a piping bag fitted with a star tip or your favorite tip and decorate the pie to your liking.
Slice into 8 slices making sure to clean the knife between each slice. Serve and enjoy!