Boston Cream Cake with Chocolate Ganache
Boston Cream Cake is an American classic sure to win you over. It's a decadent light, fluffy cake, filled with a vanilla custard and topped with a rich chocolate ganache.
This is the perfect finish to a nice fancy dinner at home. Serve after these incredible Air Fryer Steaks, Parmesan Roasted Potatoes, Caesar Salad and Homemade Parker House Rolls.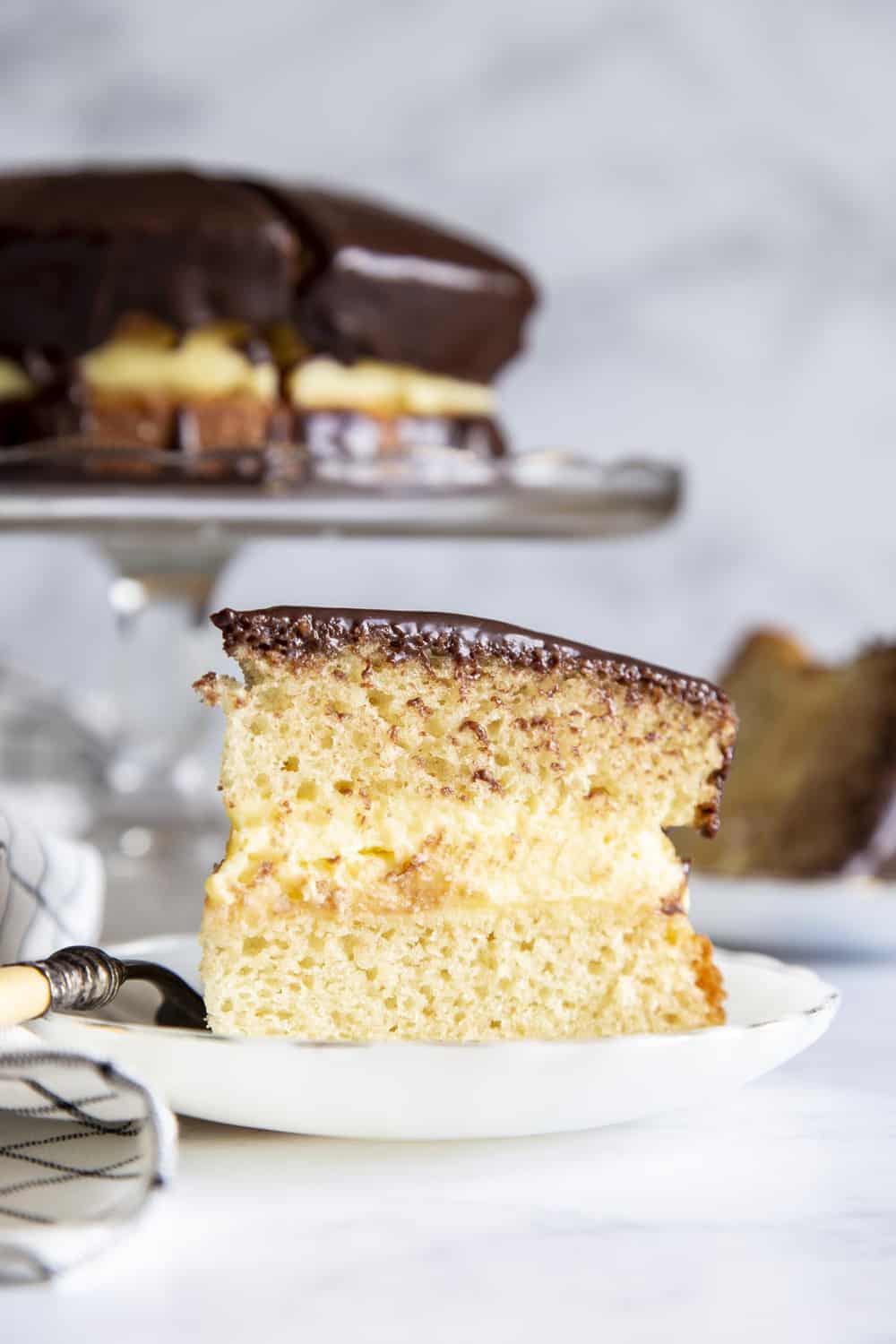 The Best Boston Cream Cake
This insanely delicious cake is also known as Boston Cream Pie! It's an American classic that combines flavors and textures to create one of the best cakes you'll ever have. The light fluffy cake has hint of vanilla sweetness that melts in your mouth. The cake sandwiches a custard or pastry cream that is smooth and velvety, with just a touch of vanilla. The cream cake is covered generously with a rich smooth chocolaty ganache. The perfect topping to the most exquisite cake.
Looking at the recipe, it might seem daunting, but it's not. There are three major steps, just take each step one at a time and you'll have the most beautiful classy cake on the table in no time. The beauty of this cake is that it doesn't need any fancy decorations. The cake speaks for itself. It's straightforward, hides nothing and tastes like a dream! This is a must try!
What is a Boston Cream Cake?
Boston Cream Cake was actually created in the 1800's at the Parker House Hotel and actually known as Boston Cream Pie. It was probably called "pie" because in the 1800s pie tins were more common than cake tins. The recipe is essentially the same!
Soft, light cake sandwiches a rich creamy custard and is covered with a thick chocolate coating.  Even though it's a cake the "pie" part of this name has stuck. And when Massachusetts named Boston Cream Pie the official state dessert, well the name stuck. However it's called, I would just say it tastes heavenly.
Boston Cream Cake Ingredients
Buttermilk adds a bit of a tang and helps the cake rise nice and fluffy. Be sure your ingredients are at room temperature to ensure they mix properly and evenly.
All-purpose flour: Unbleached flour works here too.
Granulated sugar: Adds the sweetness and a delicate crumb.
Kosher salt: Dissolves easily and doesn't have anti-caking agents.
Baking powder: Together with the baking soda creates the cakes fluff.
Baking soda: This also is a raising agent.
Buttermilk: Bring to room temperature
Vegetable oil: I used canola oil.
Large eggs: Bring to room temperature
Pure vanilla extract: If you can find it, it will give the best flavor.
What is Boston Cream Filling Made of?
Half and half: This creates the creaminess
Large egg yolk: Thickener, save the whites for a later use.
Granulated sugar: divided
A pinch of salt: To balance the sweet.
Cornstarch: To thicken the cream.
Unsalted butter: Bring to room temperature
Pure vanilla extract: Flavor enhancer
How to Make Perfect Chocolate Ganache
Heavy whipping cream: Ideal for ganache.
Dark chocolate melting wafers (or semisweet chocolate): Using a darker chocolate counters the sweetness of the cake.
Lets Bake a Cake!
This can seem a bit overwhelming, but if you break it up into three parts, the cake, the custard and the ganache, it's really quite easy. Don't forget to grease the pans, you'll be sad if you don't.
Preheat the oven to 350°F. 

Grease and line the bottom of two 8" cake pans with parchment paper, grease the top of the parchment paper and the side of the cake pans. Sprinkle flour on the side of the cake pan and tap out the excess. Set aside.

In a small mixing bowl, sift together flour, sugar, salt, baking powder and baking soda. Stir with a whisk to distribute evenly. Set aside.

Add buttermilk, vegetable oil, egg, and vanilla extract to a medium bowl. Beat together with a whisk until smooth. Add the flour mixture to the wet ingredient mixture and fold until just combined.

Divide the cake batter among the two prepared cake pans. Bake in the middle oven rack for 27 – 28 minutes until a toothpick inserted in the middle of the cake comes out clean with just a few crumbs attached. 

Remove from the oven and allow to cool to the touch, remove cakes from the pans and allow to cool completely on a wire rack.
Making the Cream for the Boston Pie
This should be the consistency of a good thick pudding. Follow the directions carefully.
Heat half and half with ¼ cup of sugar in a medium saucepan over medium heat, stirring occasionally, until simmering. Take off the heat.

Beat egg yolks with the remaining sugar and salt in a medium bowl until pale in color and creamy. Add the cornstarch and whisk until smooth.

Temper the hot half and half into the egg mixture by adding a few tablespoons of hot liquid at a time while whisking constantly. Once finished, pour it all back into the saucepan.

Put the saucepan back on the heat, and cook the mixture on medium low heat, whisking constantly, until it thickens and bubbles burst at the surface, about 4-5 minutes.

Remove from the heat and stir in the butter and vanilla until the butter is melted and well mixed.

Run the pastry cream through a fine mesh sieve into a medium bowl. Place plastic wrap directly on the surface and allow it to cool to room temperature. Refrigerate until ready to use.
Creating the Chocolate Ganache
Don't rush this, it should be thin enough to spread but thick enough not to drip down the sides.
Microwave the cream in a heat proof vessel for 50 – 55 seconds, watching it during the last few seconds to ensure it doesn't boil over. 

Add the chocolate in a small mixing bowl and pour the hot cream over it. Allow it to stand for a minute or two before whisking it until the chocolate melts completely and the mixture is smooth. Let the ganache cool completely and thicken slightly for about an hour.
How to Assemble the Boston Cake
This is the easy and fun part of making a Boston cream! Make sure the cakes are cooled before spreading the ganache.
If the cakes are slightly dome, level it off using a serrated bread knife.

Place the first cake layer on a cake stand or plate, add the pastry cream in the middle and level it out with an offset spatula. Invert the second cake layer and add it on top with the top of the cake sitting on the cream layer so that the flat bottom is now the top of the cake.

Drizzle the ganache over the top of the cake, allowing it to spill over the side. Serve right away or let the ganache thicken further in the fridge before serving.
Tips and Storage for This Amazing Cake
This is Boston cream cake is definitely a labor of love dessert, but so worth it!
Spray and Flour: These beautiful sponges have a tendency to stick to their tins. Make sure you line the bottom with parchment and spray before and after you put the parchment in. Flour the insides as well. After all this hard work you do not want them to stick.
Corn Syrup: If you are having trouble with the ganache add two tablespoons of corn syrup to keep it from seizing up and being too thick. It will also help give it that luscious shine.
Don't substitute: In cakes and especially the filling, each ingredient serves a purpose. Switching out ingredients can alter the results and leave you disappointed. Especially with the custard, I do not recommend subbing out the half and half for something else.
Storage: Because of the delicate custard layer, Boston cream cake should be kept in the fridge for up to a week lightly covered to keep it from drying out.
Boston Cream Cake
Prep Time 40 minutes
Cook Time 35 minutes
Total Time 1 hour 15 minutes
Author Alyssa Rivers
Servings 12 Slices
---
Boston Cream Cake is an American classic sure to win you over. It's a decadent light, fluffy cake, filled with a vanilla custard and topped with a rich chocolate ganache.
---
---
Vanilla cake
1 ¾




cup




all-purpose flour

1 ½




cup




granulated sugar

½




teaspoon




kosher salt

1




teaspoon




baking powder

½




teaspoon




baking soda

1




cup




buttermilk




room temperature

⅔




cup




vegetable oil

3




large




eggs




room temperature

1




tablespoon




pure vanilla extract
Pastry cream
1 ½




cup




half and half

3




large




egg yolk

½




cup




granulated sugar




divided

A pinch of salt

3




tablespoons




cornstarch

2




tablespoons




unsalted butter




room temperature

1




teaspoon




pure vanilla extract
Chocolate ganache
½




cup




(4 ounce) heavy whipping cream

⅔




cup




(4 ounce dark) chocolate melting wafers (or semisweet chocolate)
---
---
Serves: 12
Calories412kcal (21%)Carbohydrates52g (17%)Protein6g (12%)Fat21g (32%)Saturated Fat14g (70%)Trans Fat1gCholesterol111mg (37%)Sodium197mg (8%)Potassium145mg (4%)Fiber1g (4%)Sugar35g (39%)Vitamin A327IU (7%)Vitamin C1mg (1%)Calcium86mg (9%)Iron1mg (6%)
All nutritional information is based on third party calculations and is only an estimate. Each recipe and nutritional value will vary depending on the brands you use, measuring methods and portion sizes per household.